Mobile phones have gone from modern luxury to the ultimate necessity for today's consumer. Whether you're a small business, freelance creative, or enterprise company, mobile apps have become an essential aspect of our communication, professional and personal life. From checking your bank account, email, and social media, there are endless possibilities to help manage your daily activities wherever you go. As champions of simplicity, Bitly believes in making it as easy as possible for you to manage your links, create QR Codes, and track your analytics wherever your day takes you. The Bitly Mobile App puts the Connections Platform in the palm of your hand, making on-the-fly changes easier than ever.
Shorten links, Create QR Codes, & Track Analytics On the Go with the Bitly Mobile App
Having the power of Bitly at your fingertips can transform your day-to-day activities whether you're an influencer looking to brand your links or a restaurant needing to make a quick adjustment to your QR Code menu. 
The Bitly Mobile App has been available for several years for free through Google Play and the App Store; we're making some great updates based on feedback from all of you. Our app allows you to maximize your Bitly experience by using some of your favorite features like managing links and creating QR Codes with just a few taps. Imagine being able to shorten and track your links from the airport or subway and monitor top clicks to help gauge your performance. The Bitly Mobile App is easy, accessible, and just a download away from improving your Bitly experience and allowing you to get the most out of your plan.
If you are new to the Bitly Mobile App experience, we're going to break down all the features and benefits of having Bitly right at your fingertips.
We're working really hard to continue to innovate our app to make every point of connection between your content and your audience more powerful. There's no easier way to create connections on the go. 
The Bitly Mobile App focuses on the features you need most to drive customer engagement with your business and brand.
How to Use The Bitly Mobile App
We've got you covered whether you use an Android or iOS phone. Bitly really values convenience and security so we offer seamless sign-in using Google, Apple ID, Facebook, and Twitter to reduce password fatigue caused by multiple usernames and passwords across platforms. Follow the steps below to get started with the Bitly app on your mobile device.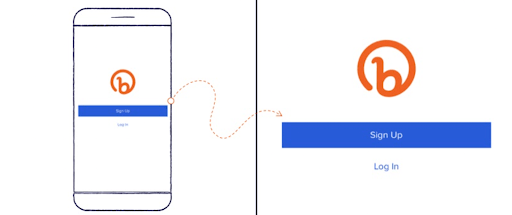 1. Open up the Bitly Mobile App and choose to either sign up for a new account or log into an existing account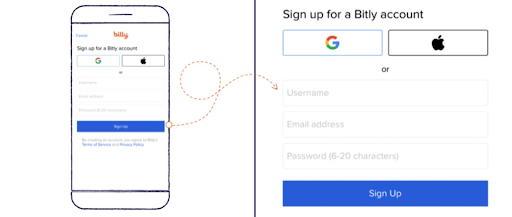 2. Sign up for a free Bitly account with your Google or Apple ID or by using a username, email address, and password
3. Log into your Bitly account via Google, Facebook, Twitter, Apple ID, or by inputting your username/email address and password
4. Once you're logged in, it's time to start creating your short links, and QR Codes, and viewing your analytics from recently shared content.
Features of the Bitly Mobile App to Leverage Anywhere
Link Management
Link Management is for users growing their brand or promoting their business. With the Bitly Mobile App, you can shorten, organize, customize, and track links faster. Copy a link to your clipboard and paste it into a post, message, or document.
Link Management empowers you to:
View all links
Monitor top-performing links
Shorten new links
Edit existing link title, customize back-half, hide link
Add or create tags for your link
Tap to copy and share links with your audience
Filter by tags, custom links, or hidden links
Search link history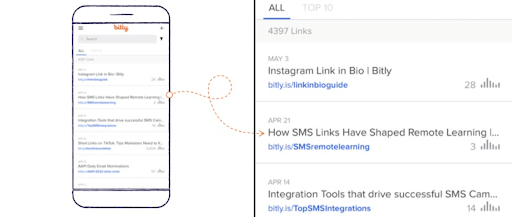 1.  Log into the Bitly Mobile App to view all your links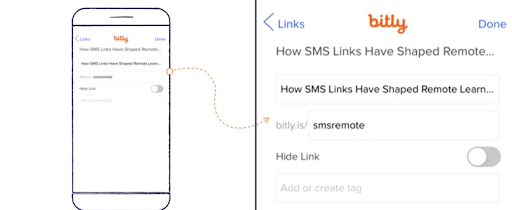 2. Click on the desired link to view the link detail and edit it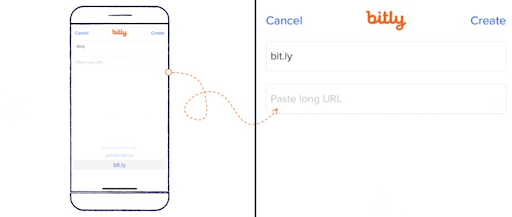 3. Shorten links in just a one-step – add a long URL and select a domain
QR Codes
Do you want to drive customers from offline content to online experience? QR Codes in the Bitly Mobile App are easy to generate and help you connect people to the online experience. You can simply generate a QR code for any of your Bitly links. 
QR Codes are for users who want to instantaneously generate a trackable QR Code for any of their Bitly links and share them virtually or in real life – print media, billboards, storefronts, stickers, t-shirts, and menus, your options are limitless.
QR Codes include the following features:
Generate QR Code for any Bitly link
Customize the color of the QR Code
Keep or hide the Bitly logo
Download QR Code or share it with your audience
Screenshot 1:
Enter your scan destination (URL), select a domain, and add a title to generate a QR Code
Screenshot 2:
Modify the design of the QR Code by customizing the foreground color and hiding the Bitly logo
Screenshot 3: 
View QR Code details and share the QR Code with your audience
Analytics
Every time someone clicks on your Bitly link or scans your destination URL, you'll get access to real-time insights for your link. Understanding how much traffic your link generates and where customers are coming from are essential to making educated decisions.
Whether you run an email marketing campaign, track online ads, blog posts, or social media clicks you can leverage analytics to track your links.
Analytics includes the following features:
Real-time data
Click activity by total clicks, referring channels, and location for every link
Screenshot 1:
Track all clicks that your short links have received and top referring channels
Screenshot 2:
Track top countries that generated clicks to your Bitly short links
Now that we've broken down all the essential functions and benefits of the Bitly Mobile App, it's time to download and get your account logged in on your phone. Take the power of QR Codes, analytics, and link shortening with you wherever you go in an instant. Download our Bitly Mobile App today from the App Store or Google Play!
The post 2022 Q2 Mobile App Updates appeared first on Bitly | Blog.