6 Things to Do Before Using a Logo Maker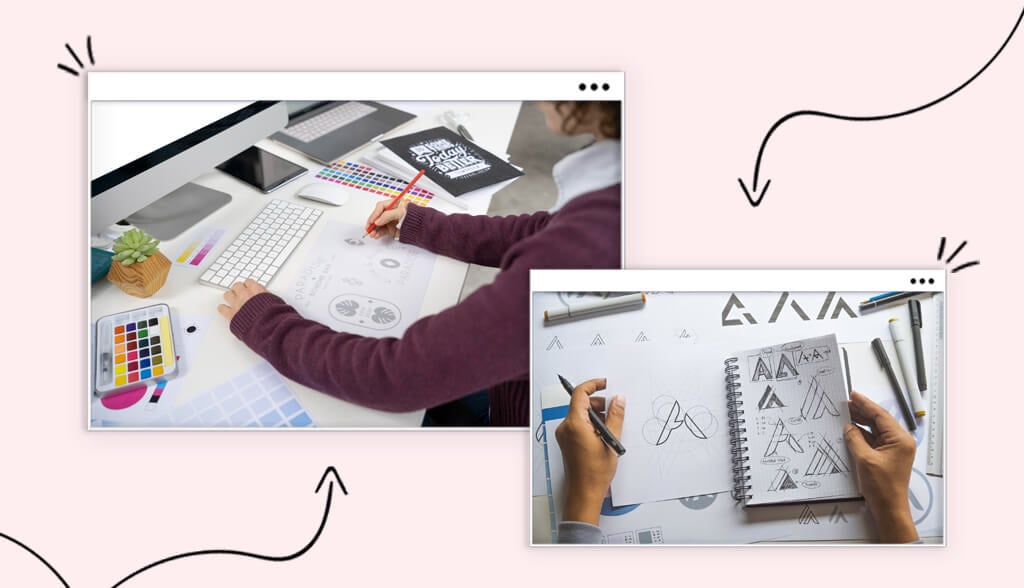 Have you ever jumped right into baking a cake and then realized halfway through that you forgot to add baking soda and poured in a tablespoon of vanilla extract when it should've been a teaspoon? Maybe the cake won't be a total loss, but it won't be as good as it could be. 
Well, that's a lot like creating a logo for your business. You need to have the right ingredients and follow the recipe to a T before you begin designing your logo. If you do that, you're guaranteed to have a final product you're proud of.  
When it comes down to the logo-making process, you should prepare all the necessary ingredients ahead of time so the process is easy and fun. 
A logo maker is a lot like a top-of-the-line stand mixer. Delivering precision and professional results, a logo maker (also called logo creators, logo generators, or logo builders) enables you to plug in simple information to shape your design. A logo maker automates logo creation with AI technology by using the information you provide, such as business name, industry, aesthetic and more. It's a simple-to-use, guided process that takes the stress and uncertainty about logo design. 
Let's go over the things you should prepare before using a logo maker so that you create a masterpiece. 
Things You Should Do Before Using a Logo Maker 
A logo is more than color schemes and font. Don't get me wrong, your logo needs to look good, but it also must clearly represent the essence of your business. 
Many business owners first design a logo and then build their brand around that logo, but it's actually the other way around. Before your logo can communicate anything about your brand, you need to understand your business and brand inside and out. 
The following details all the things you should nail down before using a logo maker. 
1. Decide on your business name
One of the first bits of information a logo maker will ask is your business name. Even if you already know that you want a pictorial mark with a pink and blue color scheme, you still need to know your business's name. After all, it's the foundation of your whole business. 
It could also help inspire your design. Say your business name is Blue Sails, you could use a sailboat icon and the color blue. 
2. Know how to explain your product or service
The second bit of information you'll need to have before using a logo maker is knowing how to explain your product or service. 
What are you offering? Perhaps it falls under one of these categories:
Physical Goods: Candles, clothing, pet supplies, etc
Services: Coaching, real estate, photography, beauty, construction, etc 
Leisure and Hospitality: Food, hotel, spa, tourism, etc
Original Content: Blogging, gaming, streaming, social media, etc
Technology and Software: Apps or online platforms 
This step is deceptively simple, so don't just skip past it. For some, it might be very simple. Going back to our example, Blue Sails offers sailing tours, so that business would fall under leisure and hospitality. Other businesses, however, might fall under two or more categories. For example, a competitor offers sailing tours and lessons, so it'd fall under leisure and hospitality and services. 
3. Recognize your target audience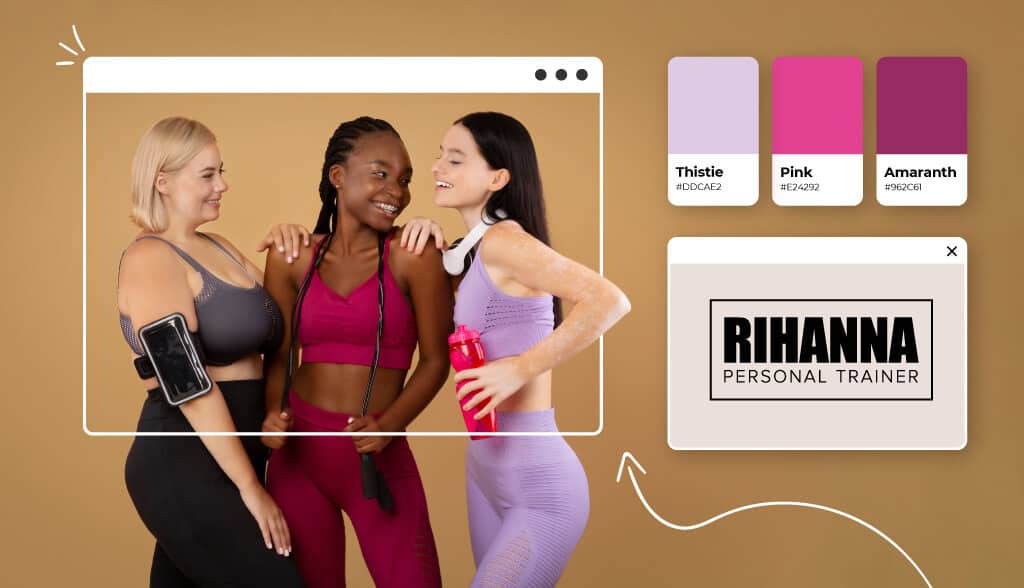 Your target audience is the group of people who want or need your product or service. They're a specific demographic of society determined by age, gender, location, education, profession, income, family state, and other social factors. 
Remember, if you're marketing to everyone, you might as well be marketing to no one. Identifying who your target audience is and what they want and need will guide your logo design process. After all, your logo should symbolize the most important aspects of your business and encourage your audience to connect with your brand. 
Creating a logo with your target audience in mind will ensure you engage their interest, send a positive message, and gain customer loyalty. 
4. Consider your brand personality
Brand personality helps a business shape the way people feel about their product or service. It's a set of personality traits that humanize your business and creates an emotional connection with your target audience. Businesses give off characteristics we connect to. 
These personality traits can help build your logo. Blue Sails can be described as down-to-earth, professional, and adventurous. So when it comes to a color scheme, they'd go with blue for professionalism and sunset orange for adventure. The same goes for typography, layout, icon, and more. 
5. Assess the types of logos you like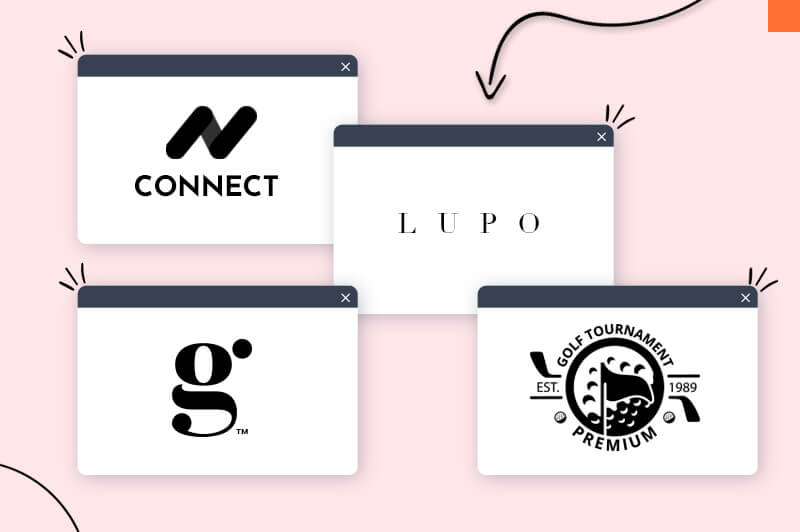 A logo maker will prompt you to choose a logo type. There are 3 types of logos you can choose from: 
Icon Based: An easy-to-recognize shape in the center of your logo design. 
Name Based: Your business name as the key element of your logo design.
Initial Based: Initials as the main element of your logo design.
Check out logos from each type and see which will reach and connect with your target audience. Icon-based logos use images to send a message about the brand they're representing. Name-based logos primarily use a strong font and color scheme to make an impact. Initial-based logos can turn a lengthy or hard-to-pronounce business name into an identifiable, modern brand. 
6. Get familiar with competitors' logos
Your competitors have the same business goals as you do, as well as the same/similar target audience. So their logos will use elements you should consider using too. Learning about your competition gives you an idea of what your target audience prefers or looks for. 
Let's look at a real-world example for a minute: Most banks (Chase, Citibank, and Bank of America) use blue in their logos. Blue conveys trust, which is a top priority for banks. 
Checking out your competitors' logos also sparks creativity and gives you a general direction you'd like to go in. At the same time, it can show you how you can best stand out. If everyone is using blue in their logo, can you throw in a pop of color to stand apart? Sometimes, doing the opposite of what others are doing can capture customers' attention and put you on the radar. 
Whether you're itching to dive or are at a complete loss, a logo maker is a great way to generate a stellar, professional logo. Before you head over to the logo maker, make sure to go through each of these steps so that the process is easy and fun. 
Happy designing! 
The information provided on this page is for information, educational, and/or editorial purposes only. It is not intended to indicate any affiliation between Tailor Brands and any other brand or logo identified on this page.
The post 6 Things to Do Before Using a Logo Maker appeared first on Tailor Brands.