Appointing an Ohio Registered Agent for Your LLC
If you're thinking about registering an LLC in Ohio, there are several steps you'll need to follow. One of them is choosing a registered agent. This is a mandatory part of filing for an LLC and not one you can skip. There are also rules and regulations you'll have to follow for this registered agent, as well as the rest of your LLC filing. Fortunately, it doesn't have to be complicated. Here's everything you need to know about choosing an Ohio registered agent for your LLC.
What Is an Ohio Registered Agent?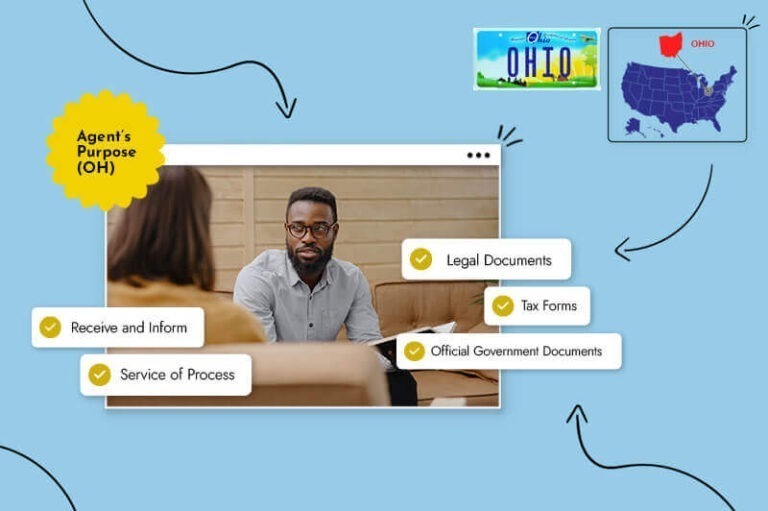 A registered agent is someone you designate to handle specific aspects of your business. Since this person will have access to sensitive documents and information, you will want to make sure you're choosing them carefully. Many LLCs use a registered agent service to have someone they can trust working with their company. If you make that choice, you can feel secure that all your official paperwork and other information will be handled properly, and you'll be notified of any issues.
A registered agent's purpose
A registered agent has specific duties they have to be aware of. If you choose a family member or friend to be your registered agent, make sure they know what's being asked of them and what requirements they'll need to meet. While it's generally not onerous to be a registered agent, some people aren't well-suited for it, and it's a good idea to find that out before you choose them. A registered agent is there to receive and inform about:
Most of the time, your registered agent won't have anything to do. It's not a full-time job, in that sense. But if and when you receive a service of process, or government documents arrive, you'll need to be able to rely on your registered agent to make sure you're told about those things. The same is true with any legal documents and tax forms, because ignoring those items could cause serious legal and financial issues for your business. A good registered agent will make sure you know about all of these items.
Requirements for a registered agent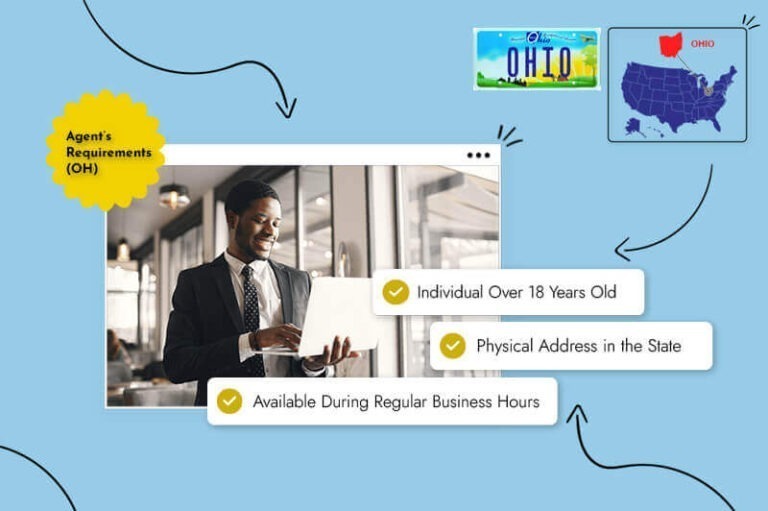 There are some simple requirements for being a registered agent, and they're requirements that most people can meet. Still, there are some specific reasons that a particular person wouldn't want to be a registered agent, especially if they have a unique schedule, or they aren't actually an established Ohio resident. The main requirements for a registered agent are:
While that sounds simple enough, someone who isn't in Ohio all throughout the year, travels a lot, or is regularly away from the designated address or location during normal business hours (9-5, Monday-Friday) might not be a good choice for a registered agent. Failing to maintain a registered agent properly can have serious consequences. Even if they're someone you can trust with your paperwork and documents, they need to be available and legally an Ohio resident. For legal purposes, it also goes without saying that they have to be an adult.
Can I Be My Own Registered Agent in Ohio?
In short, yes you can. But you have to meet the requirements of a registered agent, and you also want to think carefully whether this is a particular responsibility you want. For example, if you travel a lot, you might not always be available. That could lead to problems if your company is served with any kind of official paperwork. You also need to make sure you won't be moving anytime soon. If you move out of the state, you'll need to find a different registered agent. Choosing someone else from the start can help.
How To Appoint a Registered Agent
Appointing a registered agent isn't a difficult task. It's part of setting up your LLC, and you have to make sure the registered agent consents to the job. If they consent, you'll file a written acceptance that includes the street address and ZIP Code of your registered agent, along with their signature. That prevents anyone from designating a person who might not fully consent to the job.
Appointing online is the easiest way to handle things. You can just appoint the registered agent when you're completing all your LLC paperwork, so everything is done in one place. The registered agent is filed with the Secretary of State, just like the other LLC information.
Appointing by mail is another option. You can mail in all of your LLC paperwork, and simply send the written acceptance with the rest of the documents. Whether you choose an online or mail appointment, there's no fee for appointing a registered agent for your Ohio LLC.
How To Change My Registered Agent
If you need to change your registered agent, you can do that by filing Form 521 Statutory Agent Update with the Secretary of State. If your current registered agent changes their name or address, you should use this same form to make that update, as well. The fee is $25 to update your registered agent's information, and you can mail or fax the form. There is also an option to expedite the change, which costs between $100 to $300, depending on which option you choose.
Benefits of Using an Ohio Registered Agent Service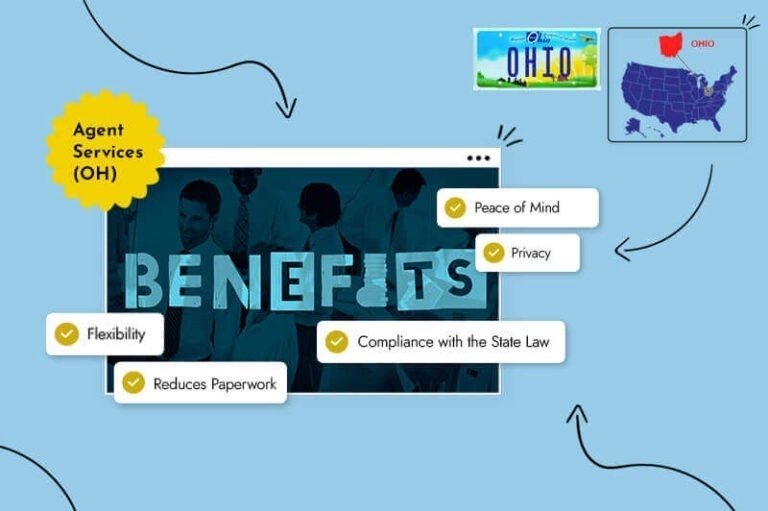 When you choose an Ohio registered agent service, you get some great benefits. It's a worthwhile option for the majority of LLCs because there are a lot of other areas where your time and energy can be better spent. You don't have to worry about the finer details of paperwork when you have a registered agent service you can rely on to address those issues for you.
You want to help your business grow and feel comfortable developing it for years to come. When you have a registered agent service, you can have peace of mind about that particular aspect of your business, freeing you up to think about other issues and find ways to make everything work together more seamlessly.
You don't want just anyone seeing your company's personal documents. By using a registered agent service, you don't have to worry about appointing a friend or family member as a registered agent. You can feel confident that your personal information is protected and that you won't have well-intentioned opinions getting in your way.
Compliance with state law
Complying with state law is extremely important for your Ohio LLC. You don't want to take the chance of having legal or financial issues due to noncompliance concerns. Instead, you can use a registered agent service. That way, you'll know they're dedicated to following the laws, and you won't have any concerns about your business's compliance abilities.
If you don't want or need to maintain regular business hours, you travel a lot, or there are other reasons that being your own registered agent is inconvenient, a registered agent service can solve that worry for you. Then you have the flexibility to do what you want and handle your LLC on your own terms without worrying about whether you're missing some important document delivery or deadline.
Less paperwork is almost always a good thing. If you're operating a growing Ohio LLC, it's likely that you already have enough paperwork to deal with. You don't want any more of it, and a registered agent service can take that weight off your shoulders. They'll handle all the official paperwork, and just let you know if there's anything you need to do, so you can focus on other areas of your business as much as possible.
Having a registered agent for your Ohio LLC is mandatory, and you can't avoid it. Fortunately, it's not hard to appoint someone to this position, as long as they meet the requirements and agree to it. You can even be your own registered agent if you want to. But when you choose a registered agent service, you can avoid any extra stress or paperwork. You'll still have the flexibility to travel when you want or need to, and you can keep your focus on growing your business into something strong and amazing.
This portion of our website is for informational purposes only. Tailor Brands is not a law firm, and none of the information on this website constitutes or is intended to convey legal advice. All statements, opinions, recommendations, and conclusions are solely the expression of the author and provided on an as-is basis. Accordingly, Tailor Brands is not responsible for the information and/or its accuracy or completeness.
The post Appointing an Ohio Registered Agent for Your LLC appeared first on Tailor Brands.