Personalized Matching Findings
Winning execution Openness, losing on Agreeable. 
The holdout group has no hard, incremental costs to service it – it's all digital.  The net or profit margin for the holdout in the winning Openness treatment is higher than the letter group margin.  But, you got a lot more people "engaged" with the brand again; giving, exposure through different channel, etc. by including the mail in the mix.
So, what about digital, couldn't this same thing be done there to 'beat' the one-size holdout control?  Glad you asked and as usual, charity: water was thinking ahead too.
They ran this email test with the last email in a 2-week, country specific campaign.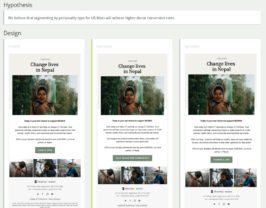 The changes are subtle, an extra line of copy in the Openness (middle) and Agreeable (right) treatments versus Control (left).  Plus, copy change tailored to match Personality on the button call out text.
That's it.  Everything else was identical.
Results?
Mirrors the mail test with Openness doing better than Agreeable but in this digital test they both beat the control albeit only directionally with the latter.

Summary
Test, test, test.  That's the sector mantra.  There ought to be a predicate, think different, then test, test, test.  A big part of charity: water success comes from thinking differently, it's built into their DNA.  Not only are they receptive to new ideas, they seek them out.
This testing, like all testing, had constraints.  It also had success and failure.  All of it contributes to the knowledge base and idea factory for charity: water.  That is the real value.  Inherent in this is getting beyond just format and channel as the lens onto the world.  People are different, we can either market and fundraise to these differences or ignore them.  Both are choices and charity: water made theirs.
What will you take from this?
Kevin
P.S.  As promised, here is a link to both charity: water posts as a single case study.