Managing a creative design agency includes a lot of fun… but it's full of challenges in practice.
Nearly every venture requires creative help at some stages of their development process – often like enhancing into a new market, up-leveling your growth, or initially as the first when they launch in the competitive world.
However, you get many options while you research in this sector, from DIY to freelancer to the best designing agency in India – ultimately, the choice is yours on how to give the best for your brand.
These creative groups will always be there for you as an extra pair of supports; they can assist you as strategic thought associates, guiding you to develop new creativity or strategies that are the core for your business.
However, nowadays, the number of creative agencies in Delhi, Mumbai, Bangalore, and other urban cities are increasing excessively, so before choosing a perfect team for your purpose, research their level of experience and ensure that they'll meet your needs and requirements.
Now let's start in; this blog mainly focuses on understanding what a creative agency is? Its types, importance, and some of the challenges agencies face.


What is Creative Agency?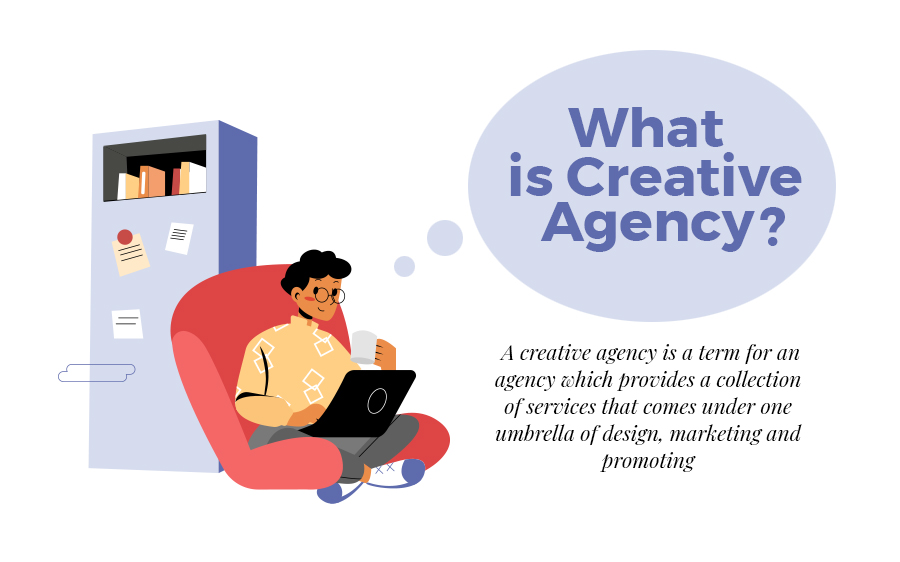 In simple terms, a creative agency is a term for an agency which provides a collection of services that comes under one umbrella of design, marketing and promoting. Above all, if you require any creative strategy, promotion, or branding, they are appropriate to get it done.
While some creative agencies are specialized in one of the other elements, in common, they usually provide services like:

1. Branding:
Branding Agency comprise all kind of brand related requirements and enlarge your scope of products or services. They help develop your brand from scratch and help create a strong brand identity in the market.

2. Digital Marketing:
Agencies help to develop your brand through online or digital platforms. They use different strategies and run campaigns on major media platforms. It helps to make your brand visible to your targeted audience.


3. Direct Marketing:
These organizations focus on marketing your brand on direct response platforms like email marketing, postcards, etc. They have in-built strategies that drive your audiences to the website also deals with telephonic marketing.

4. Shopper Marketing:
Creative agency mainly target to promote the retailers by marketing strategies and our promotional activities. They also use various in-store media and technologies to create applications that lead to purchase.

5. Public Relations:
These groups help in creating brand awareness directly to the public. Building a solid image of your brand to the world is their primary point of the task. They help develop your brand through media talks, conducting events, shows, articles, and many more.

Most Common Job Roles in a Creative Agency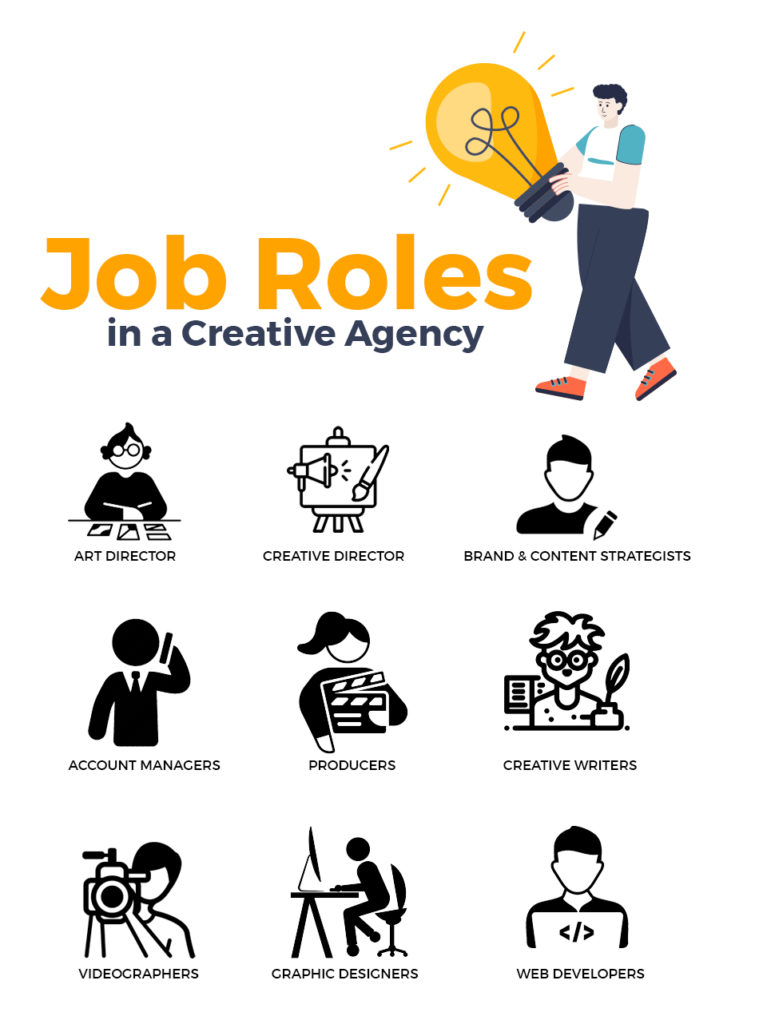 These agencies comprise professional team members for respected roles who are exceptionally qualified for the agency's service. Now let's discuss some of the typical roles in a creative agency:

1. Art Director:
A professional art director will regulate which artistic components to utilize, pursue the team's exact vision, evaluate and approve copy, determine budgets or schedule, also help get the best output from the artistic works.

2. Creative Director:
A creative director administrates the creative department at branding and marketing companies. Their roles include planning or designing company advertisements, observing brand campaigns, amending presentations also shaping the proper branding standards.

3. Brand and Content Strategists:
A content strategist is in charge of creating a company's editorial voice also controlling content needs, modes selection, and distribution.

4. Account Directors/Managers:
An account director supervises the delivery of creative work that connects the customer's needs also addresses the various challenges they face inside and outside the agency.

5. Producers:
The producers are responsible for enchanting the approved creative idea and making the client's desires happen on air, visuals or other channel methods.

6. Creative Writing & Content Writers:
Writer & Editor comprises a variety of content for publications by conveying ideas through the text. Their primary responsibilities include creating topics, writing catchy material, and making edits based on client feedback.

7. Videographers:
A Videographer is in charge of recording live events and small scale video making productions. They also focus on smaller shows like documentaries, commercials, and other film videos.

8. Web Designers & Developers:
The role of web designers is to design appealing and efficient landing pages, optimize sites for maximum rate or scalability. On the other hand, the web developers assist in designing, compiling and modifying websites, from the layout to operation as per the client's demands.

9. Graphic Designers:
Graphic designers are mainly in charge of creating exciting, inventive designs with words, imagery and illustration. They also help in illuminating their clients in a precise manner to generate something catchier than they imagined.

10. Content Distribution Specialists:
The roles and responsibilities of content specialists are to accumulate content for a company, supervise the content also created to post in their accounts for marketing or promotion.


Types of Creative Agencies

1. Advertising Agency:
An advertising agency is an all in one destiny for advertising your business or products. Such agencies will guide you in giving you the best strategies to reach out to your consumer's with promotional campaigns.
Most agencies have their own in-house creative employees who help in designing the campaigns. They help in considering which channels to use and how to regulate to fit the channel. Therefore, if you plan to promote your advertising-related requirements, you can approach such agencies.
2. Digital Agency: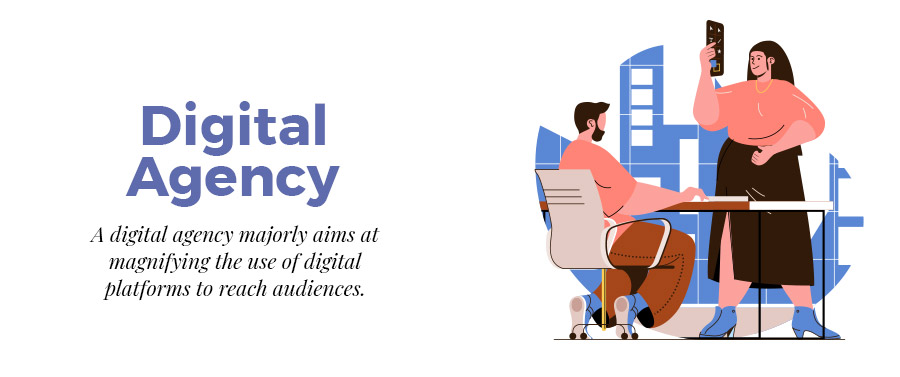 A digital agency majorly aims at magnifying the use of digital platforms to reach audiences. They provide creative, scheme or technical enhancement of visual-based products and services. The channels might include social media platforms, websites, Search engine optimization (SEO), paid promotion campaigns, and digital consulting services.
The significant benefit is that as they are very prompt in the digital space, they will always be competent at the latest system updates and potentialities. They also are familiar with how to make the best move on each digital platform. They can also help in guiding you to the best channels that are more suitable for your products or services.

3. Design Agency: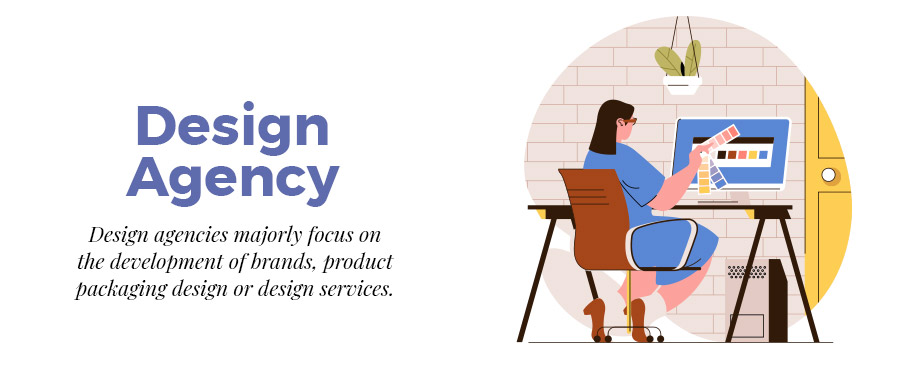 Design agencies majorly focus on the development of brands, product packaging design or design services. They majorly include digital and design services that also deal with brand specialization, structure, and product design. The main benefit of such agencies is that they make customer offerings more attractive than their competitors.
They focus primarily on graphic design online and even assist in printing for their designs. They also develop visual communication materials for customers to use in marketing and other promotions. In a design agency, you can get all kinds of branding related requirements under one umbrella. A professional agency can always make your brand reach the next level with its professionalism and experience.

4. Interactive Agency: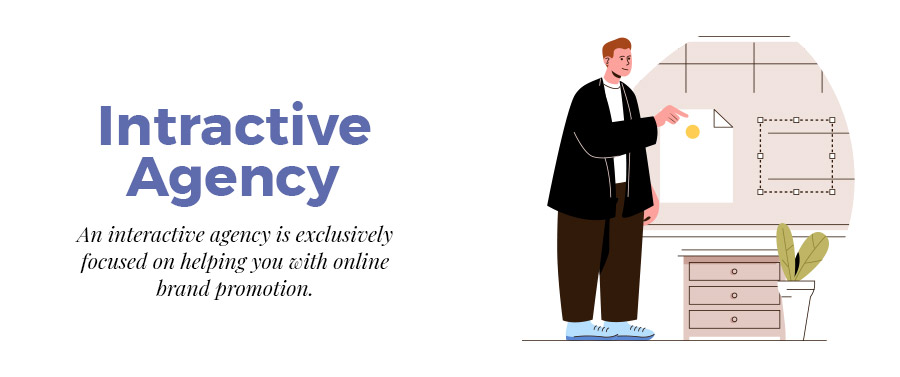 An interactive agency is exclusively focused on helping you with online brand promotion. They often create digital experiences that engage customers with innovative technology, excellent design, and multimedia content.
At times, they are hired in creating a great website too. Typically, they also engage with ad agencies or consultants provide on a complex element of a campaign or a massive digital project.
Generally, these organizations target design and technology over strategy or promotion and have a substantial deal in design or digital video.

5. Consulting Agency: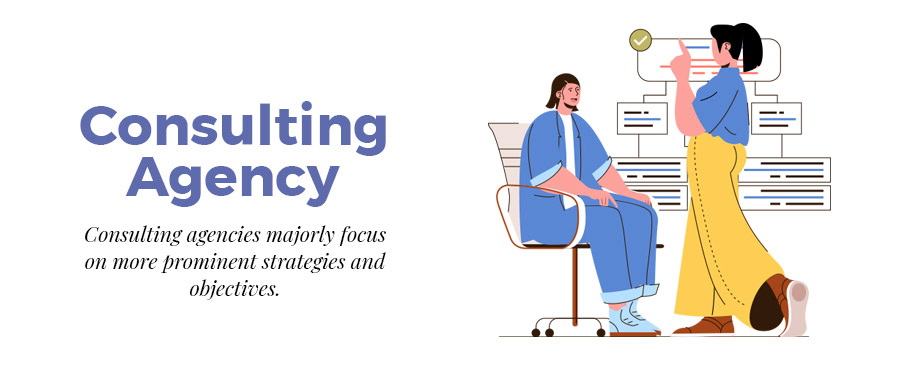 Consulting agencies majorly focus on more prominent strategies and objectives. They always do a substantial deal of research also concentrate on specific markets and industries. These organizations always have the potentiality to reach high and enclose professional or creative services under one umbrella.
Such agencies comprise experts in particular industries who provide professional advice, assistance, and functional solutions to companies facing challenges that can't manage within the house itself.


Importance of Choosing the Right Creative Agency
No matter how good your brand is, until consumers are aware of it or build trust, it will be a challenge to succeed in the market; you have to give importance to marketing your brand or products.
Therefore, it is critical to get an agency that offers you a complete solution for your business. You can make a track of different brands with whom they have worked before.
A good agency will always be aware of inflating and promoting the brand in the best possible manner. So, approach an agency that is well aware of all kind of branding elements also who exactly know what brand awareness is!
Another most essential aspect to consider a reputed agency is a money. An excellent creative agency knows precisely how to give you more offers, but not price more. Also, remember, if you pay peanuts, you get monkeys! The point is that do not choose an agency only because you found they are cheap. Indeed, look for an agency, who understands your product to give the best value services that make your brand reach the next level.


Freelancer vs Creative Agency

1. Lack of Commitment:
 In the case of any service, Success depends on the level of commitment you put towards your work. As freelancers already have multiple projects, your task will always be secondary for them. They won't be able to give their proper attention as they have numerous jobs with them. As a result, you won't get a good result from them.
On the other hand, creative agencies allot a dedicated professional team. In their case, your work is their primary priority, and their mindset is always set towards one thing. As a result, in return, you'll get the best output with more options and make you satisfied.

2. Communication Issues:
As they are not professionals, Freelancers may have lesser knowledge in providing good customer service and disregard basic ethical standards. Thus, lack of functional factors and responsibility in the overall project leads to various communication difficulties or misleading deadlines.
In contrast, agencies comprise well-experienced professionals who are well trained about dealing with the customers following all the other standards. Even if the customers face any challenges, they can rectify them soon and give you the best result.

3. Deadly Deadlines:
Missing deadlines are one of the typical issues found in the freelancing world. As they are managing multiple tasks, they find it challenging in getting them done alone. Even though they promise in delivering it within time, in most cases, they don't follow it due to the limitations. It will lead to the last minutes' struggle and complications like hurting your profit margin. Consumers will lose their trust or confidence in you, and your business will face further consequences.
In the case of creative agencies, as they are working as a team and the central focus is on the branding part only, they have the resources to execute it also deliver the project within the time limit. It is one of the primary reasons why most clients approach such agencies and get their work done.

4. Unpredictable:
Clients who work with freelancers working as part-time specialists have the experience that the majority of them are unpredictable. Initially, they'll be working properly, and frequently they may disappear, start answering you late or even cancels the project.
On the other hand, creative agencies always have a reputation in the market or credibility, and they will constantly be there with you. Even if you have any challenges or difficulties, you can even visit them anytime, and they will always be available for you. Thus, your work will be in safe hands and get the best output from them.


How much does it Cost to Hire a Creative Agency

1. Small Level Agency:
A small level agency comprises a lesser team who might be a start-up or have experience in the industry. Even though they'll be working as a team, their work mode is limited, and their clients will also be major of small sectors.
They'll initially focus on the local areas only, and once they get a good level of experience, they switch to a broader form. The cost of such a small level agency will be much lesser when compared to medium and big agencies.
Average Per hour: 2000* INR X 10** hours = 20000 INR
*Amount varies with experience from 2000 to 5000 INR
** Min. and Max. Hours depend on work


2. Medium Level Agency:
When it comes to medium level agencies, they're the standard ones serving the industry for some years and successfully achieving their milestones with time. They have a bigger group and will be leading in more than one scope of the area. Their clients will be majorly small and medium scale industries.
As they have a more standard group, they provide a better result when compared with a small level agency. The cost will also be slightly higher than the small level agency
Average Per hour: 5000* INR X 10** hours = 50000 INR
*Amount varies with experience from 5000 to 8000 INR
** Min. and Max. Hours depend on work

3. Big Agency:
These are the bigger giants who are ruling in this particular sector. They are working in a more extended format and have all kinds of services under one roof. For any type of branding related requirements, you can approach them, and they will definitely help you out.
These agencies have highly professional team members who have the best experience and are the industry's soul. As they offer you high-quality services, their cost will be higher than the other two level agencies.
Average Per hour: 10000* INR X 10** hours = 100000 INR
*Amount varies with experience from 10000 to 25000 INR
** Min. and Max. Hours depend on work

Challenges of Creative Design Agencies
Now let's discuss some of the challenges faced by creative design agencies: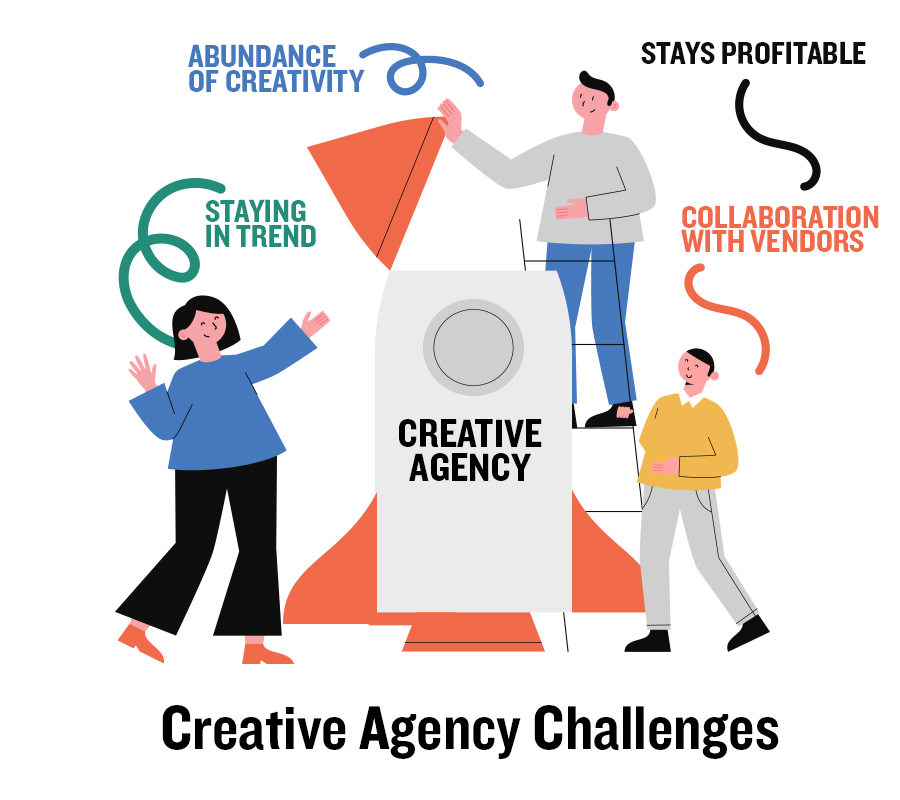 1. Staying in trend:
While it is essential to keep an eye on emerging trends, it isn't always good to follow them, as you also end up like everyone. Therefore, you have to follow the trend and do something creative to make you unique from your competitors. Moreover, it is always embracing being a trade setter rather than a follower if you set away. At the same time, be constantly conscious of the competition too.
With this in mind, it is not always a simple task to be consistent and provide creative projects by maintaining the reputation. The cost of the project depends on delicate planning, research and risk-taking. This all makes an agency unique from its competitors.

2. The abundance of Creativity:
Being always creative is a great talent; one or another time, you'll get out of the track, and you will be like a fresh one only. Being creative needs a lot of encouragement and freedom to explore new ideas, problem-solving, etc.
Therefore, keeping the staff stimulated can be a challenge in some cases. Combining things and various tasks, networking events, can even need a much booster to the creative thinking process.

3. Collaboration with Vendors:
Productive collaboration is vital for any company to prosper in this competitive market. Proper communication between internal and external shareholders will define how efficient your team will execute quality products and services.
Collaboration requires multiple calls, emails, phone calls or direct meetings; it is worth observing that there are many other substitute means of collaborating with the team and customers.

4. Staying Profitable:
While it's essential to continue in the current trend focusing on projects, budgets, profitability and productivity, one should plan frontwards also look towards further expansions.
Setting reasonable business goals or objectives will set out as a plan for where you want your agency in the future.
Performance analysis and succession planning is the core to nourishing your team and heading onto new challenges. Once you have all these systems, you can get a good culture with personal growth.


Some Common Questions for Creative Agency

Q1. Do you have the availability to take on my project?
Ans: It is one of the primary questions most consumers ask since everyone has a limited period and needs to complete it within that timeline. If they have the availability, you should also encounter the expected timeline of projects similar to yours.
However, well-established agencies always have an excellent professional team who will be able to manage multiple projects at the same time.

Q2. How much experience do you have in my industry?
Ans: Some clients have the perspective that the agency needs to have experience in their own industry. However, you need to understand that whether or not they are specialized in your sector, it's best to get a sense of their knowledge in their base.

Q3. What does your creative process look like?
Ans: Each agency are unique and has their own process which finds the best for them, but no matter what is the process, they all have an entrenched process to get things done on time. While enquiring about an agency, you can ask them to detail their process, giving you a clear idea.

Q4. How much you charge?
Ans: The pricing of the services are majorly dependent on your requirements. They will only charge you for the scope of work they have. Ask them to give an idea of the costing and what all services they offer for the said costing. It is essential to make sure that everything is transparent on both ends.


Conclusion
With this blog, we believe you get an overall idea about the term creative agency, its importance, types, challenges and the regular queries users have regarding such agencies.
A professional creative agency will always help develop your brand and guide you in each step of building your brand. It doesn't matter from what type of industry you are in the present era; it is essential to have proper branding or marketing for your brand.
If you want to save on the agency fees, it can be immensely more cost-effective to allocate this part of the business and benefit from their knowledge in the sector. It is the main reason why many companies approach creative agencies rather than generating them themselves because spending money on branding is not your business expense, it's your investment.
If you desire to know more about the essentialities of creative agencies, you can consider DesignerPeople Branding Agency. Our team will contact you and help in getting a better result for your brand.
The post Creative Agency Guide – Definition, Importance, Costing and Challenges appeared first on designerpeople.