In the nonprofit world where 7 out of 10 newly acquired donors will not give to that organization again, you'd think fundraisers and CEOs would be tripping over themselves to gain ANY insight on what they could be doing to hold on to supporters by improving donor experiences.
The commercial world figured out the value of seeking customer feedback a decade ago. Today, it's nearly impossible to rent a room, take an airline flight, or buy a product without the company asking about your experience and interests so it can improve and innovate.
There's no question that engaging donors –seeking feedback and listening to what they say—is the quickest, cheapest way to identify donor interest and improve donor experience. Yet sadly, it's a fundamental task that most organizations simply ignore.
As part of its Power of Feedback series, Stanford Social Innovation Review conducted a survey of 1,986 nonprofit, foundation, and other charitable sector leaders. The survey found that 88 percent of the leaders prioritize gathering client feedback, and 44 percent of them see it as a "high priority" or "top source of insight" for continuous program improvement.
Although 88 percent of nonprofit leaders surveyed said they prioritize gathering feedback; only 13% indicated they've been able to do it [an interesting use of the word "prioritize"] Two-thirds reported that staff time is a barrier; 20% felt it is too expensive.
Why does our sector so resist seeking feedback? Not because of cost, given the low cost of technology and available techniques and the enormity of the stakes involved. ( In fact for years Donor Voice has  offered a low cost, highly effective platformt to easily and quickly get feedback).    And hopefully not because of the "staff time barrier" given the fact that so much can be gained for such little time expended.
Years ago, in our post Better Than 'Fundraising', we observed, " the received wisdom in our trade is that the transactional and mechanical stuff like copy, frequency, asking amounts, offers, segmentation, and the annual string of appeals is 'fundraising'. That's far from true.
Frankly, while many organizations claim to be 'donor-centric', most merely concentrate their 'donor centricity' on the transactional and mechanical dimensions of the appeals or collection process itself–what they consider "fundraising."
By ignoring or neglecting the human interaction–feedback– at the very heart of donor-centered care and service, most organizations forfeit enormous sums of money and increased levels of donor commitment and loyalty.
There's good reason to consider donor feedback a silver bullet for fundraisers.  For little cost we can uncover and fix areas of donor concern and receive substantial financial rewards and donor loyalty in return.
In fact, the mere act of seeking a donor's input is not only a fundamental element of the two-way communications that are essential to lasting human relationships, the mere act of seeking feedback will boost returns.
Take a look at the graphic below of a test involving only a single instance of collecting donor feedback.  Here's the performance 6 months after the test: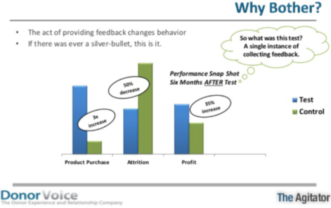 Contributions/purchase of additional offers increased 3 times over the control group.
There was a 50% decrease in attrition; and,
A 35% increase in net income from the test group over the control group.
As the chart notes, "If ever there was ever a 'silver bullet' this is it."
Given the testing, pilot projects, and full-scale implementation I've seen over the past five years there's no doubt that nonprofits that get into the donor feedback game are the ones that will distance themselves from their competitive set and make a meaningful dent in the retention problem.
Valuable Types of Feedback
I asked Josh Whichard, a partner at Donor Voice who deals daily with feedback applications, what types of feedback are proving particularly helpful and financially rewarding?  Among the feedback activities he cited:
Facebook surveys to determine Donor Identities
Donation page abandonment surveys
Intent to donate in the future surveys
Newly acquired Face-to-Face donor surveys to identify those most likely stop giving
A variety of website surveys that have evolved way beyond the "how was your visit" variety.
In terms of feedback from website visitors Josh explained, " You can and should go way beyond the usual 'how was your visit' survey to seeking specific data tied to specific actions that the organization can use to tailor subsequent interactions—like 'intent to give in the future', or 'continue giving' or 'intent to involve family' in the supporter experience."
(Speaking of website feedback…. while working on this post I visited the websites of four major enviro/conservation organizations –WWF, the Sierra Club, Environmental Defense and The Wilderness Society.  Only one –WWF—asked for any feedback on my visit.  Praise to the Panda. You can see their feedback survey here.)
Why So Many Organizations Resist Seeking Feedback
I also asked Josh why he thought so many organizations resisted seeking donor or visitor feedback:
"I'm sure that many people who don't understand proper survey techniques harbor the mistaken view that "people don't do what they say in surveys'.  Yes, this can be true but almost always these sorts of disappointing results are the function of poor survey design; asking bad questions; e.g. things donors can't answer reliably".
He continued, "Consequently, too many organizations camouflage their inaction because they have little understanding of the power of properly designed surveys.  They simply let the desire for the perfect prevent them from putting in place something far better than they now have.
"They should be asking: 'What is the alternative?'  Using just the example of the online donation experience via the web, many organizations raise lots of money off their home page Donate button but know almost nothing beyond the gift amount and some basic Google Analytics. They have ZERO insight as to "why their donors gave". And in a world where the majority of their donors will never give again ANY insight is better than nothing."
Why Bother?
One of the reasons for poor retention and lost donor value is that most organizations design communications, processes and procedures reflecting their internal priorities.  And usually it's the cheaper and easier option that pushes the complexity and difficulty of use onto the donor.
Organizations likely to thrive in today's complex and competitive environment are the ones that relentlessly ask: "Is this more difficult for the donor to do or use or take action? "  And then…they'll listen and act upon the many helpful and guiding answers provided by their own donors through the simple process of feedback.
It's always good to remember that our creator gave us only one mouth, but two ears.
Roger
[An earlier version of this post was published February 18, 2019]