The travel brand is using the holiday to encourage customers to sustainably see the world. Here's how it sees ESG as part of its essential brand mission.
For Samsonite, telling its story of sustainability and environmentalism has become a high priority.
For 2022, the luggage company is highlighting its efforts to make its products from recycled materials, as well as environmental benefits of its bags' durability.
"In our pursuit of sustainability leadership, we recognize that the most sustainable product is one that lasts," says Ezequiel Hart, Samsonite's global head of sustainability. "It's straightforward: a product that lasts twenty years, for example, will have one-quarter of the impact over that period relative to four products that each last just five years before needing to be replaced. So, our priority is to ensure that our products are built to last."
The brand is also pursuing a special Earth Day campaign, partnering with Iris Worldwide, part of the global Cheil Network. The campaign is using photographs to tell stories about sustainable travel in different cities, "unpacking the decisions that travelers make."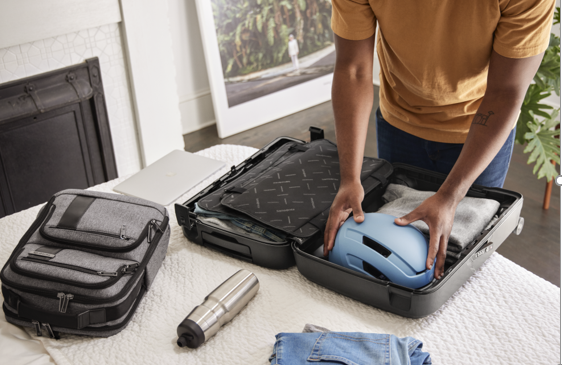 (Images courtesy of Samsonite)
Samsonite chose to work with Iris on the campaign because of their shared values around sustainability.
"Our approach toward building even more sustainable product & processes is a constant evolution as we continue to learn," says Nicole Adriance, senior director of brand marketing at Samsonite. "Iris has a similar corporate policy.  This notion inspired the campaign territory — and we decided to lean into the idea that we are ALL on a journey, as a company, as marketers and as consumers."
The intended message of the campaign? "Sustainable choices don't have to be difficult."
"A series of mindful, small choices can lead to a big impact for our planet," says Adriance. "Let's inspire one another to be mindful about the micro choices we make when we travel."
The campaign chose to focus on images because of the storytelling possibilities. "We wanted to visually depict some of the choices consumers can make when traveling sustainability," says Adriance. The images also afforded an opportunity to show off Samsonite's products.
Lessons learned  
What advice does the team have for others looking to create messages for Earth Day?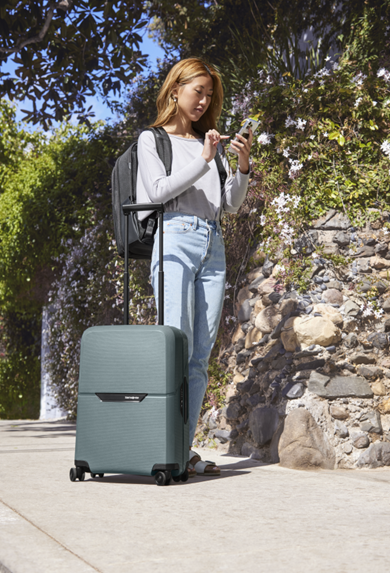 "Storytelling is everything," says Adriance. "When it came to this year's campaign, it was important that we do more than take pretty pictures of our sustainable products.  We wanted to invite consumers into the dialogue – we are challenging ourselves to make more mindful choices, and we want to learn from our consumers about the choices they are making to travel more sustainably."
As an example, the team worked with its influencer partners to create an online conversation about sustainable travel, creating a dialogue that reached untapped audiences and offered crowd-sourced solutions.
"The more dialogue we can create across channels, the better," Adriance says.
For others looking to create campaigns on sustainability or climate, Adriance recommends thinking in the long-term, not just targeting immediate success.
"It's not just one action, and we are all learning," she says. "This year's campaign and product developments are just two of the facets of our commitment to sustainability concerns."
And commitments shouldn't start and stop with a single campaign. For example, Samsonite is also actively partnering with One Tree Planted, a 501 c(3) organization with a mission to help global reforestation efforts, donating 20,000 trees in North America in the last two years.
"So, my advice is to just start," says Adriance, "because we are all on this journey together."
The post How Samsonite takes Earth Day beyond 'pretty pictures' appeared first on PR Daily.