A vanity URL is crucial for brand representation and is an essential piece of an online presence. We explain what it takes to make a custom vanity URL and provide the steps necessary to set one up, plus expert tips for choosing the perfect URL.
How Do You Create a Vanity URL?
To make a vanity URL, you can use a link management tool or a content management system (CMS). A link management platform can create a vanity URL for a web address. Using a CMS may require a redirect plugin to create a link that will serve as a vanity URL.

A vanity URL should align with your brand. Lindsay Pedersen, a brand strategist and author of Forging an Ironclad Brand – A Leader's Guide, explains, "Every brand communication, including vanity URLs, is an opportunity to reinforce the relationship with your audiences. All elements should work in concert rather than in isolation. That way, everyone and everything plays from the same songbook, with all words and tonality governed by a unified brand strategy."
Steps to Set Up a Custom Vanity URL 
Before making a vanity URL, you need to set up a domain (i.e., web address). Start by checking if your domain choice is available, then register and pay for your web address. Once the registration is complete, use it as a base for creating a custom vanity URL.
Here are detailed steps for getting a vanity URL for your web site:
1. Brainstorm a few domain naming options.
Generally, a shortened version of your company's name, product, or brand makes up a vanity URL. Before you can shorten a URL, you need a vanity domain for your website. Once you have a few ideas, use a domain registrar (such as GoDaddy) to see if the domains are available. If they appear on the list, the URL is up for grabs. If not, someone already owns that domain. 
2. Choose a hosting service.
There are a few options for domain name hosting services. Pick one that's in alignment with your skill level or how much work you want to put into maintaining your URL. 
Beginners: If you don't have someone managing your links, you'll likely want to choose an out-of-the-box link management solution that does everything from hosting the web site to registering the name to creating the domain and the vanity URL. In these scenarios use a simple and secure link management tool like Bitly. You simply put in the URL, pay the relevant fees, and the link management software does the rest.
Intermediate: If you're creating a website using a CMS like WordPress, you can get a custom domain from them. In that scenario, you would buy a subscription plan and have WordPress register the URL for you. When you want to create a vanity URL, you install a redirect plugin for the CMS. This tool allows you to make a shortened vanity URL that will point to whatever web page you want to share.
Pros: If you're building your website from scratch or have an IT department that can help maintain the site, you're likely using a hosting service such as Bluehost, Amazon web Services (AWS), or another provider. In that case, you'll want to buy the domain name using a registrar. The IT group can develop a solution to create vanity URLs or will suggest using a secure shortening service like Bitly to make them.
If you're going the beginner or intermediate route for securing a vanity domain, skip to the last step.
3. Register and buy the vanity URL. 
For those using a hosting service, you need to buy the URL and register it with a domain registrar such as GoDaddy. You'll pay the registrar for the domain, and they register it, making it available for your use only. Once registered, the registrar will also insert it into the global domain name system (DNS)—essentially, the Yellow Pages of the Internet—so people can find your site.
4. Create a vanity URL.
You can create a vanity URL once you have a domain and content you want to share on social media sites (notorious for character restrictions) or in newsletters or other materials. Use a URL shortening service like Bitly to create the vanity URL.
Try picking a vanity URL that reflects your domain or product but is not too long—something that's about 8 to 10 characters (total) is usually a good rule to follow. Before committing to a vanity URL, you'll also want to do your due diligence to ensure the one you select isn't offensive. 
"Vanity URLs can be subject to the same challenges that arise with naming in general. Be aware of the potential for cultural disconnects to avoid conflict and embarrassment," adds Pedersen. "For example, a health and wellness company was looking at names that infer harmony and was considering 'Madrigal' only to find out that it was linked to a drug consortium on the series Breaking Bad. Not a great fit! Also, do deep cross-cultural and linguistic checks to avoid any negative connotations for your brand, whether you're working nationally or overseas."
For example, the web address that provides an image of Chuco the Driver's logo is https://chucothedriver.com/Images/chuco_face.jpg. That's great for SEO because it gives context, but it's not great for sharing. If you wanted to create a vanity URL for that page, it might look like this: chucodrive.com/logo.
"Precise vanity URL naming hygiene minimizes 'ugliness' and cognitive load for your audience. Ultimately, a clean, easy to say, and readily understandable name demonstrates respect for the searcher's time and signals that you value your relationship," suggests Pedersen.

How to Make a Vanity URL Using Bitly
Before you can start creating your vanity URL with Bitly, you'll need to sign up for the Bitly plan that best fits your needs. We offer free and paid options, our Bitly Basic and Premium plan offers a custom domain which can help you with your vanity URL. Once you purchase a Basic Bitly account, you can create a vanity domain that you can use as the basis of your vanity URLs. Here's how to make a vanity domain and a vanity URL in a few simple steps using Bitly.
1. Log in to your Bitly account. Click Settings from your account drop-down menu.

2. Click Custom Domains in Account Settings.

3. If you have a domain already, click the blue Add Custom Domain in the upper right corner and click the orange Next button. Note: You will need to configure your DNS. If you don't have a vanity domain, click Get a Domain from Bitly.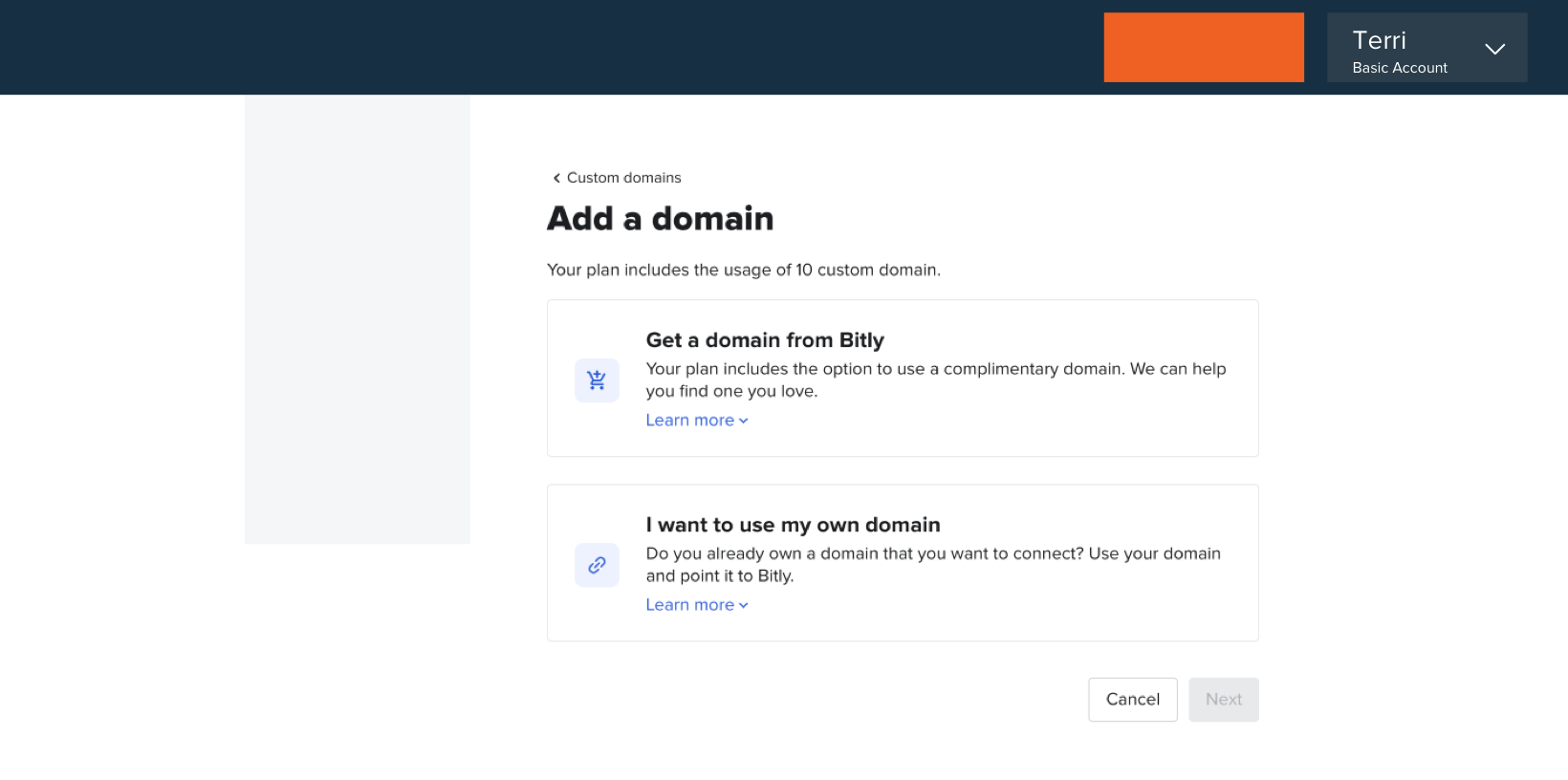 4. In this tutorial, you'll get a domain from Bitly. Note: The company will own the use of the domain. Type the name you want to use as your vanity domain in the box. 

5. Select the domain you want and click Confirm.

6. Once you have a vanity domain, you can create a vanity URL.

How to Create a Vanity URL Using The Bitly API
1. Click the bit.ly box at the top of the Create Link box and click the down arrow. Click your domain name.
2. Click the Enter Long URL box and paste the URL you want to shorten.
3. Click the Create button.
4. Enter the copy you want to use as the back-half of your vanity URL in the Customize box.
5. Click Save. You can click the Copy button to copy the vanity URL and share it with others or click the Share button and share it on your connected social media accounts.
Now that you know how to create a vanity URL, learn how to make them more clickable. 
Why You Should Create Your Vanity URLs with Bitly
Creating and monitoring vanity URLs is effortless with Bitly. You can easily customize your vanity URLs' front and back portions with the right plan. Use Bitly to track the data on every click, tap, and swipe, including total clicks, referral traffic, and location information. You can even track and monitor campaigns using the platform. 
Bitly integrates with nearly every social media and digital marketing tool so that you can share to all your social media sites directly from Bitly. This time-saving step helps you meet performance goals faster. Since Bitly never reuses or modifies links, you can consider your vanity URL redirects permanent. 
Join the world's largest brands, like The New York Times, Disney, and ESPN, who use Bitly to supercharge their marketing and drive brand allegiance. Learn about all the advantages that you can expect with Bitly Link Management. 
The post How to Create a Vanity URL in 4 Easy Steps appeared first on Bitly | Blog.