How to Design an Etsy Logo for Your Online Store
Etsy is a website where people can sell their handmade products. The site launched in 2005 and has since become essential for artists, artisans, and crafters to showcase and sell their goods. 
Today, it hosts roughly 7.5 million sellers, with nearly 96 million buyers worldwide. As you can see, such a large market means there's a lot of competition. To stand out from the crowd and help your Etsy store get noticed, you need to bring your A-game to your logo design.
It doesn't matter if you've just launched your store or have been active for years, it's never too late to level up your Etsy shop logo. Continue on to learn how, including examples for inspiration.
Amazing Etsy Logo Examples
To get your creative juices flowing, let's look at some examples of fantastic Etsy logo designs according to the particular design elements that make them stand out. 
Fonts are important in logo design because each one has its own specific psychological meaning and can create unique associations with a brand.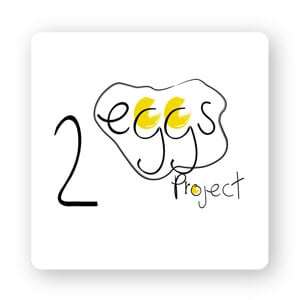 What makes the 2eggsProject logo so memorable is its font. 2eggsProject's font appears handwritten giving off a welcoming, personal vibe. By selecting a fun, carefree font, the logo conveys to the audience that this Etsy store is unique, creative, and one of a kind.
Knots Studio chose a crisp, clean sans serif font for its logo. Sans serif fonts are defined by their straight lines and are used in modern design. Knots Studio, being a modern homeware store, selected a sans serif font to convey modern luxury to their target audience. 
Colors influence our perception and make us feel a certain way (even if we don't always realize it on a conscious level). Let's check out 2 Etsy logos that utilize specific color combinations to influence their target audience.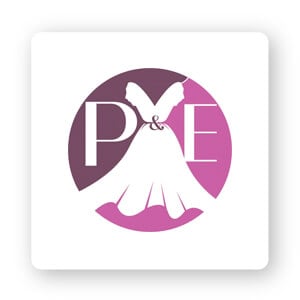 Pairing 2 shades of the same color is a sure way to create cohesion and visual appeal in your logo design. Pach Ellie & Beauty chose 2 shades of purple for their logo. Purple heightens people's sense of beauty and sparks creative ideas, making it the perfect color for their logo.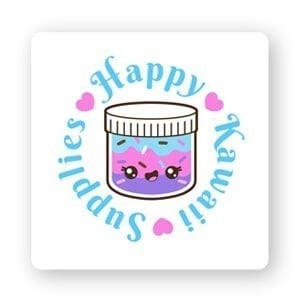 With over 750,000 sales, HappyKawaiiSupplies is a popular store for online shoppers looking for all sorts of beads, charms, clips, and other craft goods. Their colorful logo screams fun, creativity, and pure delight. 
An icon is a symbol that communicates universal values and ideas that are recognized immediately.
Saffron Marigold's icon is gorgeous and smart. If your business name allows you to use a literal icon, it's an excellent opportunity to create a strong brand image. The travel-inspired artisan-made linen store chose a colorful saffron-colored marigold flower as their icon to encourage a connection with their target audience and double-down on their branding. 
Again, creating an icon that plays on your business name is a guaranteed way to make a unique overall logo design. Hammer Tree, which sells DIY woodworking plans for kid's beds, chose an icon that is quite literally hammers growing on a tree. Straightforward? Yes. Memorable? 100%!
An Etsy cover photo isn't just a picture that adorns the top of your page—it's a great way to highlight your brand, promote a product, or tell people what you do. 

As Etsy's trusted heirloom seed source since 2014, SeedGeeks use their cover section to highlight their main attributes, such as non-GMO and open-pollinated. They have 4 rotating cover pictures to catch the viewer's attention and bring their eye to the text. 

Whether you're looking for knitting puns on stickers and pins or a miniature weaving loom kit, Beckarahn has you covered for all your craft needs! As a self-professed fiber art and technology geek, Becka Rahn's cover showcases her love for fabrics and digital art. 
Steps to Creating a Memorable Etsy Logo
Now that you've seen a couple of unique Etsy logo examples, here are 3 steps to take in order to put your store logo together.
Step 1. Find your target audience
The very first question you need to ask yourself is who are you selling to? Your store logo needs to be visually appealing, but it also needs to engage your target audience, while simultaneously showcasing your brand's personality.
To find out who your target audience is, you need to create a simple customer persona that you can use as a guide. If you already have an idea of who your customers are, write down some of their basic demographics and characteristics, such as age, gender, likes/dislikes, and general location. And, the last point should be your customer's reason for visiting your Etsy store.
Here's an example of a customer persona for a jewelry shop. Instead of trying to target the general population, we want to make it personal, which allows you to imagine you're speaking directly to your customers. Let's call our imaginary customer Diana. A bit about her:
– She's 33 years old
– She lives in California
– She's an accountant
– She's married with 2 kids
– She's looking to buy luxury-looking jewelry at affordable prices
Now, as you're creating your store logo (and writing product descriptions, uploading images of your products, etc.), you can picture Diana and help to ensure that your logo will appeal to her. 
Of course, if you're targeting college students or outdoor hiker types, you'll need a different approach—but you still should outline their persona in order to pin down what that approach is.
Step 2. Determine your brand personality
Once you've nailed your target audience, it's time to figure out who you are as a brand. Imagine your brand (as a person) talking to Diana. What kind of person would Diana want to engage with?
The way your logo looks speaks volumes about your brand personality and your store. Your logo needs to convey the message that your store is professional and worth your audience's attention. More than anything, people want to connect with brands on a personal level. The more they feel that connection to your brand, the more likely they will be to buy from you (as opposed to the other millions of sellers out there).
With so many sellers accessible on Etsy, your logo is one of the few things that can help set your store apart from everyone else. So, make sure you create a logo that looks professional and follows your brand's voice and personality.
Step 3. Put it all together with best practices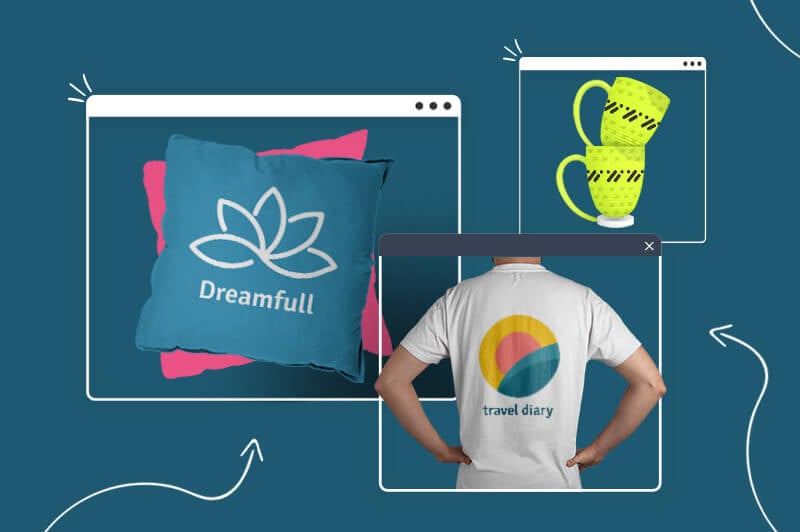 There are 3 main elements you can use to create your Etsy logo and set it apart from others:
Font 
The typography you choose says more about your store than you may think, and there are hundreds of fonts for logos that can help you send a message to your audience. 
For example, a cursive font can represent a creative store with hand-crafted items, whereas a sans serif font symbolizes modernity and a laid-back approach. For a more professional vibe, choose a serif font. The serifs (the "feet") on each letter create a sophisticated look. 
Try to avoid using too much text as Etsy scales down logos. Keeping your text short and sweet will ensure your logo is readable. Note that you can always use your store name's initials if your full name is too long.
Color
As mentioned above, color is important because it can help establish your brand identity better and add versatility to your overall logo design.
For example, blue is calming and linked to intelligence. Red is a powerful emotional color that can symbolize love, passion, energy, and lust. Consider which color combinations work best for your brand. Experiment with different color palettes to create one that fits your brand, but make sure not to use more than 2 (max 3) colors. 
Icon
The last element to consider is your icon, which is an image that represents something about your brand. Your icon could be your most popular product, a perk of shopping with you, or an aspect of your brand as a whole that's appealing. Unique and straightforward icons are easy to remember and recognize, which is why they're so useful for branding.
As mentioned, you can choose an icon that's a literal representation of your brand name. Doing so can boost your brand awareness and memorability. If you don't have a store name yet, consider a name that's easy to create an icon for.
How to Upload Your Logo to Etsy
Once you've created a design you love, it's time to upload your Etsy logo to your store!
Before you start, make sure that your store logo file is 500 x 500 pixels. If you created your logo with our online logo maker, then you'll already have an Etsy-sized logo waiting for you. 
Your shop cover photo (also called a banner) should be designed with the same brand guidelines as mentioned throughout this post. You can choose between a mini or big shop banner, and if you have an Etsy Plus you can use a carousel or collage banner. 
As for file type requirements, all images should be either .jpg, .gif, or .png. These are the only image file types Etsy supports.  
Here's how you can add a logo:
1. Log in to your Etsy seller account
2. Head over to your Shop Manager and click on the pencil icon next to your shop name
3. Now click on the camera icon adjacent to the shop illustration
4. Choose your logo image file and click "Save Changes"
That's all there is to it! You now have an awesome logo to represent your Etsy store, and your customers will have a visual to remember you by.
Use the tips in this post to help create an Etsy logo that speaks to your target audience and forges an emotional connection between them with your brand. 
If you're still stuck and need some more inspiration, it's perfectly okay to check out your competitor's logo designs. Note what works and what doesn't so that your logo can shine from the others! 
Nervous about designing your Etsy logo yourself? No worries! You can either hire an often costly logo designer to do it for you or try our logo creator. Just provide some details like which styles you like and it will present you with hundreds of unique and awesome logo designs for you to choose from. 
The post How to Design an Etsy Logo for Your Online Store appeared first on Tailor Brands.