Do you want a more productive workflow and more leads to help your business grow? You do not have to go far or spend half your budget on expensive hardware.
Many times, knowing how to optimize the most basic tools is the best solution for business growth and success. Bring on the online form builder.
 Lead generation is one of the most important aspects of your sales process. A lead is a person who expresses an interest in your products or services. You can identify them once they have initiated contact with your company, typically through online forms for an offer or subscription. Leads come in a variety of forms, but they are all part of your customers' lifecycles.
What is Form Builder?
A Form Builder is your best option if you're in a hurry to create interactive web forms. In order to add new questions or form fields, you simply drag and drop them. Incorporate color and structure into your designs. The best part is that you do not have to write a single line of code to accomplish this! Learn more about the functionality provided by our form builder by checking out the video below.
What Can Forms.io Help You Grow Your Business?
There are numerous advantages to using form builder software for both large and small businesses. Online forms created with a form maker can be used on their own or in conjunction with other web applications. Companies, for example, can use form builders to grow their business by automatically submitting form data to a CRM or other database.
Form builders can also assist you in collecting data on your regular visitors and target audience in order to convert customers into potential customers. You can experiment with them and create the best forms to expand your customer base and ensure business growth because they are simple to use and do not require any coding experience. Let's take a look at the best online form builder and see how you can use it most effectively.
5 Steps to Grow your Business with Form Builder
Here are 5 actions you can take with a powerful online form builder to help your business grow:
#1. Easily Customize your Contact Form
Contact forms are frequently the first example that comes to mind when discussing online forms. Every website has one, and if they do not, they should; they are what allow a website to perform as a two-way street of communication between you and your audience. They must be simple, appealing, and efficient.
You can use a form builder, like Forms.io, to easily drag and drop fields into your contact form, allowing you to make it as simple or as detailed as you need. Allow your creativity to shine by make sure that the colors, fonts, and overall design are appealing to your user and convey brand trust.
Form builders usually come with a variety of formats and templates. These form templates help you customize your form to suit your tastes, especially if this is a concern. For example, Google Forms allows you to add your company logo to the top of the page, creating a touch of authenticity.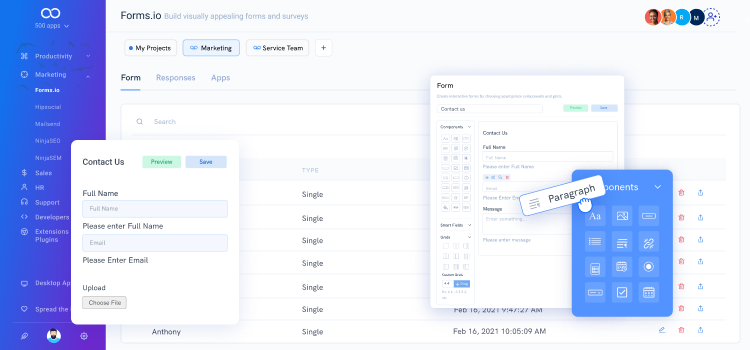 #2. Share and Embed Forms
Share forms on multiple platforms and easily collect data. It is very simple to share a form on social media or as a link after the form is published by forms.io. This is ideal for surveys and other forms that need to be seen by a large number of people as quickly as possible.
Quickly collect responses by distributing responsive web forms via any medium. Allow respondents to access your forms via any device and submit their responses quickly and easily.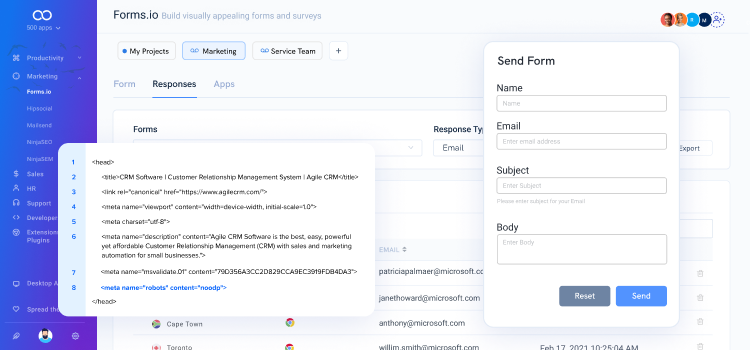 #3. Form Integration
A good online form builder performs as a cog in your business's machinery; it must communicate with the other components and aid in the process's progression. A well-designed form aids in the establishment of the connection, while integrations aid in the conversion of the lead into a business relationship. This is where native integrations of high quality come into play.
Integrate online forms and build the most of your form data by sending them to all your tools.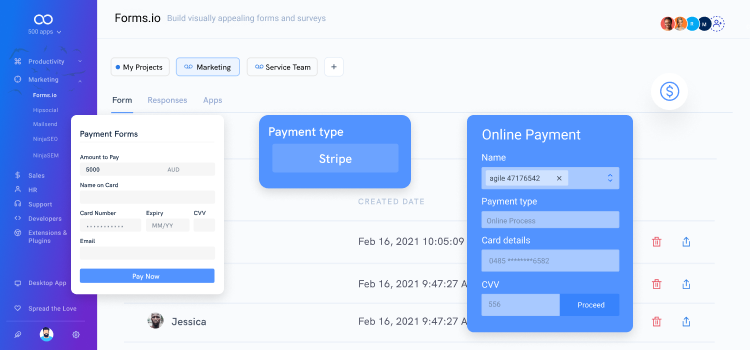 #4. Get Feedback
Speaking of surveys, one major part of remaining productive and successful in business is simply listening. Who is your target market? What are their preferences for your product/service? How did they come across you, and would they recommend you?
These are some of the most frequently asked and critical questions in customer surveys. You can make shorter or longer and more detailed surveys; the key is to use the online form builder to make them easy to complete. This may include providing checkbox responses, designing an attractive form, and including instructional tooltips.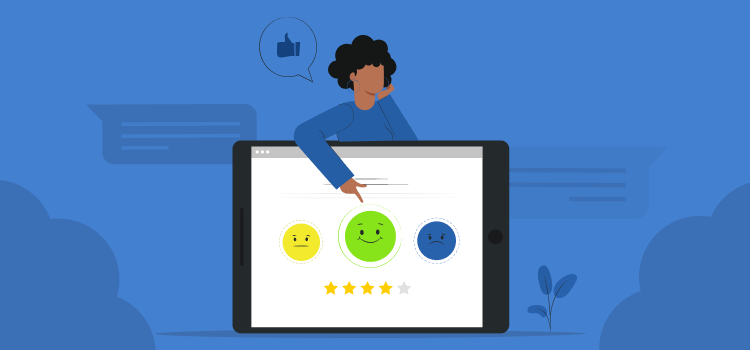 #5. A Form Builder WordPress Plugin
Here is a bonus tip for businesses that have a WordPress website. Forms.io is also available as a WordPress plugin, you can access your entire form database from the WordPress dashboard. You can create an unlimited number of forms, including survey, contact, registration, order, login, and other custom forms. It's simple to customize with a codeless drag-and-drop form builder.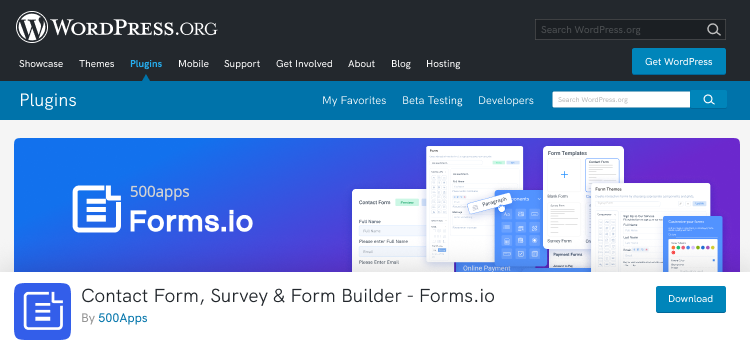 Price:
Create a pretty basic form with Forms.io and improve your data collection with customizable form templates that don't require any coding. You can upgrade to Forms.io commercial version if you have more particular requirements. Forms.io is fully packed with advanced features and comes with an unbelievable $14.99/user pricing. With forms.io, get access to 38+ apps for free to help your business manage whole operations on a single dashboard.
Conclusion:
This form builder can not be perfected behind closed doors, as stated on Forms.io message board on Product Hunt. If you'd like to help make Forms.io the best form builder in the world, you're invited to try out the beta version and share your thoughts on the features you'd most like in a form builder. Register for our webinar to learn more about Forms.io.
The post How to Grow your Business and Leads with a Form Builder? appeared first on Agile CRM Blog.