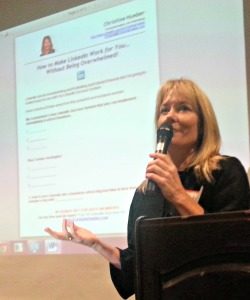 When a new private coaching client starts working with me, they'll often ask how they can monetize speaking events.
They especially want to know secrets for getting the most out of situations where they're asked not to sell…like speaking live, sometimes…or on a teleseminar, being interviewed or at certain networking events.
Because my clients want to make the most of the visibility and their positioning as an expert that leading an event offers.
If you're ever in that situation, you'll love the following recommendations I give my clients.
Monetize Speaking Without Selling
Here are three ways I advise my clients to monetize speaking events where they can't sell, in order of engagement level:
1. Connect on LinkedIn
Invite the event attendees to connect with you on LinkedIn. It's an easy "yes" and starts the relationship, IF you have the right LinkedIn Marketing system and plan in place to monetize speaking events.
BONUS TIP: Ask for LinkedIn Recommendations from organizers and attendees.
2. Offer a Gift
Offer attendees your gift (I send my free Special Report "Top Ten LinkedIn Success Secrets") and a complimentary subscription to your newsletter.
3. Strategy Session
Invite attendees who give you their card to book a complimentary strategy session with you.
BONUS TIP: To increase engagement, do a raffle for a complimentary coaching session and send everyone who enters your gifts.
If you want to learn more about how I help my clients monetize speaking events, then don't miss applying for your "Marketing Results Strategy Session".
This FREE strategy session is available for a limited time only. Go here to get all the details, qualify and reserve your preferred time.
Were These Monetize Speaking Events Tips Helpful?
If you liked these tips on how to monetize speaking events, feel free to share this article with your network. Imagine if how to monetize speaking events was easy and it stopped being an intimidating struggle…  What would it mean to you?
Please let me know in the comments below if you got value from this article!
==========
© 2019 ChristineHueber.com
If you enjoyed this post on how to monetize speaking events, retweet and comment please.
WANT TO USE THIS ARTICLE IN YOUR NEWSLETTER OR WEB SITE?
You can, as long as you include this complete text with it:
"Marketing mentor Christine Hueber teaches business owners and entrepreneurs around the world how to create and manage profitable marketing that easily gets them more clients. Get her FREE report 'Top 10 LinkedIn Success Secrets for Entrepreneurs' at www.ChristineHueber.com"
Did This Help You? If so, I would greatly appreciate if you commented below and shared on LinkedIn.
The post How to Monetize Speaking Events When You Can't Sell appeared first on .