How to Start a Personal Training Business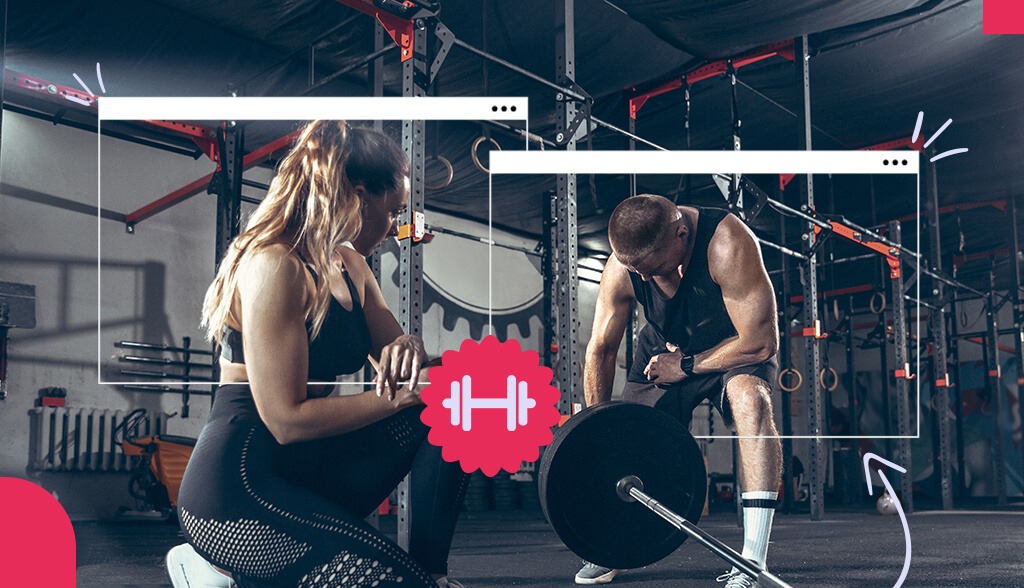 Personal trainers are a special breed. Their energy and positive can-do attitude drive us to do one more rep, go the extra mile, and reach our goals. Luckily, the personal training industry is growing in popularity.
The U.S. Bureau of Labor Statistics shows personal training jobs growing by 39% between now and 2030, with around 69,100 new openings per year. The average personal trainer salary looks pretty fit, too, at $64,259 as of June 28, 2022.
But it's not just money; the job satisfaction and way of life are also pretty cool. You get to help others work towards better nutrition, build positive lifestyle habits, improve their physical and mental health, as well as reduce stress and increase life satisfaction. That's pretty extraordinary!
But to provide your service, you must first learn how to start a personal training business and then ensure it goes the distance. And I'd love to tell you how. 
Choose Your Fitness Niche 
Fitness is an incredibly lucrative industry, but with profitability comes competition. With the growth of online fitness, anyone with an Instagram account can post pics of their toned body and promote themselves as a personal trainer. 
How do you compete? You compete and conquer by finding your fitness niche. A niche is a subset of a larger industry that relates to a small group of people looking for specific products or services. A fitness niche is an area of expertise you'll use to establish a strong foothold in your market. 
For example, your fitness niche could be: 
These are just a few examples; the list of fitness niches is inexhaustible, which is excellent news for you. 
Choosing a niche means narrowing down your potential target audience (ideal clients) so you can create effective marketing strategies that reach them. The smaller your audience, the better your paycheck will be since you're providing a specialized service.
Once you establish yourself as the go-to personal trainer business for that niche, you can begin to build your community of devoted clients. But with so many niche options available, finding one that works best for you is key. Here are some things to consider when choosing your niche:
Work to your strengths and expertise
Your chosen niche should relate to your skills and expertise, but if you're new to the personal training business, choose one you'll enjoy doing. Ask yourself: "What do I love about the fitness business? What invigorates me?" Once you have an idea, you can get certified.
Who do you want to work with? It's an important question because some niches demand more from personal trainers than others. For example, could you work with clients with long-term injuries, such as war veterans or survivors of accidents? Or would a younger, more physically fit clientele better suit your skills? 
You should also choose clients that suit your personality and training style because you'll use those later in your marketing strategy.
Consider set-up and running costs 
Some fitness niches require expensive equipment to provide clients with an optimum workout experience. 
For strength and bodybuilding, you would require training equipment such as dumbbells, barbells, and kettlebells. 
You'd also need fixed gear like a pulley and stack machine, a power rack, a cable crossover, or a power tower. Those can cost thousands of dollars. One way to reduce expensive niche costs is to rent space at your local gym.
Consider a diverse clientele
For many new fitness trainers, starting at a large gym where you'll train a wide variety of people is best. Doing so can help you find your ideal niche by identifying your target audience. 
Identify Your Target Audience 
Target audiences are certain groups of people defined by specific demographics, behaviors, needs, and wants. By identifying your target audience, you can create marketing strategies that engage their interest and turn them into clients. 
The quicker you clarify them, the faster you'll start your personal training business.
Depending on your niche, a target audience could be: 
Once you've got an idea of your target audience, find the answers to the following questions.  
What demographic groups need personal training services?
Figure out who needs your service and who'll pay for it by considering the following demographic factors: 
What challenges and frustrations do they have? 
Understanding your audience's challenges and frustrations enables you to empathize and connect personally by creating fitness programs and solutions tailored to their needs. 
What drives them to get fit?
We all have different reasons to get fit, right? Turns out no. Take me, for example. I ran my first marathon at age 39 (3 hours, 37 minutes, 6 seconds)—not too shabby for an old guy! Many people run their first marathon later in life as we want to get or stay fit as we enter middle age. 
Identify what drives your target audience to get fit, look for obstacles that might stop them, and provide a solution; then, you'll have your niche. 
What's their desired result? 
The results your clients want may differ from what drives them. When you know what it is, you can dig deep and offer solutions that connect, increasing your desirability and worth. 
My drive was to get fit at 40; my desired result was running a marathon in under 4 hours. They're 2 different things. 
How will you help your target audience?
Here's where you find and create your unique selling point (USP). You find it by identifying how your business helps your target audience.
Consider and answer the following questions: 
What problem does your personal training business solve?
How will you improve the lives of your clients?
What will motivate them to pay you for it?
Create an Audience Persona 
An audience persona is a semi-fictional representation of your ideal client based on your target audience and fitness niche research. You should create one so you can engage them on a more personal level and deliver the right message about your skills and services to your target audience.  
When creating your audience persona, use what you found when researching your target audience.
Here's a recap: 
Keep your audience persona singular as it helps you create your personal training business for the person who needs it.
Make Sure You Have the Correct Qualifications 
Like all professionals, personal trainers need certifications. This part is a must because gym experience doesn't count, regardless of how many hours you spend working in one. Let's look closer at your options next.
Why you need the correct qualifications
With so many personal trainers entering the marketplace, you need qualifications to stand out and get noticed as the go-trainer in your niche. While many online personal trainers use images of their sculpted bodies to promote their personal training business, that's not what most folks want.
People want personal trainers who implement controlled fitness training programs that help them achieve their goals while avoiding injury. To provide that, you need the latest professional training and education in fitness and nutrition to ensure your clients achieve and maintain their goals. 
Choose a fitness specialty
Your personal training course should suit your chosen niche, match your skill set, and professional goals. Once you've identified all 3, review several certifying bodies and their certifications, then choose the fitness program that enables you to reach your goals. 
NCCA certification options
Aim to get a certification accredited by the National Commission for Certifying Agencies (NCCA), as it's the gold standard for personal training certifications. 
Major certifying bodies include:
Once you've chosen a certification, prepare for the exam by taking their online practice questions and prep courses. Some prerequisites you'll need before getting an NCCA accredited certification are: 
Study hard and be confident in your ability to pass before registering. 
Create a Personal Fitness Business Plan
There are 2 parts to your personal training business: You and your business. And both must be fit to succeed. 
Your business plan is meant to describe your future and guide you on your path to success. Having it in writing helps you keep focus and, depending on your needs, get a business loan or attract employees. 
Aspects to include in your business plan are:
The key is making sure there's a need for your business so you make money, not lose it.
Set Up Your Personal Fitness Business 
When you start a personal training business, you must decide how to set it up. Things to consider include insurance, licensing and permits, and choosing your business structure.
We'll look at that one first: 
Before starting your personal training business, you must choose and register a business entity unless you work as a sole proprietorship. In that case, you don't have to register with your state, but you might need to file a doing business as (DBA) to use a catchy business name. 
Given the physicality of the fitness business, consider forming a limited liability company (LLC) or a limited liability partnership (LLP) that provides liability protection in litigation cases and bankruptcy. You can register an LLC or an LLP by filing Articles of Organization with your secretary of state's office. 
But even with limited liability protection, you'll still need insurance.
The 2 most essential insurance policies for personal trainers are general and professional liability insurance.
General liability insurance covers your legal costs associated with claims of 3rd party bodily injury and property damage caused by your service. 
Professional liability insurance protects you from claims of professional negligence, breach of contract, and errors or oversights. 
You don't require a license to become a personal trainer. However, when you start a business, your state might require you to get a business license. A business license shows others you comply with state laws and regulations and are legit. 
One permit you might need if using a property to run your personal training business is a certificate of occupancy. A certificate of occupancy confirms your place of business complies with zoning laws, building codes, and other state regulations. When leasing gym space, it's typically the property owner's responsibility to have a certificate of occupancy.
You can learn more about permits and licenses in your state by visiting the Small Business Administration website. 
Choose Your Training Location
The traditional locations for personal trainers are at a gym, home or studio, client's home, and a local park. Covid added a new option: Training online, either one-on-one or in groups, enabling you to reach a larger audience. 
Your niche often determines your choice of location, so let's look at your options.  
Partnering with your local gym enables you to train clients in a controlled and professional environment. Plus, it's a hotbed for attracting new clients!
Renting gym time and space also reduces your set-up costs as the equipment you'll need is at hand. You and your clients will have showers, lockers, AC, and water available, all of which should be part of your business agreement. 
Using your local gym is an excellent way to start a personal training business and frees you up to find and train your clients. 
An hourly rate is when you charge for every hour you w
If you have the space, you can train clients at your home, such as in a converted garage. But you'll need the right equipment and zoning permits from your local county and state government. While those might increase your set-up costs, your running expenses will be minimal. 
ork and add materials.
Many handyman businesses use an hourly rate, as your clients know what they're getting, making pricing jobs easier for you. 
To  work out your hourly rate, divide your ideal monthly income by the hours you can work. For example, if you need to earn $4000/month, working a 40-hour/week, that's an hourly rate of $100/hour. 
But that hourly rate may seem high to potential clients. Fortunately, there's an alternative!
In-home personal trainers usually work with clients who prefer the privacy and convenience of home training. 
Many prefer training outdoors in the fresh air as opposed to busy and often noisy gyms. You can train clients in parks, beaches, and other public spaces; most are free. 
But before you offer an outdoor endorphin high to your clients, check whether you need specific permits from your local park authority and government environmental agencies. 
Virtually training is an excellent opportunity to start and grow your business. Online training is one of the more accessible business models and you can apply it in 2 ways:
Give live online classes to individuals or groups via Zoom. 

Provide pre-recorded workout plans clients subscribe to monthly. 
Decide How You Will Charge
What's better than getting paid to stay fit? Getting paid top dollar when doing it. Most personal trainers use one or more of the standard 4 personal trainer pricing structures. What you'll charge, however, is based on you. I'll explain why next:  
Experience breeds confidence; the more confident you are at providing your service, the more clients will pay. But what if you lack experience? That's where education comes into play:
Do you have an NCCA accredited certificate? What about a CPT Certification? Perhaps a bachelor's or master's in nutritional science? Use your certifications to promote your personal training business; they'll increase your client's confidence in you and you can charge more.  
Your location will influence what clients expect to pay for your service. For example, $100 per hour for a client living in a big city makes sense, while in a rural area that might be too expensive.
Your target audience also plays a pivotal role in what you can charge. Training young aspiring athletes at a local college wouldn't be as lucrative as focusing on extreme weight loss in middle-aged professionals training from home.  
Four Personal Trainer Pricing Models
Ask 5 personal trainers how they charge and you'll probably get 5 different answers because each provides a unique service relative to their skills, interests, and chosen niche. That said, most will use one of the following 4 pricing approaches: 
Charging the going rate is what most new trainers do when they start a personal training business. You review your local competitors, then charge relative to their rates. Simple, right?
However, many personal trainers believe you should charge in line with your qualifications, experience, and proven results, not your competitors' prices. 
A fixed rate is a price you charge a client for reaching a specific goal that doesn't change regardless of external factors such as equipment, location, or extra gym fees. It suits the more experienced personal trainer who is confident in their abilities and clearly understands the time and resources required for clients to reach their goals. 
Many gyms and personal trainers use the bundle pricing strategy (10 sessions for the price of 8) to benefit you and your clients. They get value and you get financial security. Ensure your bundle pricing doesn't undermine your perceived value by giving too much away for free.
Story pricing might not be realistic when new to the personal training business. Still, it would help if you worked towards it as it's a lucrative long-term pricing strategy. It works by charging clients based on your story when you become a personal training brand. 
Your branding will enable you to charge top rates by promoting things like your years of experience, a proven training system, and a portfolio of glowing testimonials advocating you as the go-to personal trainer for your niche. 
Build Your Personal Training Marketing Plan 
A marketing plan outlines how you'll reach your intended audience and convert them from an interested party into one who'll invest in you and recommend your business to others.
A marketing plan is essential to your personal training business's success. And your marketing plan begins with you developing your personal training brand:
Develop your personal training brand
A personal brand is about emotionally connecting with your target audience by promoting your unique value while reflecting your ideal client's personality and needs. Ultimately, your brand is how you separate yourself from your competitors and claim your piece of the lucrative personal trainer business pie. 
Your training brand begins with your website, as that's where most of your future clients will find you:
Dedicate time to your website content
Building a professional website that answers your target audience's questions is crucial for establishing your brand. The best PT websites provide a clean user experience with easy navigation. Include past client testimonials, engaging workout photos/videos, and contact and booking forms so clients can ask questions and book appointments.
Once you have a website, you should update it with content relevant to your target audience.
Blogging is how you'll connect with your target audience in a non-sales way. You can demonstrate your knowledge of your chosen niche while building credibility and authority.  
Your goal is to provide relevant and helpful information your audience can use without paying for it. While that might sound counterintuitive, it's how you'll create trust and bond with your future clients. 
Regardless of the service or product, everyone reads testimonials and your future clients are no different. Check out this statistic: 72% of consumers say positive testimonials and reviews increase their trust in a business.
And trust is what you must cultivate to convince people to employ you as their trainer. So, ask every client to leave a testimonial on your website and social media platforms. 
Speaking of which, let's get social:
Harness the power of social media
Social media is like a high-protein shake for getting your training brand moving, but only if you know how to maximize its potential. 
Here's how to get your social media moving:
Use the social media platforms your ideal clients use
To take full advantage of social media, you must find the platforms your target audience is using, such as Facebook, Instagram, Twitter, Pinterest, TikTok and LinkedIn. These sites cater to different demographics:
Other things to consider: Facebook is perfect for creating and joining groups with similar interests, while Instagram's powerful for promoting your business using photos. Both enable targeted advertising to engage specific audiences. 
LinkedIn is more for professionals and Twitter is for quick updates to current clients and your community. 
Your target audience might use one or more of these platforms, so any posts and images you upload must adhere to the styles of each platform. 
Set up your social media business page
Consistency is vital on social media and a business page lets you regularly update your followers regarding your services and availability. Plus, you can also write inspirational posts that encourage your audience to reach their goals.
It's all about staying at the forefront of your audience's mind so they choose you when working with a personal trainer. 
Now build your online community
An online community is those people who follow, like, and share your content. You can create your community by setting up your social media platforms and providing informative fitness information. You'll grow your community by encouraging conversations about fitness goals and success stories while increasing your visibility and developing long-term relationships. 
Register with Google My Business
"Personal trainer near me" is what most people type into Google when looking for one. And that will bring you to Google My Business, where you'll see the top 3 personal training business listings. 
Your target audience can see your business info, contact details, testimonials, a link to your website, and your location on Google Maps. You must be on that page to build your personal training business into a local success. You can learn more about setting up a Google my Business profile here. 
Pro Tips for Running a Successful Personal Training Business
Starting a personal training business and turning it into a success takes more than hard work and hoping people will find you. Just as each of your clients has specific needs to reach their fitness goals, your business requires particular actions to be a success.
Here are some pro-tips to make it happen:
Set expectations with your clients
Setting expectations early with your clients encourages their confidence in your abilities as a personal trainer. Your clients want to know they're in the best possible hands and you're in complete control of their get-fit journey. Ensure they're in no doubt by setting expectations and then surpassing them. 
Stay on top of fitness trends
Not everyone enjoys working out in a gym, especially since the pandemic, but most of us want to keep fit. Staying on top of fitness trends is how you'll tap into a wider audience and grow your business.
Fitness trends for 2022 include outdoor activities, exercise for weight loss, high-intensity interval training, and online live and on-demand exercise classes.
Make it a shared experience
Most of us like working out with friends or training partners, so take advantage by running "bring a friend along for free" promotions. You're giving the session regardless and your client's friend can see how great you are.  
Your website and social media platforms are excellent marketing strategies. Still, they need some extra nutrients to take your business to the next level.
Offer free fitness ebooks to anyone who joins your email list and provide branded t-shirts and hats to those who sign up for a trial training session. 
Encourage client referrals
Referrals are possibly the best way to get clients because people trust them over advertising; even testimonials from strangers influence our buying decisions. When your existing clients recommend your personal training business to a friend, family member, or colleague, they'll be far more likely to sign up.
Ensure your clients refer friends by offering discounts on other training programs or a one-off specialized training session.
Start Your Personal Training Business
As a fitness lover, you know a thing or 2 about dedication. I'm sure you've pushed through many times to reach your goal. Starting a personal training business is no different. What might seem impossible today will one day soon become your warm-up.
As Jillian Michaels says, "Unless you puke, faint, or die, keep going!"
This portion of our website is for informational purposes only. Tailor Brands is not a law firm, and none of the information on this website constitutes or is intended to convey legal advice. All statements, opinions, recommendations, and conclusions are solely the expression of the author and provided on an as-is basis. Accordingly, Tailor Brands is not responsible for the information and/or its accuracy or completeness.
The post How to Start a Personal Training Business appeared first on Tailor Brands.