PPC platforms are resolving to deliver better services for customers and advertisers as we approach 2022. In this blog article, we've compiled a list of the most important developments and announcements that occurred in 2021.
Changes In The Keyword Match Types
Making it easier to reach the right customers on Search:- Broad Match Modifier is going away and phrase match will take its place. It means that by deprecating the Broad Match Modifier, phrase match now has the best of it.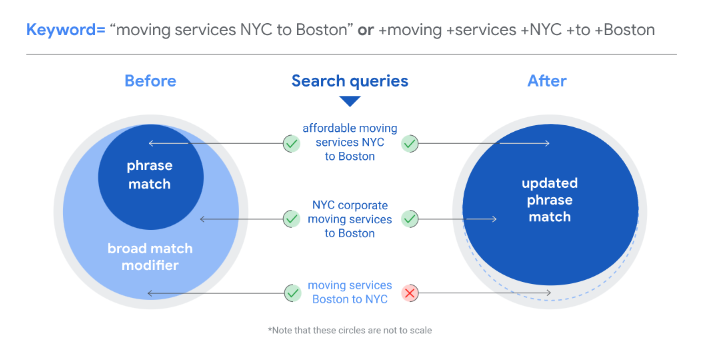 Matching the most relevant keyword to every search:- Preference of broad match keyword over phrase and exact match keyword. For the same keyword, Google is favouring the usage of Broad Match with Smart Bidding over phrase and exact match types.
Our changes to phrase match and broad match modifier:- Phrase and Broad Match Modifier match type in Microsoft Advertising have been updated to reflect the new behaviour as of June 23rd, 2021. Now, Phrase Match is absorbing broad match modifier (BMM) behaviours in order to simplify keywords and increase relevancy when contacting clients.
Bidding Strategies To Drive Performance
Target Impression Share and other August product updates:- New Target Impression Share strategy has been added to the Microsoft Advertising treasure box. With this method, You choose your budget, where you want your ads to appear, and your Target Impression Share and Microsoft Advertising set your bids automatically.
Sponsored Display launches bid recommendations:- Sponsored Display suggested bids are now available on Amazon Ads. These suggestions will be available for vendors and registered sellers for Sponsored Display views remarketing and product targeting in selected countries.
Sponsored Display launches custom bid optimizations:- With the launch of custom bid optimizations, Advertisers can now choose to "Maximize Page Visits" or "Maximize Conversions," and their campaigns will be customised to produce more page visits or conversions.
New data exclusion controls for Smart Bidding:- If you have occasional issues with tagging or website outages, it becomes difficult to calculate conversion rates accurately. Google Ads is introducing data exclusions for Search, Shopping, and Display campaigns. It will prevent certain technical difficulties from affecting Smart Bidding.
New bidding features to help you reach your goals:- Google has rolled out a couple of new features so it becomes easier for advertisers to manage bid strategies & drive performance. What are these new features? Find out here.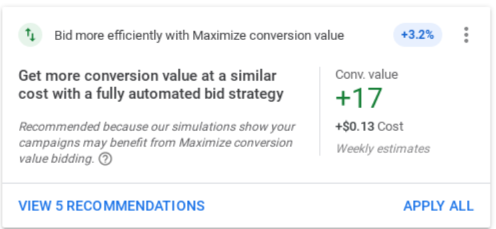 Reorganizing Similar Bid Strategies:- Target CPA & Target ROAS bid strategies have phased out since April 2021. Now, Maximize Conversions & Maximize Conversion Value bidding strategies will have their respective Target CPA and Target ROAS fields set.
Changes In The Targeting Feature For More Conversions
Targeting page in Amazon advertising console:- Amazon has launched a Targeting Page for an account-level view in campaign manager. This page shows a complete list of targets for your active Sponsored Products and Sponsored Display campaigns and ad groups.
You can look at performance metrics for each goal and find areas of growth by analysing top and lowest performing targets.
Targeting optimization enhancements for Sponsored Products:- By the launch of Targeting Optimization enhancements, advertisers may now optimise the targeting of their manually targeted Sponsored Products ad groups directly from the search terms page.
Sponsored Display improved product targeting recommendations:- Amazon has launched improved targeting recommendations for Sponsored Display product targeting. This feature will increase the probability of gaining a higher clickthrough rate (CTR) for the advertised products selected.
Removing Certain Ad Targeting Options and Expanding Our Ad Controls:- From January 19, 2022, Facebook will remove Detailed Targeting options that relate to topics people may perceive as sensitive. This step will prevent advertisers from abusing the available targeting options.
PPC Platforms Take Privacy Measures
Google Expanded 3rd-Party Cookie Support:- Google has extended third-party cookie support until 2023. Google's cookie replacement plan is a contentious method known as "FLoC," but after widespread opposition, the company decided to give it more time to get it right.
Supporting partners through the rollout of Apple's new ATT policies:- Since all iOS apps must comply with Apple's App Tracking Transparency (ATT) regulations, Google is releasing the most recent guidance, materials, and best practices to assist advertisers in adapting and achieving their campaign goals on iOS.
Building a privacy-first future for web advertising:- Without third-party cookies, it's difficult to picture how online advertising could be relevant and reliably assessed. Google Ads has demonstrated that interest-based advertising (FLoC) can give results that are nearly as effective as cookie-based techniques.
Amazon is blocking Google's tracking system FLoC:- Most of Amazon's businesses, including Amazon.com, WholeFoods.com, and Zappos.com, have been found to block Google's monitoring system FLoC from collecting valuable data from Amazon's large e-commerce market. Amazon, on the other hand, has declined to comment on the matter.
Piloting a new 'strikes' system to address repeat ad policy violations:- The purpose of Google's ad policy is to keep consumers safe from potentially harmful content. As a result, Google has launched a new pilot programme to explore a three-strike system for ad policy infractions.
Improving the search terms report while maintaining user privacy:- Google continues to work on ways to run more effective campaigns while respecting people's privacy. Google modified the search phrase & Dynamic search ads search term report last year to present a smaller quantity of data. Starting this month, Google's search terms report will include more searches that match their privacy criteria.
Related Links
The post Important Announcements From PPC Platforms In 2021 appeared first on Karooya.