With over 1 billion users, Instagram is a hugely popular social media platform. This means it's a great platform for eCommerce stores to reach new customers.
In 2020, Instagram eCommerce features were launched under the umbrella of Instagram Shopping. With Instagram Shopping, you can:
Create a business page with an online store
Make your Instagram content shoppable
Complete the ordering process on Instagram
Sell your products from influencer's posts
Make your live streams shoppable
Want to get started with Instagram eCommerce? Let's look at all the steps you need to take to set up your shop, grow your business, and sell your products on Instagram.

How to Launch Your Instagram eCommerce Store
1. Get Approved for Instagram Shopping
To use Facebook Commerce features, including Instagram Shopping, you need to follow the requirements listed here. You'll have to:
1. Comply with Facebook's policies:
Your Instagram professional account must comply with Instagram's Terms of Use and Community Guidelines.
Additionally, you need to comply with the Seller Agreement, Commerce Policies, Ads Policies and Pages, Groups, and Events Policies.
2. Represent your Business and Domain
Your Instagram account must represent the store or website associated with the domain you provide. To confirm that you own your domain, Instagram may require you to complete a domain verification process.
3. Be Located in a Supported Market
Your account must be located in a supported market. You can find a list of supported markets here.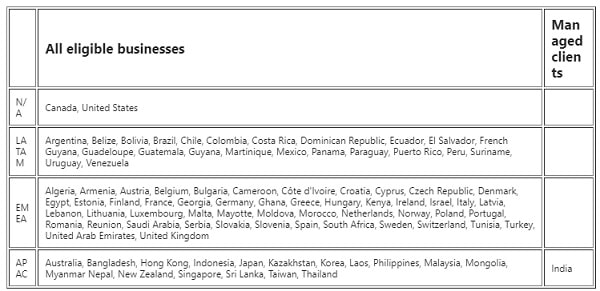 4. Demonstrate Trustworthiness
Your Instagram business account must have demonstrated trustworthiness, including through an authentic, established presence and maintaining a sufficient follower base.
5. Provide Accurate Information and Follow Best Practices
Product information must not contain misleading pricing and availability information. Your refund and return policies must be clearly displayed and easily accessible from your website or Instagram.
Failure to comply with any of these requirements can result in losing access to Facebook Commerce features (including Instagram Shopping) or your account being disabled.
2. Create Your Business Account
The next step is to switch your normal Instagram account into a business account. This is a three-step process:
In settings, find Account and tap Switch to professional account.
Pick a category that best describes your business, then select Business.
You're good to go! Your Instagram business account is ready. Now complete your profile so that your business is easy to find and contact.
3. Upload Your Product Catalog
There are two ways you can connect your product catalog to your Instagram account:
Use Facebook's Catalog Manager: Catalog Manager can handle all the information about the products you plan on advertising or selling on Instagram and Facebook. Read this guide to set it up.
Use eCommerce Platform Partners: Instagram has a number of eCommerce partners like Shopify, Wix, and BigCommerce that you can use to create your product catalog.
4. Pass Your Account Review
Once you've connected your product catalog to Instagram, you'll need to submit your account for review. These are the steps you'll need to take:
Go to settings
Sign up for Shopping
Submit your account for review
You can check the status of your review by tapping the "Shopping" tab in the Settings menu. Account reviews usually take a few days, but you might be required to submit additional information to verify that you own your domain.
5. Enable Shopping
Once your account has passed review, you'll need to enable shopping to begin selling on Instagram. To enable Shopping, do the following:
Tap settings
Tap Business
Tap Shopping
Select a Product Catalog to connect to your account
You're all set! If you don't see the Shopping tab, that means your account is still under review, and you'll need to wait a bit longer.
6. Add Tags
To make your Instagram content shoppable, you need to add tags.
How to add a tag to an image post:
Add a photo
Add a caption
Tap on "Tag products"
Tap on a product in your photo
Choose a product from your catalog
Tap "Done" and then "Share"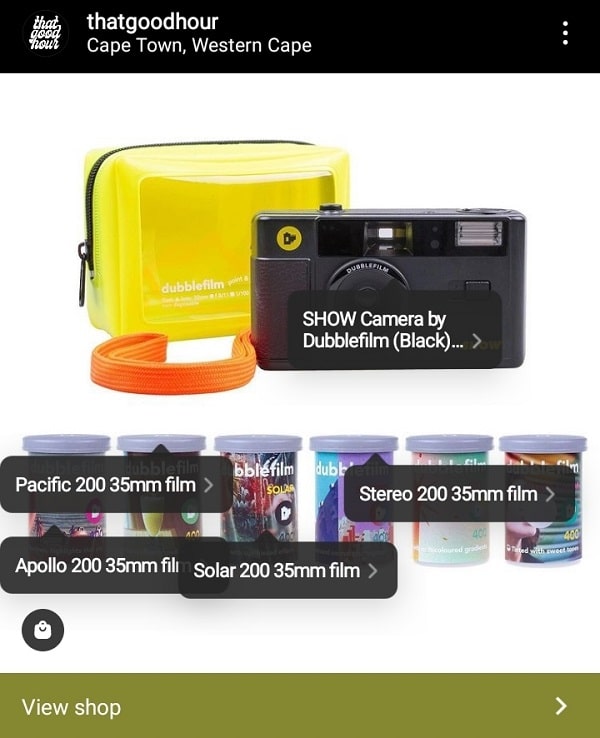 How to add a shopping sticker to an Instagram Story:
Tap the sticker icon in the top right-hand corner.
Select the product sticker.
Choose the product from your catalog.
Position the product sticker to your liking.
Tap the sticker to customize its text color.
Share your story.
Instagram Shopping Features
Launch Your Shop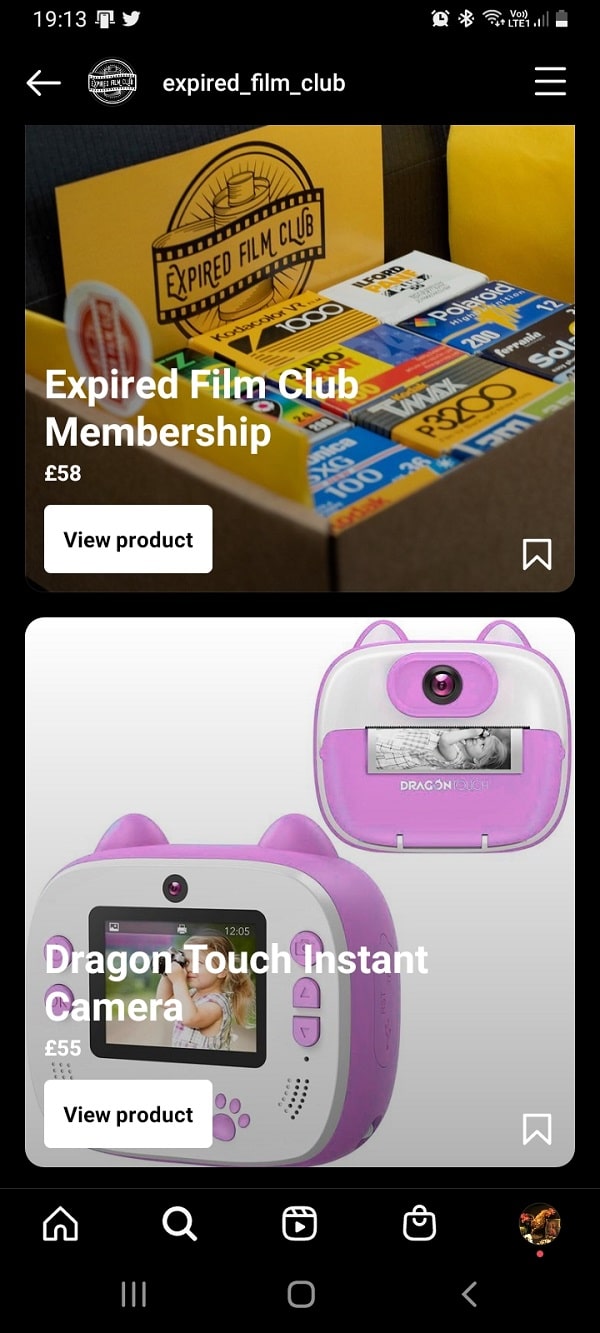 Using the "Shop" feature, you can turn your Instagram page into an easy-to-customize online store. Using this feature, consumers can buy your products directly from your Instagram page.
The @expiredfilmclub shows several products above the fold with a "View product" call-to-action button. If users scroll down, they can see all the other products the store offers.
Appear On Instagram Shop
Instagram Shop is a curated collection of products on Instagram. Here you can discover products from all kinds of businesses related to the accounts you follow. Instagram Shop shouldn't be confused with the Shop feature. Instead, this is more like a virtual marketplace.
On Instagram Shop, you can view lists of "Collections," "Brands," and product collections. To view it, click on the "Shop" icon in the bottom menu.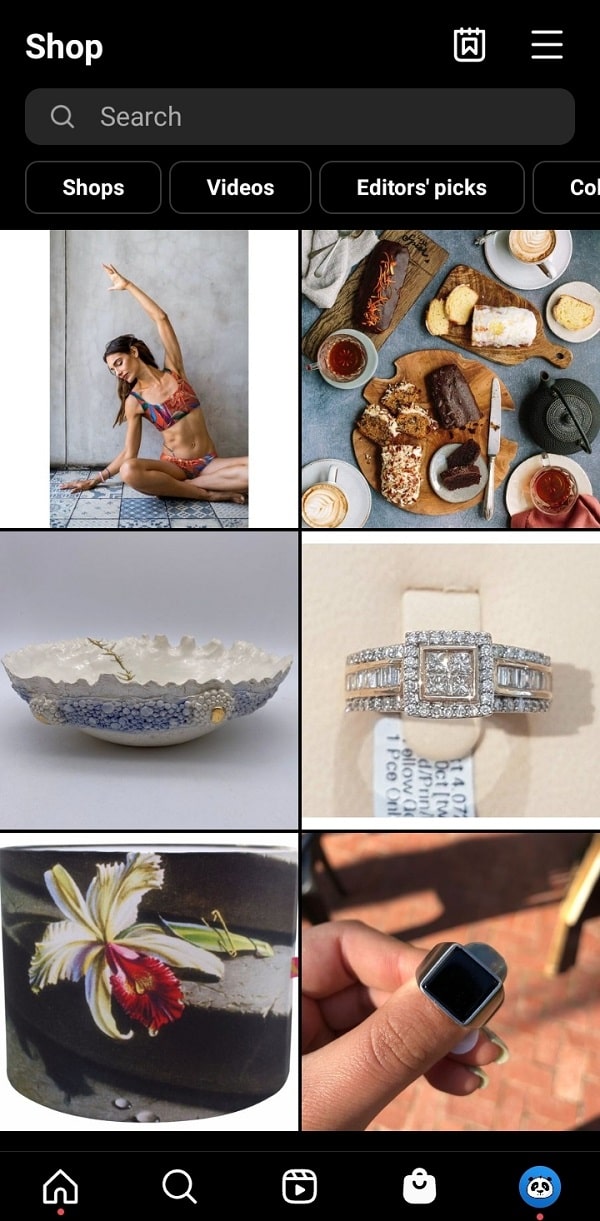 Make Shoppable Posts with Shopping Tags
If you want to make your Instagram posts and ads shoppable, you'll need to connect them to your product catalog. If you're based in the US and use Instagram's Checkout feature, you can also show your products in your captions and bio using product mentions.
If a post is shoppable, a shopping tag will appear in its bottom-left corner. When users tap on the tag, the shoppable products are highlighted along with their price, and a "View Products" button appears, allowing them to browse the rest of your catalog.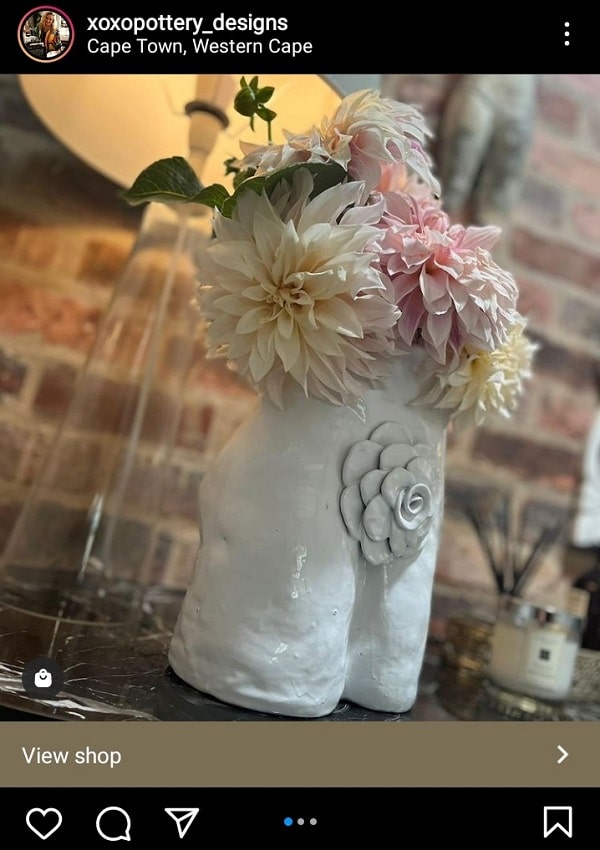 Create Product Detail Pages
Product detail pages usually include a selection of product photos, available sizes, price, product description, shipping & returns details, and a recommendation of related products.
If users tag your products, these posts will also appear on the product detail page. This gives consumers more visual information about your products along with social proof.
Hublot's product detail pages feature a gallery of the products, details about them, price, and related items.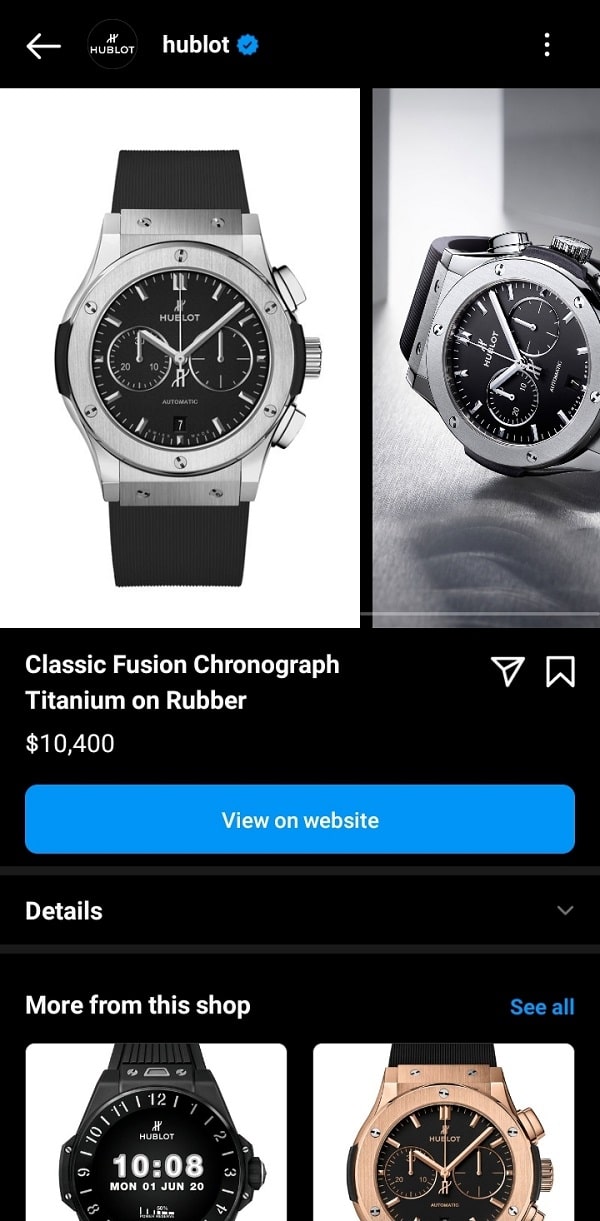 Merge Product Pages into Collections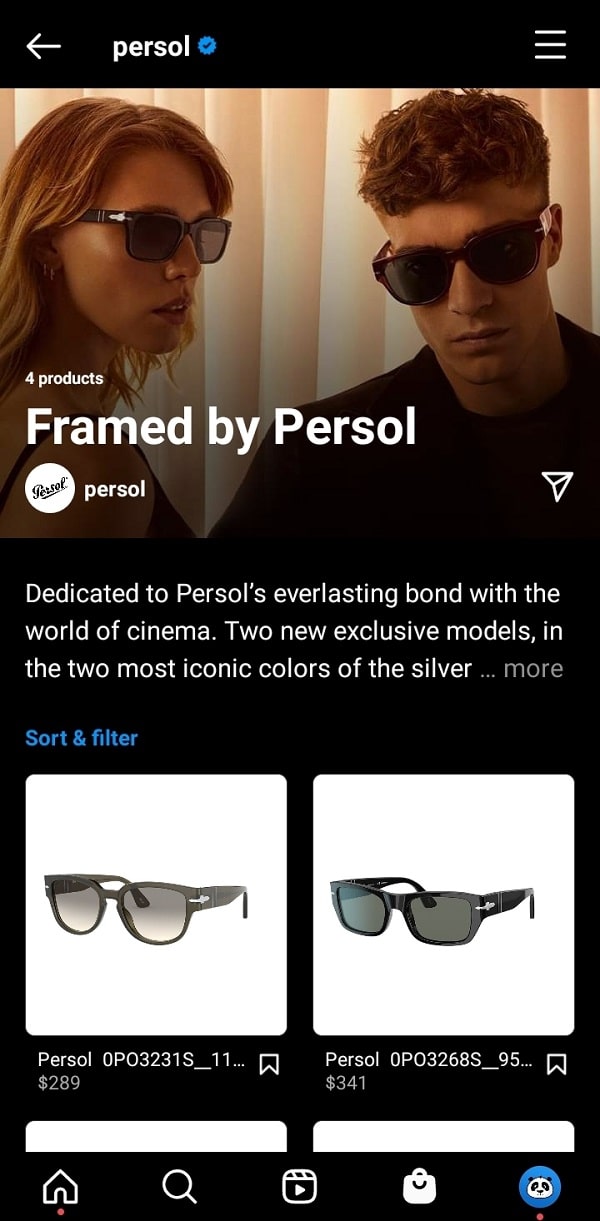 Collections allow you to curate products into themes on your Shop. To make navigation easier, customers can sort and filter products in your collection.
Each collection has a header image with title text that represents the collection. This is followed by a short description of the collection and the selection of products that form the collection. Each item in the collection has a photo, name, and price.
Create Shoppable Ads with Product Tags
There are two ways of creating ads on Instagram. You can either boost an existing shoppable post or create a new ad using Facebook's Ad Manager. When customers click on your ad, they are directed to your website's checkout page or to Checkout on Instagram.
Sell via Checkout on Instagram
Currently, Checkout on Instagram is only available to eligible businesses and creators in the US. This feature allows users to buy your products directly from Instagram without ever having to leave the app.
While Instagram does have long-term plans to roll out Checkout on Instagram to other regions, brands can use Instagram's integration with Shopify, Wix, or BigCommerce to complete orders in the meantime.
Collaborate with Creators and Influencers
With Shopping for Creators, users can buy products promoted by influencers directly from them through Instagram Checkout. Creators and influencers that collaborate with brands earn a commission for promoting the products to their followers.
Instagram influencer Camila Coelho collaborated with Michael Kors on a paid partnership to promote its smartwatch. To make the purchase, her followers would first need to tap the image, then the shopping tag with the product name and price, before proceeding to checkout.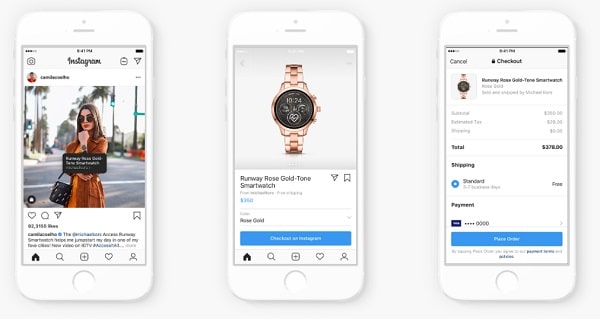 Create Hype with Product Launches
With product launches, you can announce the launch of an upcoming product and create hype around it. It also allows Instagram users to set a reminder so that they can purchase the product as soon as it launches. Currently, this feature is only available for Instagram Checkout-enabled users in the US.
Highlight Your Products with Live Shopping
Live shopping allows you to showcase your products and enables your viewers to make purchases in real-time.
As with product launches, live shopping is only available for Instagram Checkout-enabled users in the US.
Live shopping looks like a normal Instagram live stream, with the addition of an interactive product section that leads to Instagram Checkout.
Instagram Ad Types
To get the most out of your Instagram eCommerce strategy, you'll need to run not just shoppable ads, as mentioned above, but also other ad formats.
With Instagram ads, you can give your page, products, or services a boost. There are 6 Instagram ad types available. Let's check them out now:
1. Image Ad
Image ads look like a normal Instagram post but are marked as "Sponsored" and feature a "Shop Now" or "Learn More" call-to-action button. You can create an ad by either boosting an existing post or creating a new one.
In this ad for Fuze Tea, they opted to use the "Learn More" CTA to drive traffic to a product page about their peach-flavored ice tea.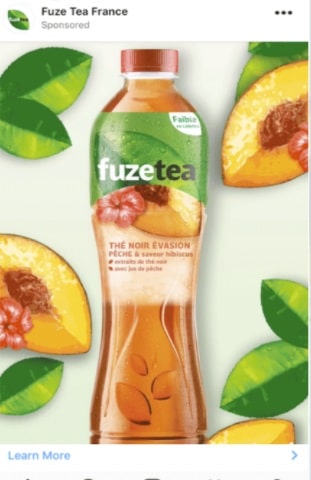 2. Video Ad
As with image ads, video ads look like a regular video but are marked as "Sponsored" and include a call-to-action. Videos are great for engagement and sharing a lot of information in a short amount of time.
Ritz used a simple video ad to highlight that snacks made with its crackers are perfect for sharing, with a "Shop Now" call-to-action allowing users to buy them directly from the app.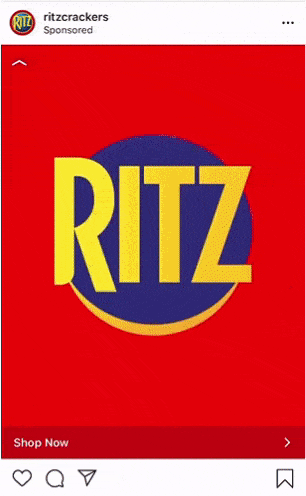 3. Instagram Stories Ad
You can also place ads in Instagram Stories. As with other posts, they are marked as "Sponsored" and include a call-to-action. You can use Instagram Stories ads to direct users to specific product pages.
In the example from Yoga International below, they use an Instagram Story ad to highlight their offer of 30 days of free yoga classes. By swiping up on the "Get Offer" call-to-action, users are directed to a page where they can sign up for this offer.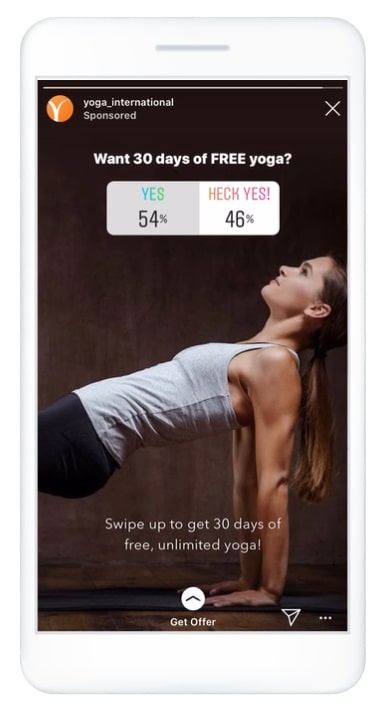 4. Carousel Ad
With carousel ads, you can showcase up to ten photos or videos in a single post. Carousel ads allow users to swipe through the post, choose their favorite product, and purchase it via the call-to-action button.
Influencer hidy5130 did a paid partnership gelatofactory_jp to showcase their press-on nails in a carousel ad. Users could scroll through a selection of photos and a video showing the nails in use, while the call-to-action button took them to the product page where they could make the purchase.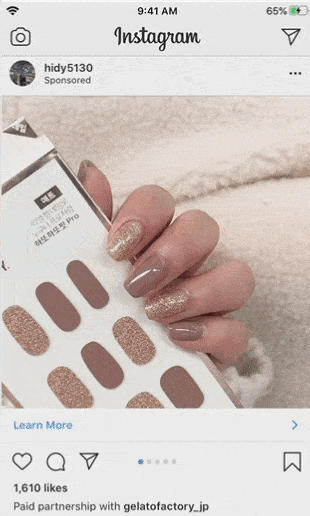 5. Gallery Ad
Like an image ad, a gallery ad features a main image. However, gallery ads have an additional catalog of your products that users can browse when they tap the image. This is a great way for your customers to browse your product and to direct them to check out quickly.
In this gallery ad by Feroldi's, they showcase the selection of locally-sourced products on offer. Tapping on the "Shop more" call-to-action button takes you to their website, where you can browse their full range of products.
6. Instagram Explore Ad
These ads show up in the Explore panel that Instagram populates with photos and videos based on users' interests and actions in the app.
When Instagram users click on a photo in the Explore section, Instagram shows them a personalized feed of similar pages. Ads appearing in this feed look the same as they would in the users' regular feed.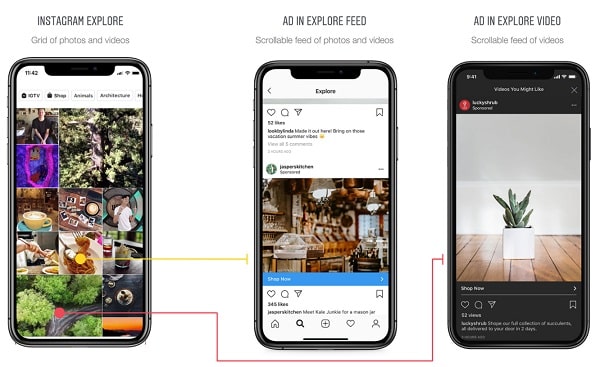 How to Increase Followers on Instagram
Now that you've set up your Instagram Shop and started creating awareness around your brand and products through advertising, it's time to build a community of followers interested in your business and its offerings.
You will, of course, need to post high-quality content on a consistent basis, but there are a number of other factors that you need to consider if you want engaged followers.
1. Avoid Fake Followers
While it's possible to buy followers to make your Instagram page look more popular than it actually is, in the long run, this is a waste of your money and damages your reputation.
This is because real Instagram users will immediately notice the difference between how much engagement your content gets compared to the number of followers you have and won't follow you as a result.
If you notice bots following your account, you should also remove them as followers, as they can also harm your engagement rate.
2. Verify Your Business Account
Having your account verified gives it more credibility. Verified accounts on Instagram have a white checkmark in a blue spot next to their account name, like in the example from Sephora below.

To qualify for verification, Instagram requires the following:
Your account must represent a real person, registered business, or entity.
Your account must be the unique presence of the person or business it represents. Notable entities (for example, pets or publications) are also eligible.
Only one account per person or business may be verified, with exceptions for language-specific accounts.
Your account must be public and have a bio, profile photo, and at least one post.
Your account must represent a well-known, highly searched-for person, brand, or entity.
3. Use Various Content Types
To keep your followers engaged, you shouldn't just post shoppable posts, but mix it up with regular content.
According to the Sprout Social Index, consumers want to engage with visual-first content like photos and video, followed by those who want to engage with text posts and then Instagram stories.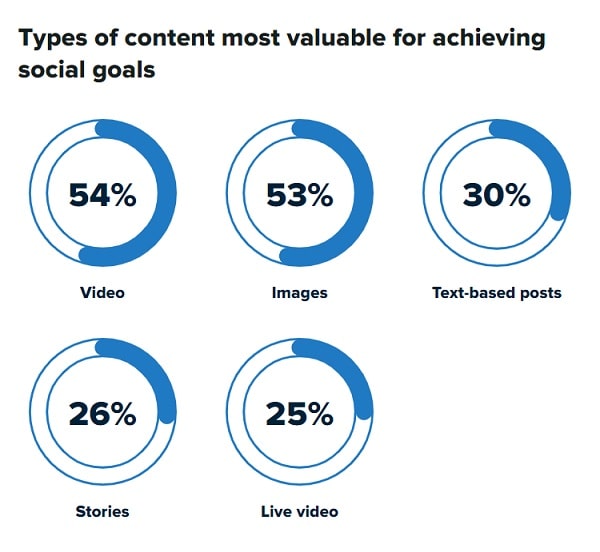 4. Jump On Trends
Identify trends that are relevant to your target market and create content around them. This helps build credibility.
5. Use Hashtags
Using relevant hashtags on your posts, both regular and shoppable, makes them more discoverable. With the right use of hashtags, you could also end up on the Explore section, exposing you to a new audience that might follow your page and buy your products.
While you can add up to thirty hashtags, the best practice is to limit it to ten relevant ones. Research which hashtags your competitors use, and make sure to double-check they mean what you think they mean!
6. Curate a Beautiful Feed
Users will visit your profile and view your feed to get a quick overview of your brand image, helping them form an opinion about you.
A good idea is to curate a consistent look across your posts by using a set color palette and preview what content will look like in your feed with tools like Preview.
Second-hand film camera store @friendswithfilm_'s feed is a combination of simple product photos on white backgrounds and user-generated content. This simple, clean aesthetic increases the likelihood that users will follow them.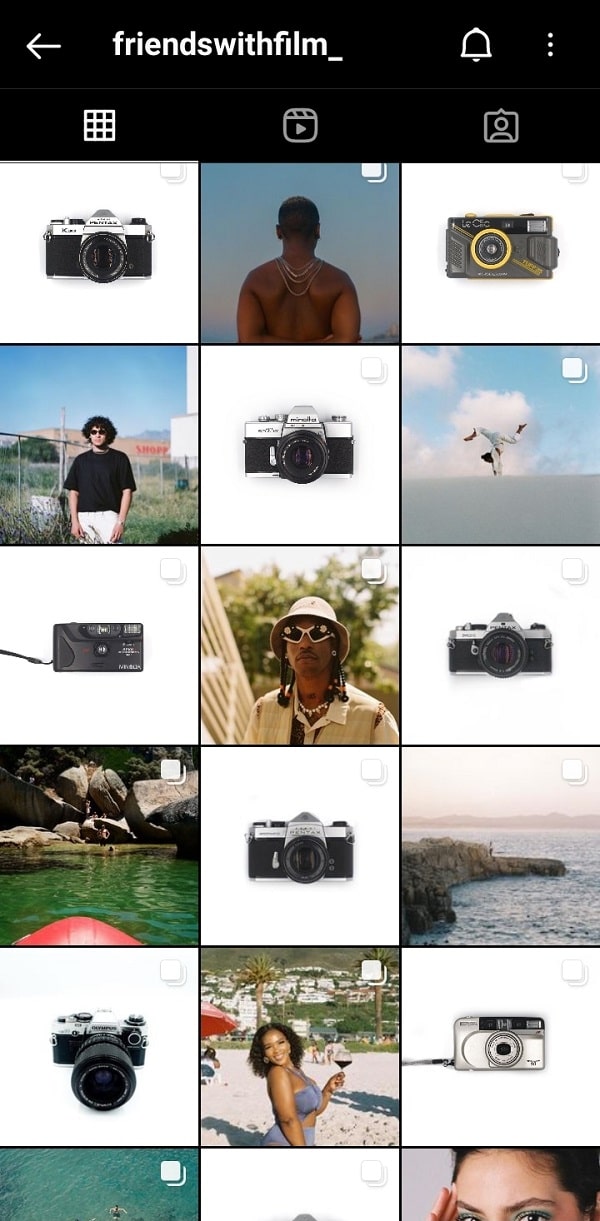 7. Run Giveaways
A great way to gain new followers is to run a giveaway contest, such as an Instagram hashtag contest, with your brand's products. Of course, you could give away other prizes, but then the followers you gain will be interested in the prize, not your products.
In the example from Ridge Wallet, they are offering two of their products as prizes. To enter, users need to be following their account and tag a friend in the post's comments. Its products are niche, so only interested users will enter.
Instagram eCommerce Best Practices
Now that you have set up your Instagram shop, run ads to promote it, and built a following, it's time to go over some of the best practices of Instagram eCommerce.
Collaborate with Influencers
Using influencers to showcase your products to their followers is a great way to expose them to a new audience. It's important to collaborate with influencers that are relevant to your business to increase the chances that their followers will take an interest in your products.
Run Sales Promotions
Incentivize users to purchase your products by adding sales or promo codes to your Instagram posts. You can choose to add them to the caption or include them in the post itself.
Showcase Your Products in Use
To help potential customers decide if they should buy your products, show them how great they are when put to use. By seeing your products being used, they can see their quality and decide if it's right for them.
Highlight User-Generated Content
Sharing user-generated content on your feed and in your Stories is a great way to present social proof from your existing customers, helping convert users into customers. Be sure to tag your customers as a thank you for sharing the content with you.
Analyze with Instagram Insights
Instagram Insights is Instagram's analytics platform that helps you get more information about your followers. With it, you can identify your best-performing content and monitor the behavior of your followers on your page.
The example below shows the Insights overview page, which includes information about the number of accounts reached, accounts, engaged, and total followers, along with the content you've shared in the specified time period.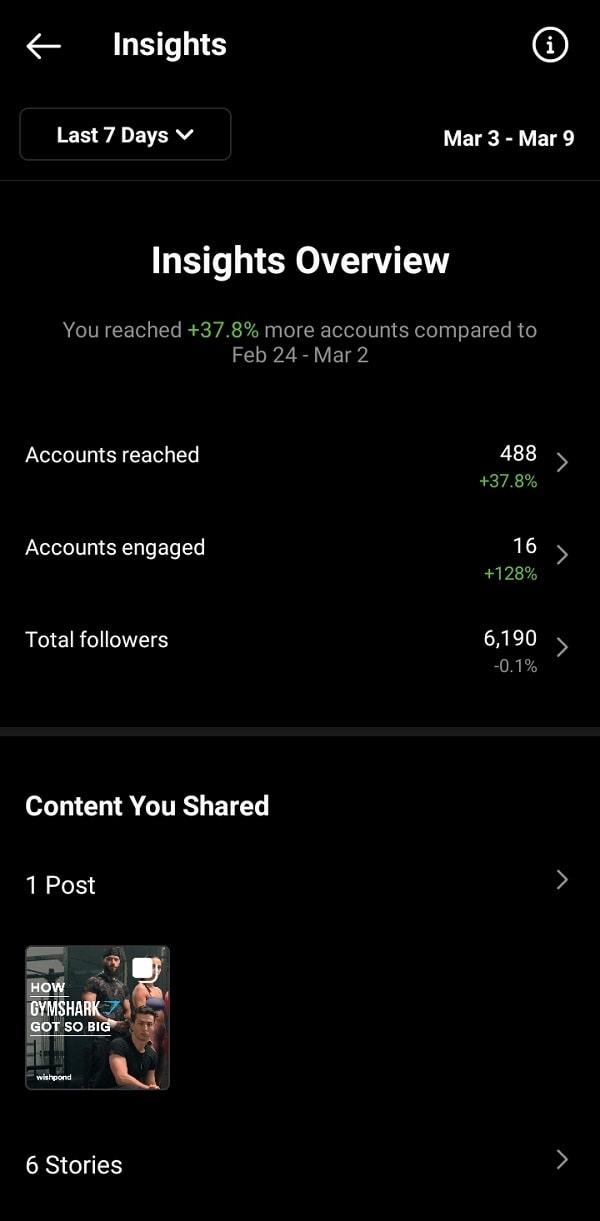 Instagram Shopping FAQs
What Does An Instagram Shop Cost?
It doesn't cost anything to set up and run an Instagram Shop. You can sell products on Instagram for free! But remember, unless you're based in the US, you'll need to have an online store on one of the supported eCommerce platforms in order to complete the checkout process.
Why Is My Instagram Not Eligible For Shopping?
There are several reasons why your account might not qualify for Instagram Shopping.
The main reason that you don't qualify is that you're selling products that aren't fit for Instagram's marketplace, such as weapons or drugs.
You also need a website where you sell your products, and your Instagram account needs a product listing that allows customers to purchase products directly from Instagram.
It can take between a few days and weeks for your Shopping account to be approved. If it takes longer than a few weeks, you should reach out to customer support to find out the status of your account review.
Where Can I Find Previously Seen Instagram Ads?
Did you see the perfect ad that you'd like to use for inspiration but can't find the page any longer?
While scrolling through your feed in the hope that it comes up again is generally a lost cause, there is a better way!
Instagram keeps a record of your ad activity and lets you view it. To view your ad activity:
Go to your profile
Go to settings
Tap the ad button
You can now view your ad activity.

Related Content
Wrapping Up
Now you know how to get started with Instagram eCommerce. You've learned how to set up Instagram Shopping, the Instagram Shopping features, the different Instagram ad formats, how to increase your Instagram followers, best practices, and some frequently asked questions.
What do you think of Instagram Shopping? Do you use it for your business? Are there any features or tips you think we missed? Let us know in the comments.