LinkedIn Group Messaging is now unlimited, LinkedIn announced in the email I received, below.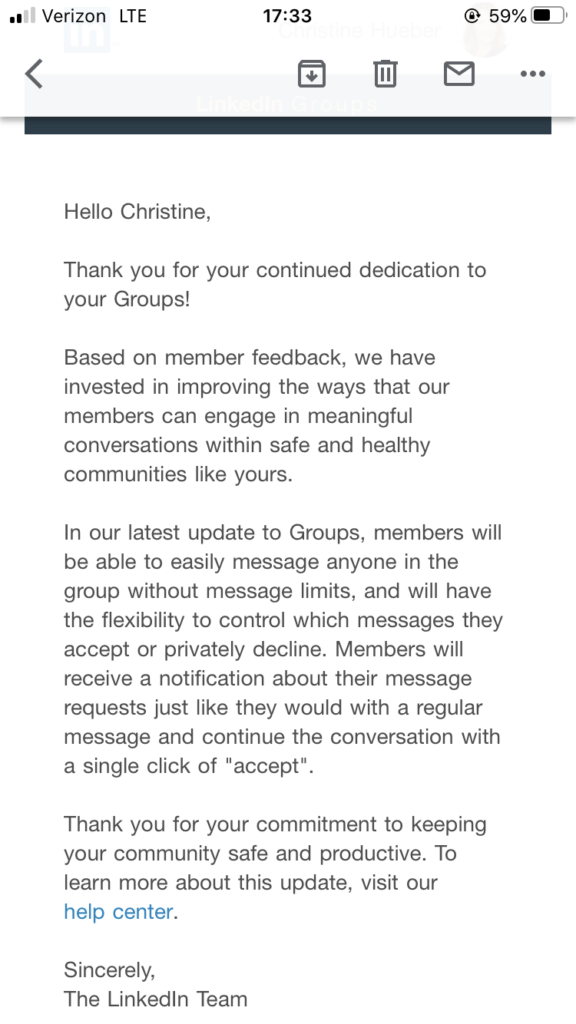 The catch?
Group members can choose to accept or decline your message as they would InMails.
This is good news if you want to engage more privately with fellow group members.
And welcome progress from the draconian 15 total group messages restriction instituted with the website redesign a few years ago.
The trick for effective LinkedIn Group Messaging is to make your initial message engaging and compelling, so it's accepted.
I can help you craft that message and make other recommendations on how to connect with, cultivate and close your Ideal Clients on LinkedIn.
For more details on how to quickly and easily improve your LinkedIn Business results, click here to qualify for your complimentary LinkedIn Results strategy session with me to explore that…and to find out what you can do to have a results breakthrough.
I have a limited number of appointments available and request that only entrepreneurs and business owners who are ready to take the next step and serious about dramatically increasing their results on LinkedIn apply for a time to talk.
Christine Hueber is known by her clients as "The LinkedIn Jedi Master" and "The LinkedIn Gamechanger." They say she helps them "hack" LinkedIn for improved B2B results. She is the #1 LinkedIn All-Time Top Expert, has a Top 1% LinkedIn Most Viewed Profile and is an internationally renowned speaker on LinkedIn, Social Selling, B2B, social media, marketing, entrepreneurship, leadership, success and sales. Christine's straight-shooting viewpoints on business have made her a valuable resource for media seeking commentary and insights on real topics that matter. She writes for Forbes and has been mentioned in Inc., Mashable, AARP, Social Media Today, CIO and in LinkedIn Small Business. Her clients include J.P Morgan, Marcus & Millichap, Sotheby's, New York Life, Merrill Lynch, State Farm, Morgan Stanley, Keller Williams, Chase, Coldwell Banker, Franklin Covey, Northeastern University, San Francisco State University. She currently resides in San Francisco.
The post LinkedIn Group Messaging With No Limits Is Now Available appeared first on .