I have a love/hate relationship with social media. I love being able to connect with people I otherwise would not be able to. I hate all the noise. Then from a business point of view, there is the pressure to post something engaging every time and the constant algorithm changes that decided who sees what.
Of course, deciding what to post to social media should follow the same process you use for any communications channel:
Does it fit in your overall strategies and goals?
Is it relevant to your followers?
But it's HARD to come up with social media content on a daily basis. Marketing Solved heard our cries and and came up with the following infographic that shares 70 Killer Content Ideas To Post On Social Media.
Because 70 is a LOT, here are the ones I think can work best for nonprofits:
Remind people who you are or how you got started
Go behind the scenes
Share a story
Share a favorite book
Share a quick tip
Post a testimonial from a client
Let someone guest or takeover your profile
Answer FAQs
Share wins or results
Thank your fans
Post about events you're hosting
Let an employee take over for a day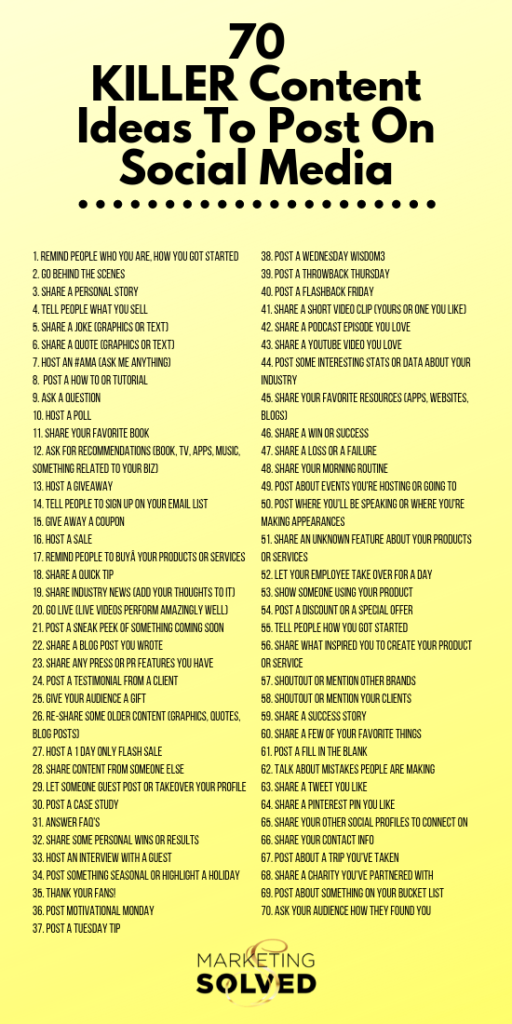 The post No Idea What to Post on Social Media? Here Are 70 Ideas appeared first on Nonprofit Marketing Guide.