The headline quotation is from the renowned fundraiser, Dr. Seuss.
Well, even if he wasn't a fundraiser Dr. Seuss' advice is sound.  He's not alone in warning about grabbing hold of and steering your organization's destiny , as literally hundreds of Agitator  posts on the subject can attest.
Enter the fascinating –and most helpful — new study from the Blackbaud Institute plumbing the impact of the pandemic-infested past two years on U.S. fundraising. Titled,  Tipping Point: Aligning with Supporters in a Changing World you can download it free of charge here.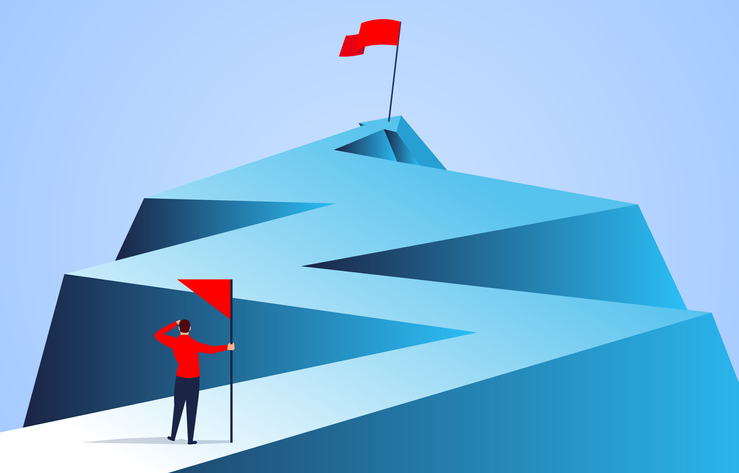 Only a fool makes predictions.  The researchers and authors of this new study have avoided that pitfall.  Instead they've used the survey results from 1,168 nonprofit professionals and 1,024 donors to tease out clues and signals that provide worth insights from this pandemic era.  Insights that provide some valuable guidance as we all move into an indeterminant future.
The study, as noted, was commissioned by the Blackbaud Institute, and conducted by Edge Research. Mark Rovner of Sea Change Strategies penned this report in partnership with Ashley Thompson, Managing Director of Blackbaud Institute.  Pam Loeb, Jillian Kirsch, Gayle Vogelconducted the research and Lindsey Salmony guided the project end to end.
I'm detailing the report's pedigree because of the degree of effort and skill that went into it and partly because as a member of the Institute's advisory panel, I'm proud of the work they've produced and want as many folks as possible to benefit from it.
Tipping Point Focuses on Three Big Questions
How did donor and organization behavior change over the last two years?
What clues might these insights from the surveys provide all of us for the future?
How do nonprofits need to prepare for the changing fundraising environment?
This study presents the findings of those surveys, along with the authors' recommendations for nonprofits who wish to successfully navigate the future.
Surprise?  Hardly.
One meta-finding should come as no surprise to anyone familiar with our sector: "Many organizations appear to be out of touch with the attitudes of their donors and were therefore less prepared for the flow of generosity that happened in 2020."
Of course this not a new insight or issue. Especially when it comes to donors giving at the mid-level and below;  they're rarely asked their opinions and feelings. The authors note that this failure is especially  risky given the speed at which the fundraising environment has been changing.
Sensibly, the report's conclusion states "that all we can say  with confidence is that the future will look markedly different than the past."
What every serious fundraiser should do is dig into the detail of the report because it offers a wealth of findings, insights, and recommendations from the research.
Highlights from the Report
The report explores two major avenues:
Changes in Donor Behavior and Demographics:
More Donors and Increased Donations: The research shows that nearly half of nonprofit professionals reported increases in the number of new donors—possibly signaling a departure from the decade-long trend of diminishing numbers of donor households.
New Donors and More Diversity: Among new donors and donors who gave more since March of 2020, young people and donors of color showed up more prominently than older generations and white donors.
Unique Donor Retention Opportunity: Historically, "crisis" and so-called "episodic" donors are difficult to retain. However, the study reveals that one-third of donors who gave to a new nonprofit also said they are very likely to continue giving.
Rapid Evolutions of Donor Engagement Preferences:
Personalization and Donor Affinity: Donors who received personalized content from their favorite organizations said they were more likely to give those charities high scores on various attributes, including the extent to which the charity "pulls on their heartstrings," creates engagement opportunities and makes them feel appreciated.
Technology Adoption: Donors who rated their favorite organization as an early technology adopter also gave those organizations higher marks for keeping donors informed, making them feel appreciated, and offering more engagement opportunities. By comparison, organizations that were considered late adopters received lower scores on these attributes.
New Expectations for Engagement: Nonprofit professionals reported trying or expanding their use of a wide range of online engagement tactics, such as virtual fundraising events. Donors said they want a hybrid approach even as in-person events return, with at least as many opportunities to engage virtually as they had during the pandemic.
"We must engage people in the work of improving the world and invite them to participate as partners," notes author Mark Rovner,  "While many of the fundamentals of donor engagement remain the same, the execution needs a rethink. Nonprofits that acknowledge and adapt to cultural shifts will thrive just like those who did so during the pandemic."
While the report covers a range of issues of interest to every fundraiser, the Agitator focused on  the following major issues.
Retention
The survey raises as many questions as it answers about retention. To what extent will donors follow through on their stated intention to give again or become monthly supporters? Will new trends involving younger donors and donors of color continue? To what extent are donors reflecting post-pandemic values and shifts in personal priorities? What will organizations need to do to keep these new donors engaged? And how do those engagement expectations differ from or align with pre-pandemic donors?
While only time can truly provide the answers, one thing is beyond debate: "The surge of new donors and ones from more diverse sources reverses a decade of decline, which makes this a defining moment. Consider this new pool of donors as an opportunity to establish relationships, build more engagement, show impact, and retain donors over time. However, these episodic donors require intentional and focused stewardship if they are to continue supporting your cause once the fervor has dissipated and the immediacy of the disaster has passed." [Emphasis added by the Agitator.]
Monthly Giving
 As we've noted over and over through the years, and as this report importantly notes, "it's not unusual for giving to increase in the wake of natural disasters or politically volatile moments. Crisis donors and so-called episodic or "rage" donors are historically difficult to retain. While only time will tell as the pandemic's immediate effects fade, new donors participating in the study offer some reasons for hope.
Eight in 10 donors subscribe to a consumer membership service (aka sustainer/monthly giving equivalents.
A possible large potential is noted in the fact that 29% of donors who gave to a nonprofit they had not given to previously say they are "very likely" to become monthly givers.A third (33%) of participating donors say are "very likely" to give again to organizations they first supported in 2020, with, as noted, only a slightly smaller proportion (29%) saying they would be "very likely" to become monthly sustainers. Notably these percentages are higher than the industry-wide first year retention rate, which hovers around 25%.
"Millennials were especially likely to say they are likely to give monthly to new causes, with 40% saying as much. Also, the donors who subscribe to monthly consumer membership services such as video streaming, music streaming, or meal kits are also more likely to become monthly contributors."
Download the full report to see how all this breaks out by age/generation.
Donor Experiences: How Did Organizations Adapt?
"How did organizations adapt their engagement strategies to meet the needs and expectations of all those new donors? the report asks.
They answer the question with the following: "Getting stewardship and engagement right will be the key to keeping new donors and pre-pandemic donors alike. Donor engagement strategies were already in a state of flux before COVID-19, thanks in large measure to the proliferation of digital channels and changing patterns of technology use by donors."
" Without question, organizations that had failed to invest in technology and the know-how to leverage it were at a profound disadvantage as in-person gatherings became impossible."
With refreshing candor the authors note that "Donor engagement during the pandemic and social upheaval of 2020 involved quite a bit of throwing spaghetti at the proverbial wall. Ambitious organizations unleashed or embraced a wide range of tactics to meet the moment. Most visible among these were virtual events, as America flocked to Zoom® and other video services to maintain social ties."
The survey results from the nonprofit professionals responders and donor responders  revealed several places where donor expectations and organizational practices diverge. "For instance, 60% of organizations rated themselves as "excellent" at meeting donor expectations for staying  true to their mission, values, and goals; only 44% of donors said the same. Organizations also appear to overrate the quality of their reporting on impact and the security of the donation process.
"Conversely, donors tend to give organizations higher marks than the organizations give themselves on several measures. Among these are using money wisely, reporting on how donations make a difference, and making donors feel appreciated. It's worth noting that on these latter three attributes, while donors were more generous in their assessments, fewer than half the donors would rate them as "excellent.
"When looking only at those organizations that donors considered to be early technology adopters, however, most of those discrepancies disappear. In fact, when compared with organizations seen as early-majority or late-majority adopters, the early adopters earn higher ratings across the board."
The Role of Technology
Just how important was the use of technology during the pandemic?  The report answers with: "As technology filled many of the gaps in fundraising left by the pandemic, it became a core consideration among nonprofits. Overall, 83% of professionals say their organization accelerated their investments in technology during COVID; many say they did so significantly. Similarly, 87% of professionals report increases in efforts to connect with donors via digital channels."
Apparently the majority of fundraisers realized the extent of pain if their online housekeeping was neglected.
More than half (53%) of professionals say their organization overhauled its website during the pandemic.
83% of organizations responding have done a major website update or redesign since March 2020..
In that same period a whopping 83% of the organizations responding accelerated their technology adoption.
And, as everyone's email in-box can attest, 87% increased their volume of digital outreach and engagement with donors
If you think donors are unaware of how difficult or easy you make their involvement with your organization here's a stat to take to the next budget meeting: Overall, 45% of donors categorized their favorite nonprofit organizations as the early adopters of technology. Professionals were more self-critical; only 30% would categorize their organizations as early adopters.
As the report notes, "Organizations viewed by donors as early tech adopters appeared to benefit from a halo effect in which donors attributed a range of good qualities—which may or may not be tech-related—to the organization. For instance, donors who rated their favorite cause as a technology early adopter also gave higher marks for keeping them informed, making donors feel appreciated, and offering more engagement opportunities, among other qualities. By comparison, organizations considered late adopters received significantly lower scores on these and other attributes. (There's a chart that covers this in detail in the report.)
In another candid –and quite self-effacing for an Institute related to a tech company),  "None of this is to suggest that technology is the key to everything. At its best, technology can enhance and simplify the work of compassionate and committed people working to improve their world—but it does not replace the human factor. [ Agitator emphasis added.]
Despite the outsized role tech played during the height of the pandemic, organizational professionals express caution regarding continued investments. Going forward, donors say they want as many or more opportunities to connect virtually with the causes they support. More than half of the donors (56%) say they want a virtual or hybrid relationship with their causes. Nearly half the Millennials (50%) say they would prefer organizations engage exclusively or mostly virtual; only 17% of Baby Boomers expressed a similar view.
Key Takeaways
Only time, or some consultants willing to spout bullshit, can truly predict what the "new normal" will look like when this all the tumult ends or settles down.  However, the report smartly advises that uncertainty is "not a reason to sit on our hands." And so they offer some  practical suggestions actions you can take today to better secure your organization's fundraising future.
"Pay much closer attention to your donors' expectations. Direct marketing is, at its core, a one-way communication funnel. The organization speaks to the many and some of the many send money. The idea of spending significant sums to really understand what's on your donors' minds was just not in the original equation. That needs to change. Invest in more rigorous testing and formal listening strategies like surveys, focus groups, insight panels, and other ways to give donors a real voice at the table.
"Pursue "philanthropy for all" with deliberate speed. The study suggests that under these circumstances, people of color are more apt to participate. We need to spot more of those promising signals and seek to amplify them. Rebuilding philanthropy to reflect the true diversity and breadth of the country is an immensely complex undertaking and an immensely important one. It will not yield to an engineered approach, such as DEI checklists or one-off training workshops. If you are not feeling confused and uncomfortable as you pursue these efforts, you're not doing it right.
"Don't squander this moment. The surge in new donors could be a blip, or it could be the start of a new, larger, and more diverse fundraising era. The outcome is in part up to organizations with the vision and the courage to welcome and bond these newcomers to their cause. Extra attention on retention will also help with pre-COVID donors. Everyone knows it's more efficient to keep a donor than to find a new one, yet little has happened to plug the leaks in the fundraising bucket. Make retention a core KPI, and let your fundraisers find the right strategies and tactics.
"Invest in technology with the long-term in mind. Technology laggards floundered when COVID-19 struck. While you shouldn't bankrupt your organization for the latest gimmicks, this is a time to take some well-reasoned risks. Invest in technology that facilitates a rich two-way conversation with donors and that provides the tools for evolving with shifts in donor expectations.
"Develop leaders with new capacities. Technology exists to support human endeavors, not to replace them. COVID-19 appears to have led to wholesale shifts in workers' priorities. Today's leaders expect to engage in new ways, to have ongoing growth opportunities, and to understand where they fit into the larger organizational picture. The complexity of now requires new leadership skills. Investing in lifelong learning is the price of worker retention, and it's the key to long-term success.
"Foster a future-proof culture. New strategies and technologies are only as good as the culture and training that supports them. A culture that rewards risk, genuinely encourages innovation, manages change well, and develops its leaders will be essential to ensuring your organization thrives and evolves with the times.
CONCLUSION
Rather than summarize their conclusions, let's hear from the authors themselves:
"So, what are we to make of the present moment? Which of these findings are harbingers of post-pandemic philanthropy and which are just temporary phenomena caused by the virus? Looking at broader societal trends, such as the great resignation, demands for racial justice, and evidence that a growing number of people are rethinking how they want to live their lives, our best guess is that many of the changes may be lasting. Then again, these are unpredictable times. That fact alone suggests organizations need to do a much better job of listening to their donors.
"We've entered a period of great complexity. By definition, where complexity rules, predictions are little better than guesses, and control is mostly an illusion.
"Viewed one way, the pandemic was a needed wake-up call.  It has served as a stern reminder that the sand has been shifting beneath our feet for some time now.
"Complexity will rule the day now and in the future. In complex situations, most things are unpredictable and specific outcomes are beyond one person's—or one organization's—control.
"Anything that involves human behavior is, by nature, complex. Your organization is a complex system. Your department is a complex system. Philanthropy is a complex system. Our nation is a complex system. It is audacious to think anyone can understand, much less direct, the dance of variables involved in predicting or controlling the future. The good news is, while we cannot control complexity, we can navigate it."
For valuable details on navigation suggestions the wise fundraiser –and CEO and board members–will read the report in detail.
After reading this report I'll end this post with a most appropriate quote from Shakespeare, "It is not in the stars to hold our destiny but in ourselves."
Roger
P.S.  A much deserved Agitator Raise to Blackbaud Institute and the talented folks who researched and wrote this valuable report.