Rather than featuring the horrifically over-used matching gift offer or the  ubiquitous "Give because it's Giving Tuesday" non-motivational message, why not try a giving call-to-action that features something very much on donors' minds these days? Death.
At the outset of the pandemic, many organizations were nervous about their planned-giving communications, wary that they would appear insensitive.
However, from what we're hearing and what's been reported fundraisers who continued providing information about legacy giving have found significant success securing new bequest commitments. Not surprising given the daily pandemic stats on mortality and the likelihood that reasonable people will think more and plan more concerning their own impermanence.
Take a look at the 2020 analysis by FreeWill, the company that provides free online estate-planning tools, and you'll find enough ammunition to persuade any reluctant or worried folks in your organization that it's time to seek bequests.
The FreeWill analysis of bequests on their platform  ranged from as low as $100 to more than $50 million. The mean size of a bequest was $60,828. Just over 13% of wills with bequests included more than one bequest, averaging out to 1.3 bequests per will. As a result, the mean size of all gifts within a will with a bequest was $82,232.
A quick check of the FreeWill website (at noon on 11/14/21) indicates the potential power and usefulness of this free online tool. To date it's raised more than $4.2 billiion in commitments among 600+ nonprofits who feature the service.  And FreeWill claims that folks who use the service to make their wills are 5 times more likely to leave a charitable bequest than the national average and those charitable bequests made via Free Will are 2.5 times larger  compared to  the national average.
So, as you enter the final stretch in preparing for Giving Tuesday you might want to think about placing some information and link to FreeWill on your donation page.   Here's how Wikipedia featured it a post-donation landing page headlined "Other ways you can help Wikipedia thrive."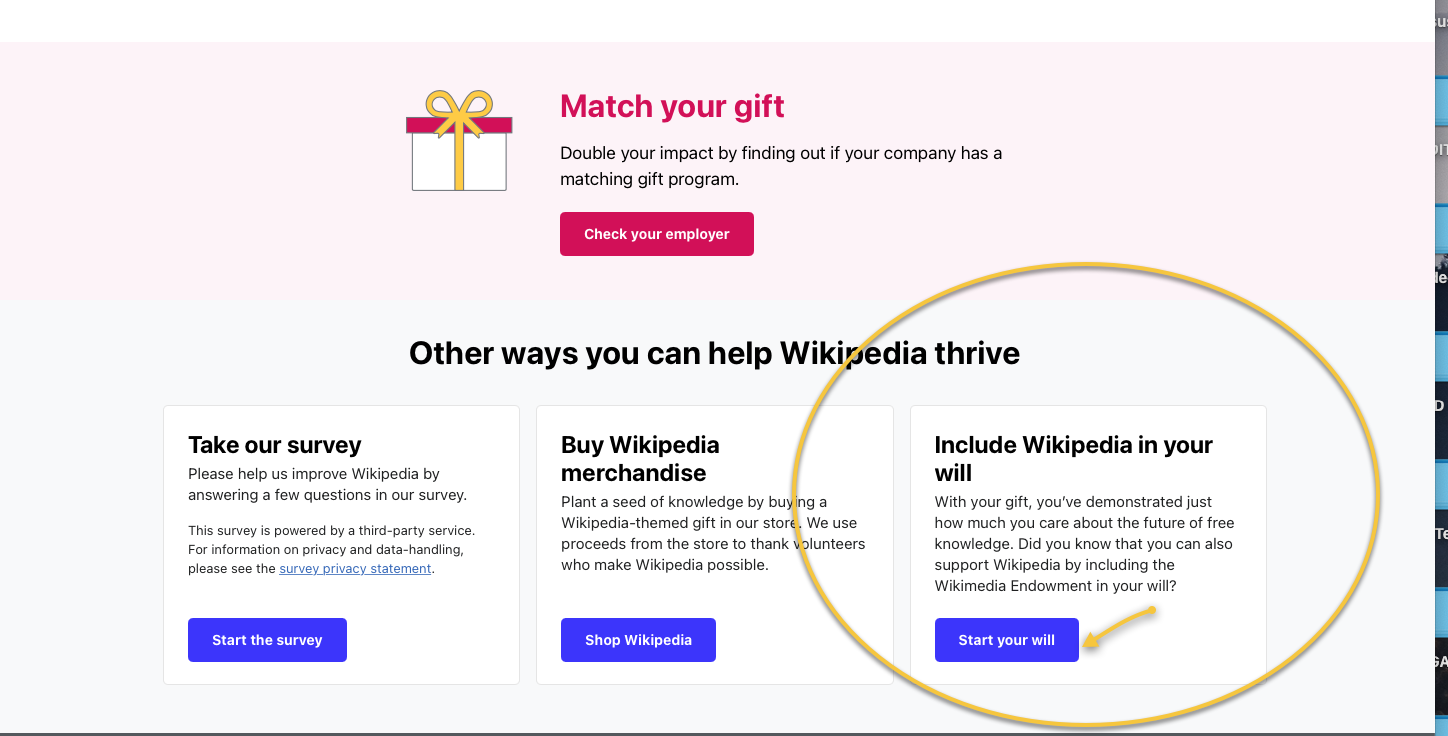 The 2020 FreeWill analysis is a fascinating read.  Not only will you find out about bequest habits by the usual age and gender demographics;  the analysis will tell you about giving patterns geographically, by marital status, presence of children and yes, even the likelihood  of increase/decreased bequests if pets are present in the donor's home.
Roger