In 2021, Bitly grew to become more than just a link management tool, with additional features and products that empower brands and businesses to engage with their customers. Throughout 2021, we made a number of  improvements to our platform so you can form a better connection with your audience.
New Features In Link Management
Adding UTM Parameters
At Bitly we understand that our users are always looking to make their workflows easier. We realized a lot of our users were using Google's URL builder (or other platforms) to add UTM parameters to their links before coming to us to shorten it. UTM parameters are essential in allowing our users to track where and how their users are coming to the specified URL. 
It was an easy choice for us to add UTM parameters to our shortened flow to make it easier for our users to add UTM parameters AND shorten the link in one place.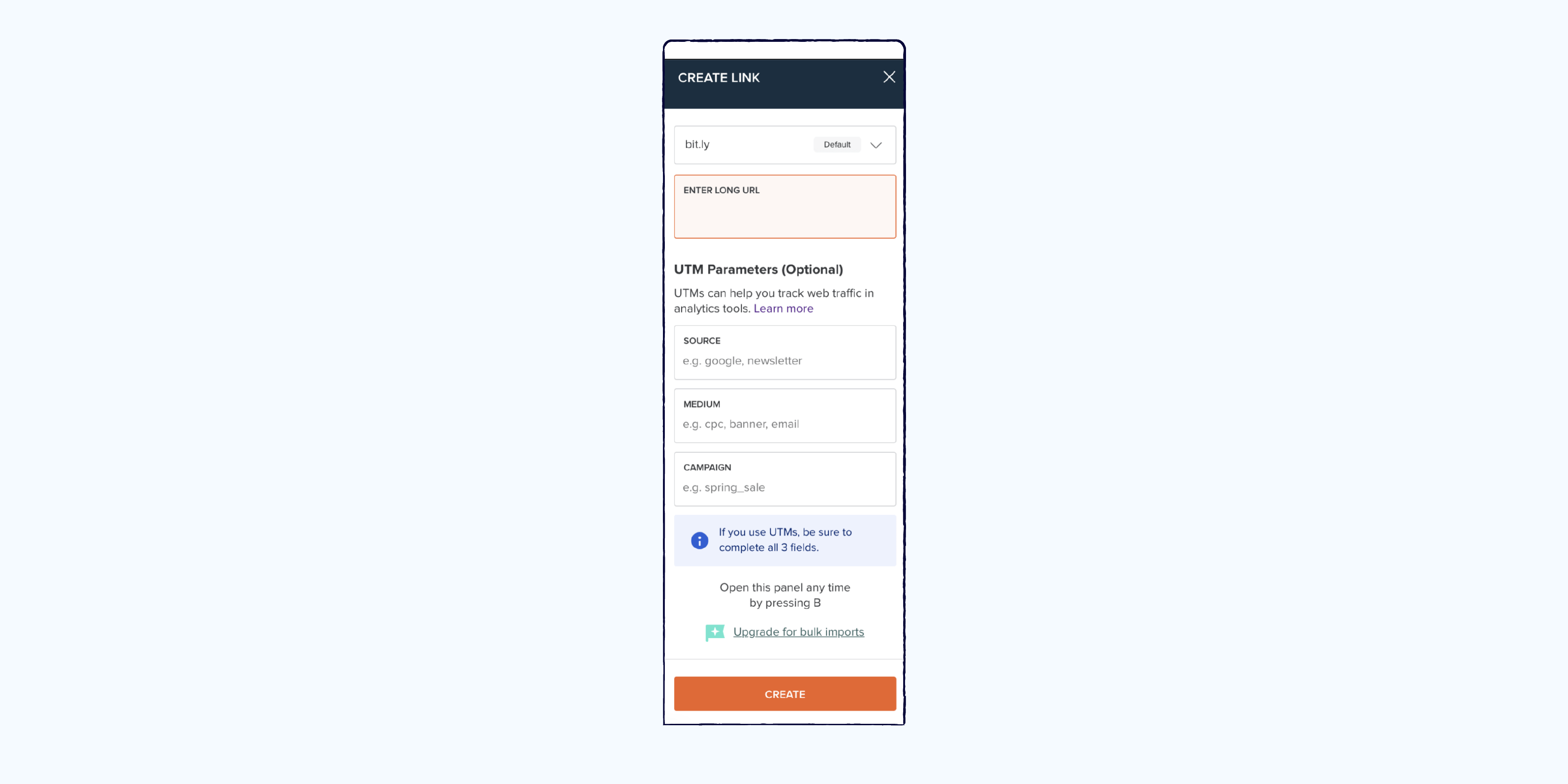 It's available to all users. Go check it out! No more building UTMs somewhere else and then coming to Bitly. Everything can now be done right here! 
Save Time With CSV Bulk Shortening
One of our top requested features was introduced early this year! The CSV Bulk Shortening feature allows users to shorten and brand links from a spreadsheet all at once. This means users can continue to organize their links in your spreadsheets, and eliminate the tedious copying and pasting back and forth from spreadsheets to Bitly and back to spreadsheets. With the new CSV bulk shortening feature, users can shorten up to 10,000 links (depending on the plan) saving time and reducing the number of errors while shortening links at scale.
QR Code Customization
Did you know we offered QR codes? Yes we do! We also frequently hear our users need to customize their QR codes and give them the ability to download in multiple formats. Well, say no more, Bitly is here to deliver. We've added the ability for our users to choose the color, the download format and gave them the ability to display the QR with or without a Bitly logo. It's a great way to differentiate your brand and add personality when you share your QR codes. The possibilities are endless!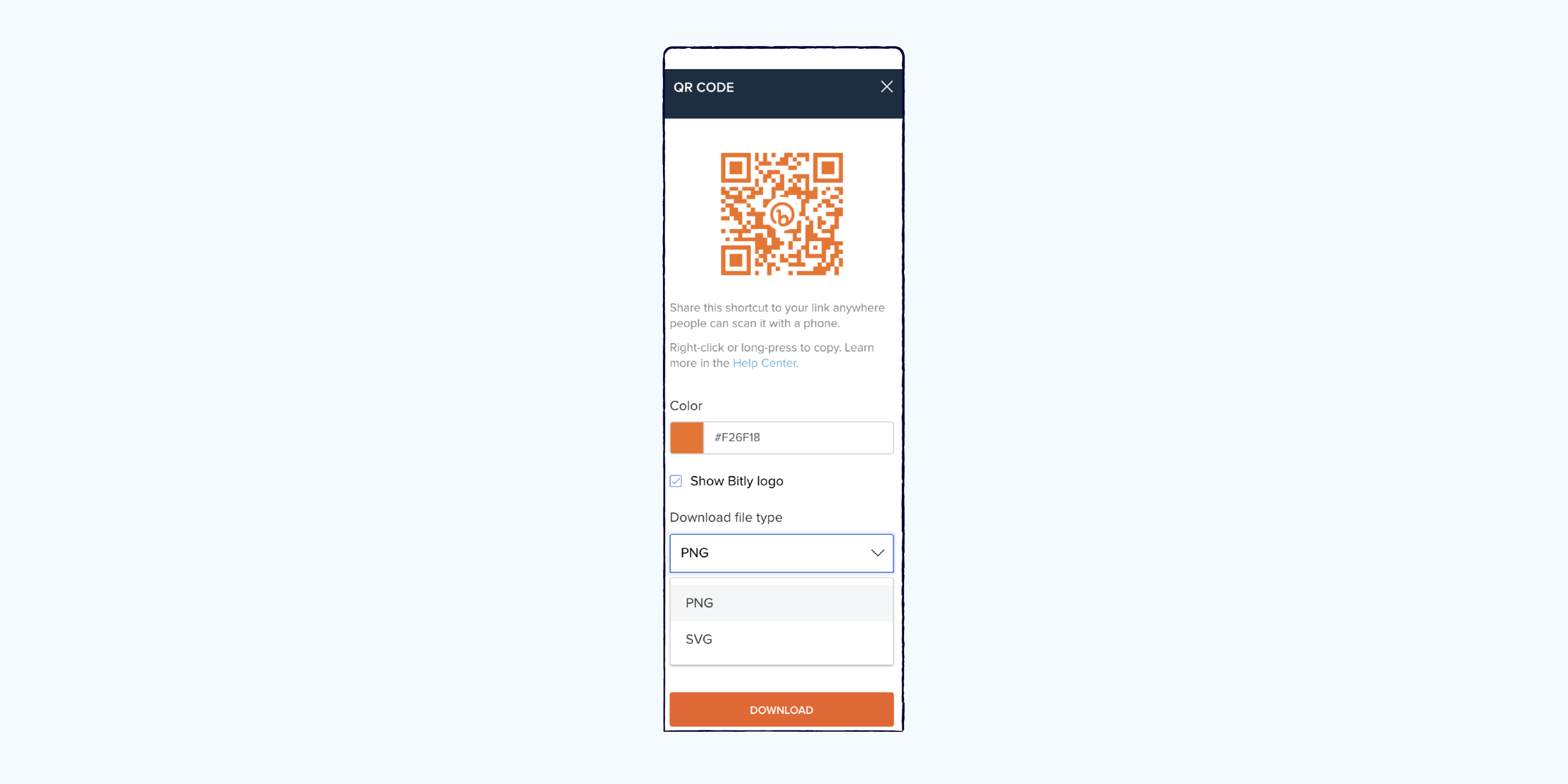 Only paid users can access the QR code and customize it. There are lots of other helpful features in our paid plans, too.
Upgrade today to try it out and start personalizing your QR codes!
And that's not all. We recently acquired QR Code Generator, the world's leading QR code platform that provides companies with an end-to-end solution for design, delivery, management, and analytics of QR codes. Check it out here.
We Debuted Link Launchpad in Private Beta

This year not only did we make changes to enhance your link management experience, we also took a major step to expand what is possible with Bitly. After hours of interviews with many of you we learned of your strong desire to curate and package all of your best, most relevant links, so your audiences can discover and explore more of your content in one place.
That's why we created Link Launchpad, a link in bio and link management platform all-in-one. This feature is currently in private beta where we are collecting thoughtful feedback on how users create and customize their page.
You can read more details about the exciting release of Link Launchpad on our blog and join the waitlist to be notified when it goes live.
Simplified Experience

Creating Accessible UX Filtering
Previously, our filtering UX was pretty hard to understand and even harder to use. Did you know we could filter on tags before? Not a lot of our users did either. Due to this reason and popular demand, we gave our filtering a makeover to make it more user friendly and accessible.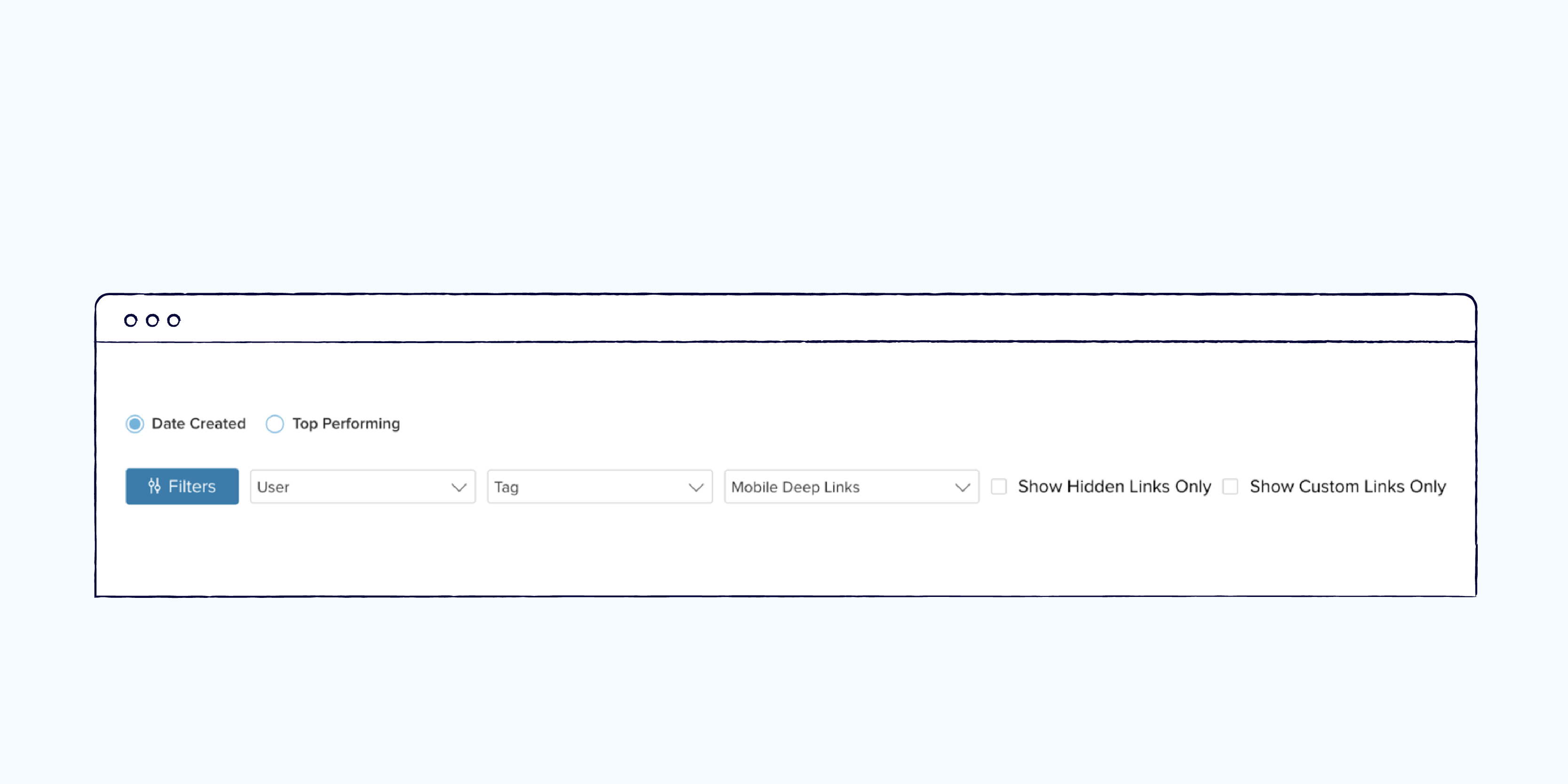 As you can see, our new filtering is no longer in an action sheet and can be easily seen at the top of the page on our "All Links" page. We also offer a modified mobile version that displays all our filtering options cleanly so whether you're on our web app or using it from your mobile device, it is easy to get the information you want.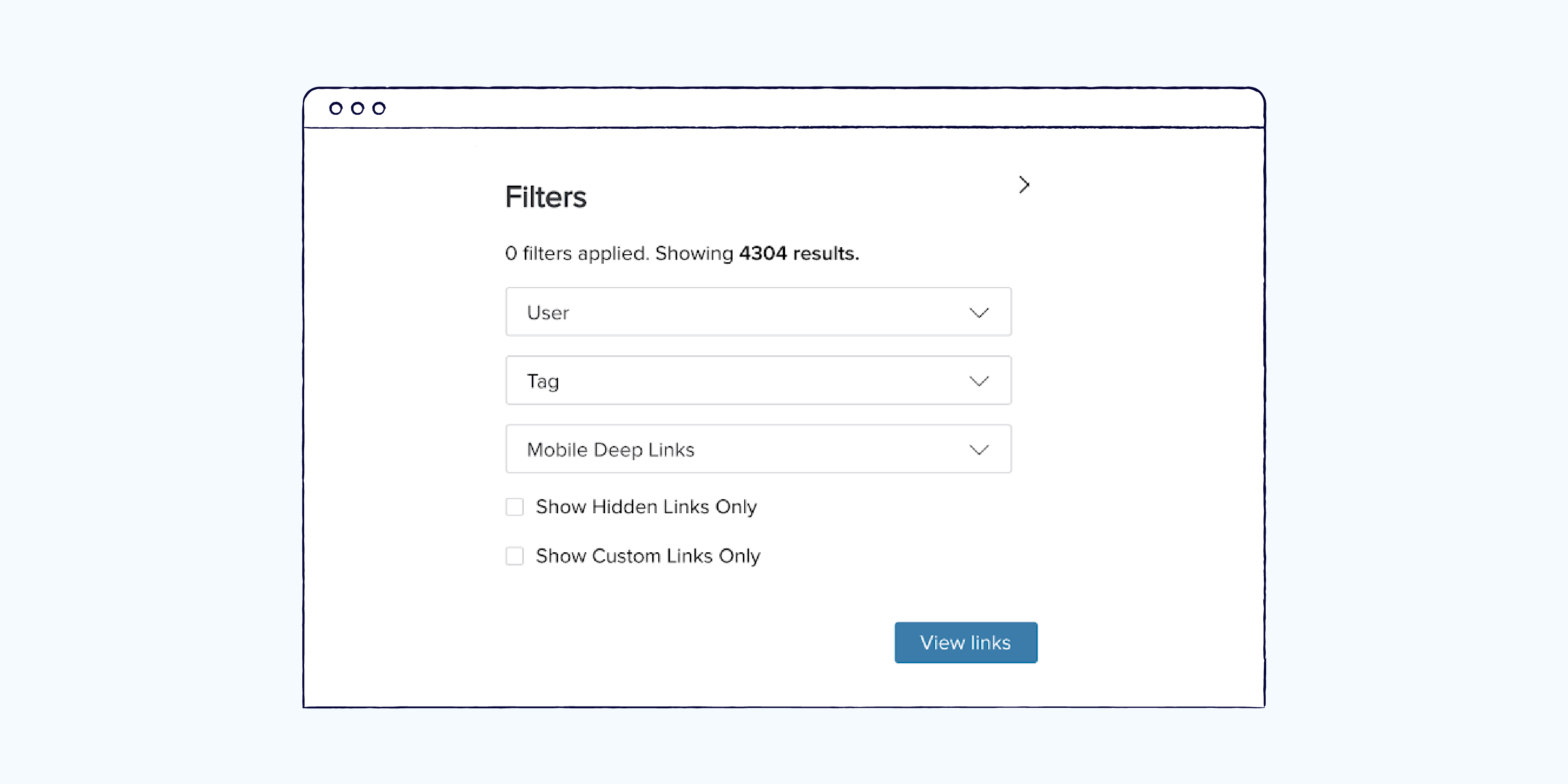 You can now filter to your heart's content, whether that's on tags or users! 
A few other things you can filter on:
Sign up for a free account to try it out today. Happy filtering! 
Simplified Settings
Bitly commits itself to the principle of simplicity, making it easier to do the most important things. We heard from our users that managing simple tasks as relates to profile settings, account settings and developer settings was overly complex and confusing. This year we overhauled the user experience and introduced a simplified view into all things settings. No more flipping between several pages to customize group settings (for enterprise users), manage account settings or retrieve an API access token. Now, navigating settings should be simpler and easier for everyone. 
On top of that, we've given our user management a facelift just in time to kickstart 2022! Admins can now see up to 12 months of activity from the users in their organizations; think, "Who created this group?" or "Was our new team member added to our Bitly account?"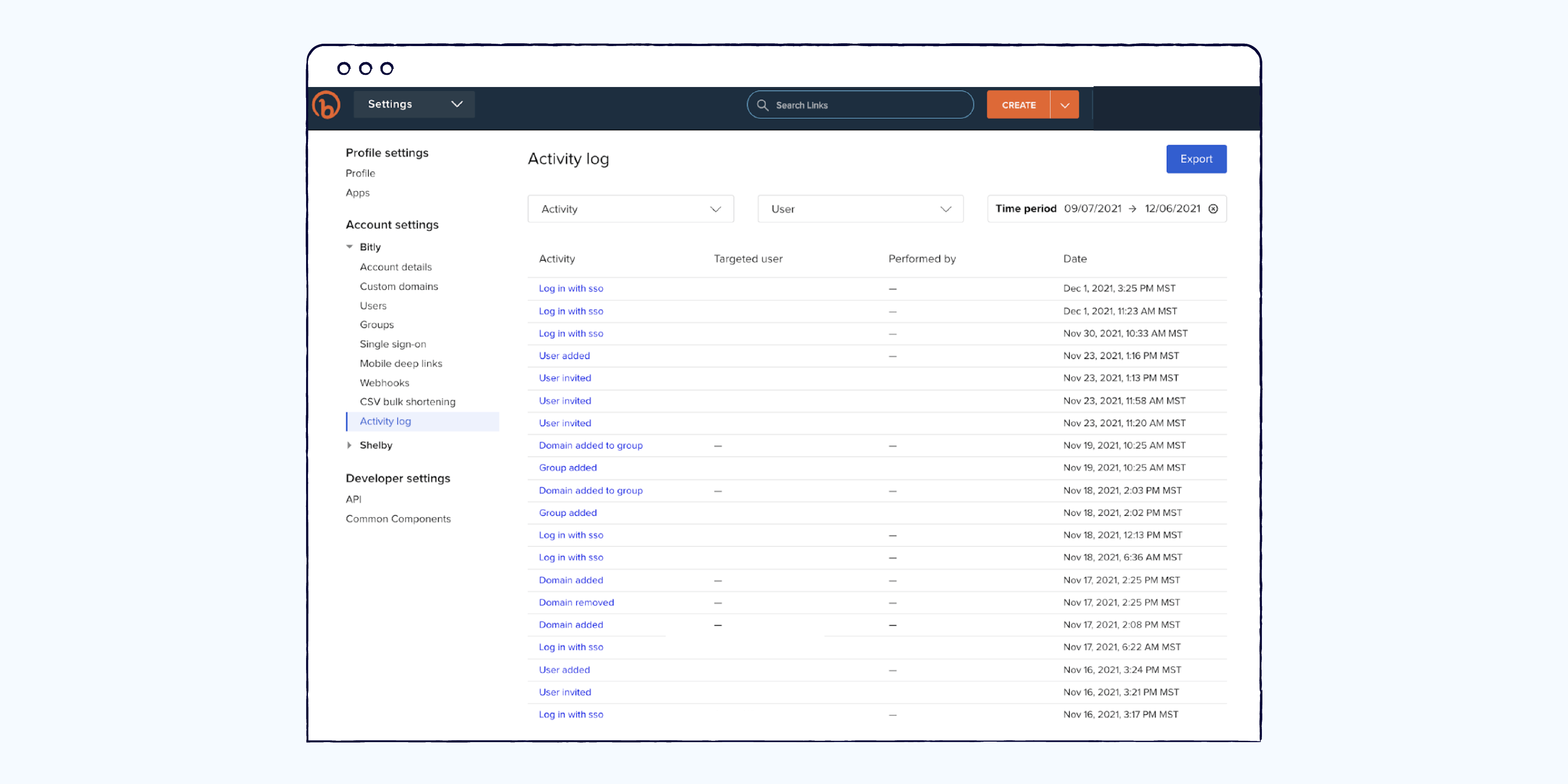 Filtering by activity, user, or date range, Admins can reference how their users are navigating Bitly and make decisions on how to manage their organization and workflows. The data is exportable too, so you can share internally as you wish.
Bitly Integrations

Integrations Powered by Bitly
Our users have a whole arsenal of tools they work with. From social media management platforms, to CRM, to website and blog builders, to communications platforms and so on. It can be annoying to be working in an application and have to jump out to Bitly to shorten a link and then copy and paste it back in. Bitly's API currently supports hundreds of integrations and can be built into even more tools so users don't have to leave the application they're working in and can stay focused on the task at hand.
This year we released two new integrations, Bitly's official WordPress Plugin and Bitly's Zapier Application. Both have been enhanced by Bitly's engineering teams to support link shortening with custom domains! Using these integrations, short links will be created through users' Bitly accounts.
At Bitly, we are always working on new things to make your life easier. In the upcoming months you might see other new features as well. Make sure to sign up and create an account if you haven't already to see all the exciting features and be in the know for future enhancements!
Co Authors: Zack Jones, Shelby Cer, Kelsey Stevenson
The post Unwrapping 2021: Bitly's Product Highlights appeared first on Bitly | Blog.