Expert marketers use vanity URLs to help boost online engagement, increase brand awareness, and optimize cross-channel user experience. This article features expert opinions and presents best practices for creating strong vanity URLs, what to avoid, and how to use them.
How to Create a Good Vanity URL
An effective vanity URL encourages people to engage with digital content and share it with others. Creating good vanity URLs requires understanding brand strategy and basic details about Web addresses.
Lindsay Pedersen is a Brand Strategist and author of Forging an Ironclad Brand – A Leader's Guide. Pedersen believes creating effective vanity URLs extends from your overall brand strategy and the marketing framework you have in place to reach your audience.
"I define brand as the meaning that you own inside the head of your audience," says Pedersen. "Brand strategy is simply the deliberate exercise of articulating what you stand for in the mind of your audience." 
Pedersen believes that brands compete for the scarcest resource—people's cognitive attention. The goal of any type of communication is to minimize the number of cognitive calories your audience uses to engage with your brand. Using vanity URLs honors the principle of scarce attention: the less attention you require of your audience to act, the better.
"Not all vanity URLs are created equal," says Pedersen. "Good vanity URLs dramatically lessen the attention demanded from the audience."
Web Address Basics 
A vanity URL is a custom Web address shorter than a standard uniform resource locator (URL) that uses plain-text keywords to help the audience remember the online location or provide context. They often redirect to a longer URL, like a landing page or your main website, that contains tracking information, like UTM parameters. Vanity URLs are also known as vanity links, custom URLs, customized URLs, personalized URLs, or branded links. 
The three parts of a standard URL are the protocol, the domain name and the path (protocol://domain-name.top-level-domain/path).
Using the example URL https://bitly.com/pages/why-bitly/bitly-101:
HTTPS:// is the standard secure Web protocol for how a browser like Chrome should retrieve information.
Bitly is the domain name, and .com is the top-level domain (TLD).
/pages/why-bitly/bitly-101 is the Web site's path or folder/subfolder structure.
Putting together what we now know about brand strategy, attention scarcity, and URLs, a good example of a vanity URL that forwards traffic to the same address as our example might look like this: bitly.com/basics.
What Makes a Good Vanity URL
An effective vanity URL is a short, simple-to-remember Web address that sends visitors to your chosen landing page. They are effective tools to help boost digital brand engagement. 
Strong vanity URLs can help better market your brand and business. So, how do you spot an effective one, and what are the characteristics to look for when you create vanity URLs? 
A good vanity URL is:
Easy to recall 
Engaging
Accurate
Simple 
Meaningful
Concise 
An effective vanity URL forwards cross-channel traffic to your most valuable online assets. It adds legitimacy to ads and tracks how different marketing channels drive traffic to your site. Also, vanity URLs are a powerful social media campaign tools. They provide valuable engagement metrics about your audience, your reach, and the effectiveness of your social media content.
Example of a Good Vanity URL 
Bitly Enterprise is a platform that provides enterprise-grade link management features, including unmatched reliability, speed, and security. Here is an example vanity URL used to promote Bitly Enterprise:
This vanity URL example is simple and easy to remember. It reduces the cognitive calories our audience needs to use because it conveys more context with fewer characters than a default URL like this with all the tracking parameters:
The vanity URL can still forward traffic to your chosen landing page and can contain the necessary Web analytics parameters to gather audience and engagement data. The best way to create and manage vanity URLs is with an integrated link management platform. 
Vanity URL Best Practices
Coming up with good vanity URLs from scratch can be challenging. Here are some expert best practices to help you create better vanity URLs:
Grammar rules: Capitalize the first letter of each word so your vanity URL is easier to read 
Short is sweet: Keep your vanity URLs short. Long URLs impact click-through rate metrics. Be specific. The more specific you make your URL, the easier to remember and share.
Memory serves: Make your vanity URLs memorable but strive to capture attention efficiently. Your vanity URL should be easy to spell. Don't sacrifice context for creativity.
Keywords: Vanity URL keywords should be clear, concise, and consistent with the content on the landing page. One-syllable words work best.
Call to Action: Use keywords that serve as a call-to-action. Use active words that are easy to pronounce. Say your vanity URL out loud. Does it sound like it encourages action?
Expert Custom Vanity Domain Best Practices
Anat Baron, a brand builder, futurist, and frequent marketing keynote speaker, recommends investing in custom domain names for vanity URLs.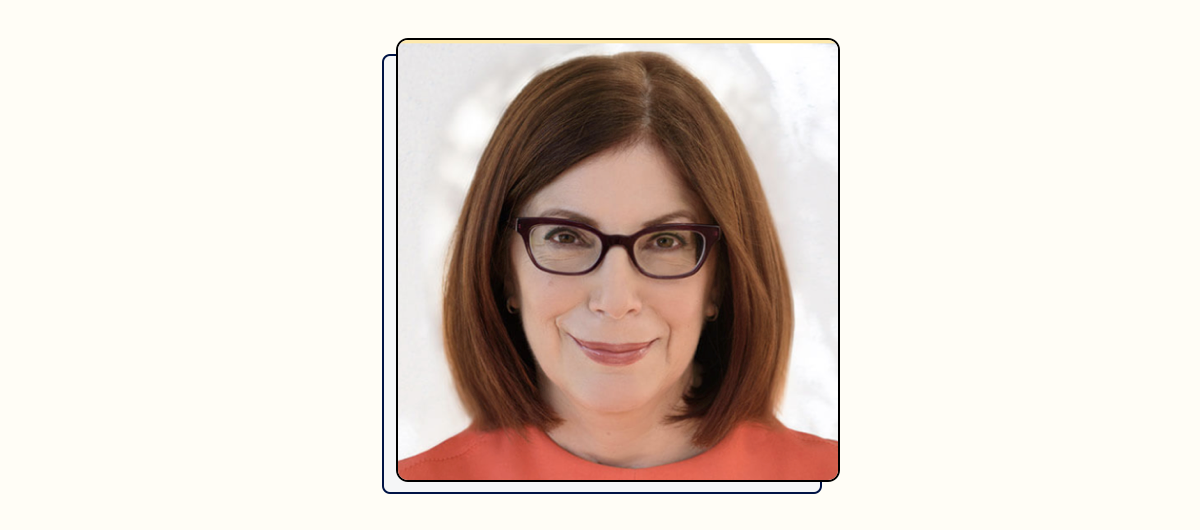 "New domain names are often difficult to obtain once a company sets up its online presence," says Baron. "You could purchase a new domain and use redirects, but it's easier to use customized vanity URLs and direct users to your landing page or main Web page domain."
Consider investing in customized TLD extensions that are relevant to your brand and your business (e.g., .build, .events, .link, .buzz, or .ai). The options for domain customization continue to grow. Bitly's link management solution features custom domain management for vanity URLs. Examples of customized vanity domains include sliceo.pizza, sneakr.life or delivr.today.
Expert Branded Link Best Practices
"All of your communication should embody your brand personality," says Pedersen. "It's an opportunity to reinforce the relationship between your brand and your audience. So, make decisions on your vanity URLs according to your brand goals and the meaning that you want to build in the minds of your audience."
A vanity URL should speak to your brand identity. It should include your brand name and represent your brand with targeted keywords to create consistency and save your audience's cognitive calories. 
Additional SEO Best Practices for Vanity URLs
Google clarifies that shorter URLs are optimal over longer URLs for search. But length isn't the only factor to consider in search engine optimization (SEO). 
Context is key: URL customization helps convey context, and context gets the point across to the user and promotes engagement. For example, Bit.ly.com/startnow has more characters but is more compelling than bitly.com/ahf81n. 
Transparency: It's OK to incorporate vanity URL keywords that support your SEO strategy but prioritize brand clarity over search results. Be transparent about the content behind the link using exact, accurate words or phrases. For example, Bit.ly/QRcode connects the Bitly brand to QR code entity.
Monitor and measure: Use Web analytics tools to gather data and measure how your links perform and help you determine what compels your audience to click. Use this data to test and optimize future vanity URLs.
Vanity URL Don'ts
Vanity URLs are a great way to capture attention and convey context while staying true to your brand messaging. However, there are right and wrong ways to use them. Here are some things to avoid:
Don't get too clever with your vanity URL keywords. 
Don't use offensive language; verify cultural context in foreign markets.
Don't use special characters like em dashes or underscores.
Don't combine words to form one word. 
Don't use slang, industry jargon, or specialized acronyms.
Don't use numbers; spell them out (one > 1).
Don't use dates in the URL path.
Vanity URL Checklist
An effective vanity URL jumps from the page and sticks with the audience. Here's our checklist to help you create memorable vanity URLs: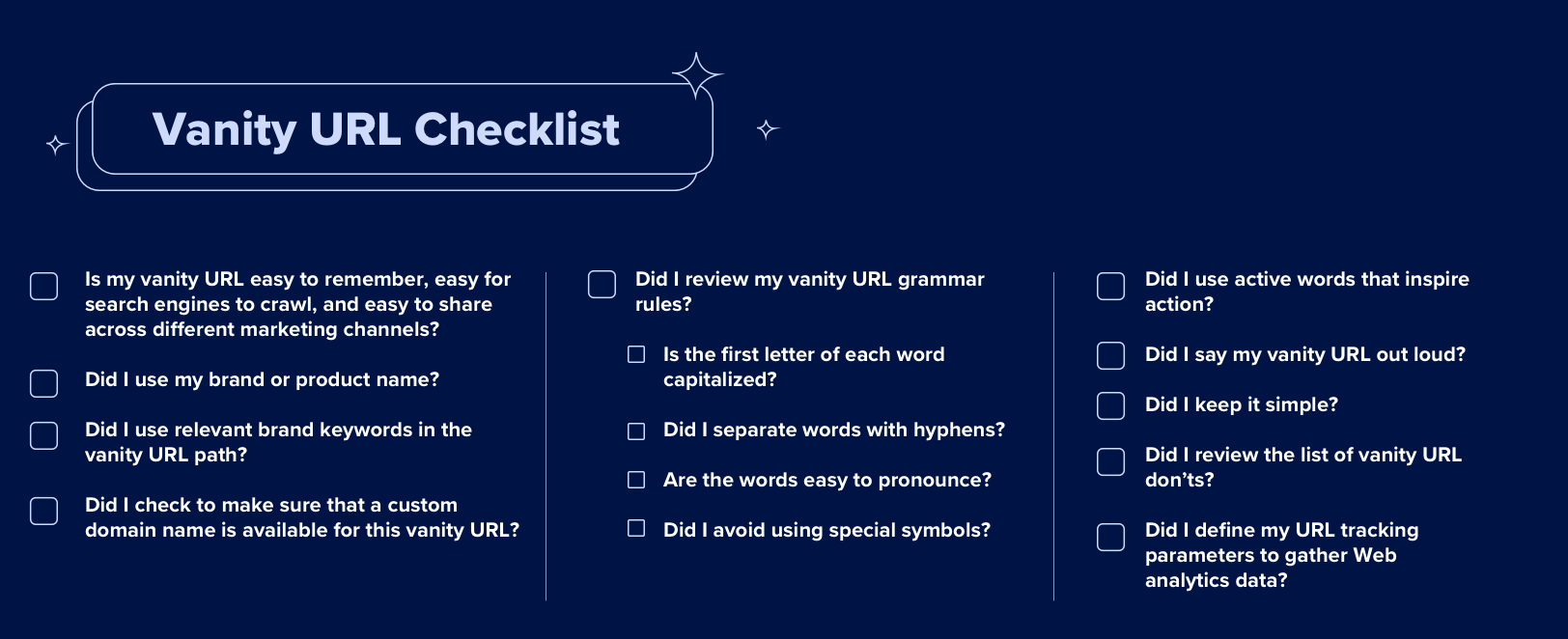 How to Set Up a Vanity URL on Bitly
With Bitly, you can easily create, share, and track custom vanity URLs across all marketing channels with one solution. Bitly's secure and reliable open application programming interface (API) makes it incredibly simple to create and manage links encrypted with HTTPS to keep your content and audience safe. It's integrated with most social media and digital marketing tools to help you manage link campaigns with less hassle. Learn how to get started with world-class link management.
The post Vanity URL Best Practices from the Experts appeared first on Bitly | Blog.