When TikTok burst onto the social media scene back in 2018, it was impossible to predict what a dominating force it would become. But what is TikTok, exactly?
Today, with over 2 billion downloads globally (and counting!), TikTok is the world's seventh-most popular social platform, but because it's the app of choice for the hyper-influential Gen Z, it's got an outsized influence on the cultural zeitgeist. TikTok is to thank (or blame, depending on your perspective) for culinary trends, a new wave of famous dogs, 2000s nostalgia, and Addison Rae's acting career.
In other words? It's a force to be reckoned with — and one that's constantly evolving.
Bonus: Get a free TikTok Growth Checklist from famous TikTok creator Tiffy Chen that shows you how to gain 1.6 million followers with only 3 studio lights and iMovie.
What is TikTok?
TikTok is a social media app centered around short videos.
Many people think of it as a bite-size version of YouTube, with videos ranging between five and 120 seconds in length. TikTok calls itself "the leading destination for short-form mobile videos" with a mission to "inspire creativity and bring joy."
(Audacious! We love to see it.)
Creators have access to an assortment of filters and effects, as well as a massive music library.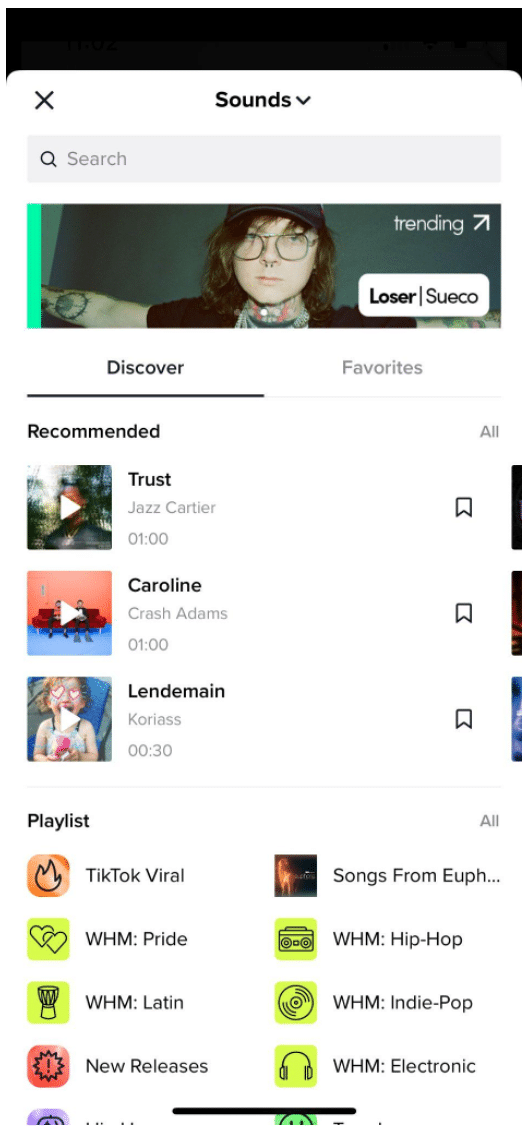 Tracks on TikTok have high meme potential, and it's turned the app into something of a hitmaker.
Lil Nas X's jam "Old Town Road" is the best example of this. While lassoing some near 67 million plays on TikTok, the single trotted to #1 on the Billboard Hot 100, where it stayed for a record-setting 17 weeks.
Critically, TikTok makes content discovery central to its experience. The For You Page delivers a bottomless stream of videos curated by the TikTok algorithm. The video feed plays the minute the app opens, instantly sucking viewers in.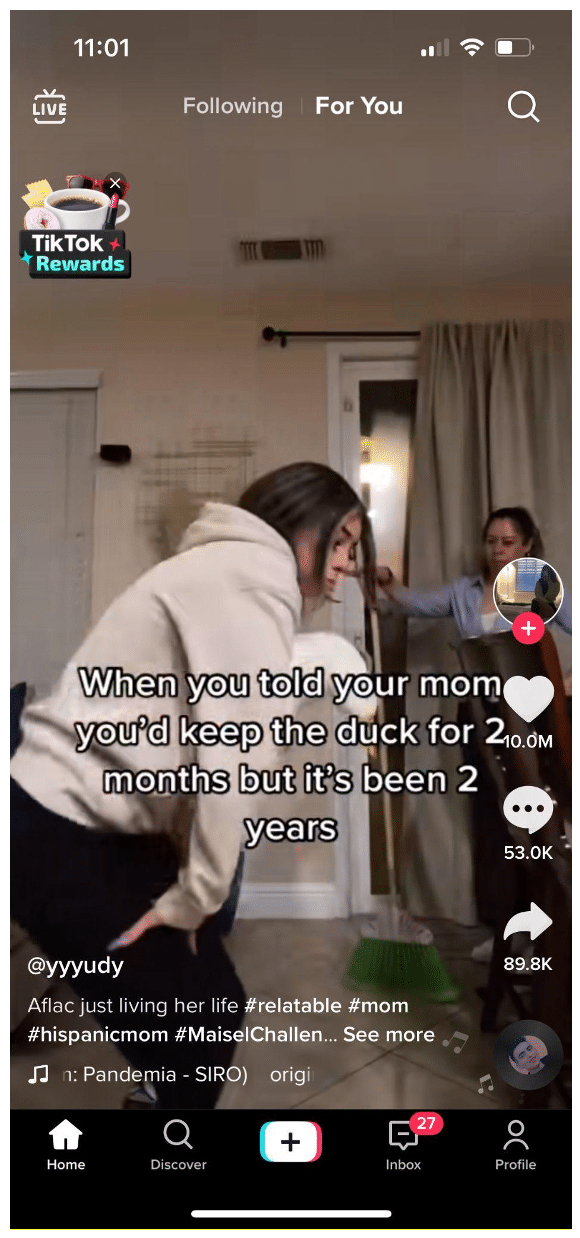 While users can follow their favorite creators, they don't have to for the feed to be filled automatically with curated clips. It's a bottomless buffet of content.
No wonder 70% of users spend an hour or more on the app every week. Can't stop, won't stop!
What is a TikTok account?
A TikTok account allows you to log in to the TikTok app to create and share short-form videos using filters, effects, and music clips.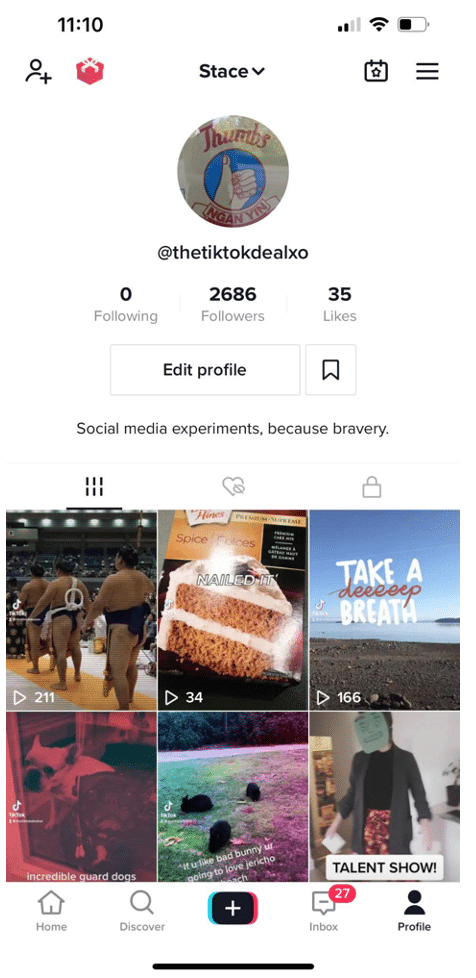 Earn enough attention and engagement, and you could be eligible for TikTok's creator fund one day. (Cue up a "Show me the money!" sound clip for when the time comes.)
If you need some help getting started, here's our beginners guide to making TikTok videos. Please don't forget about us when you're TikTok famous.
Logged in with your TikTok account, you'll be able to interact with other users' videos, by commenting, sharing, and liking content. You can also follow other creators to see more from them on the For You Page.
Your behavior as you use your account will impact the TikTok algorithm, dictating what kinds of videos from other users pop up on your For You Page.
Searching for "cute dogs vids"? Commenting on content tagged with #skateboarddads? You'll start to see more of the same in your feed.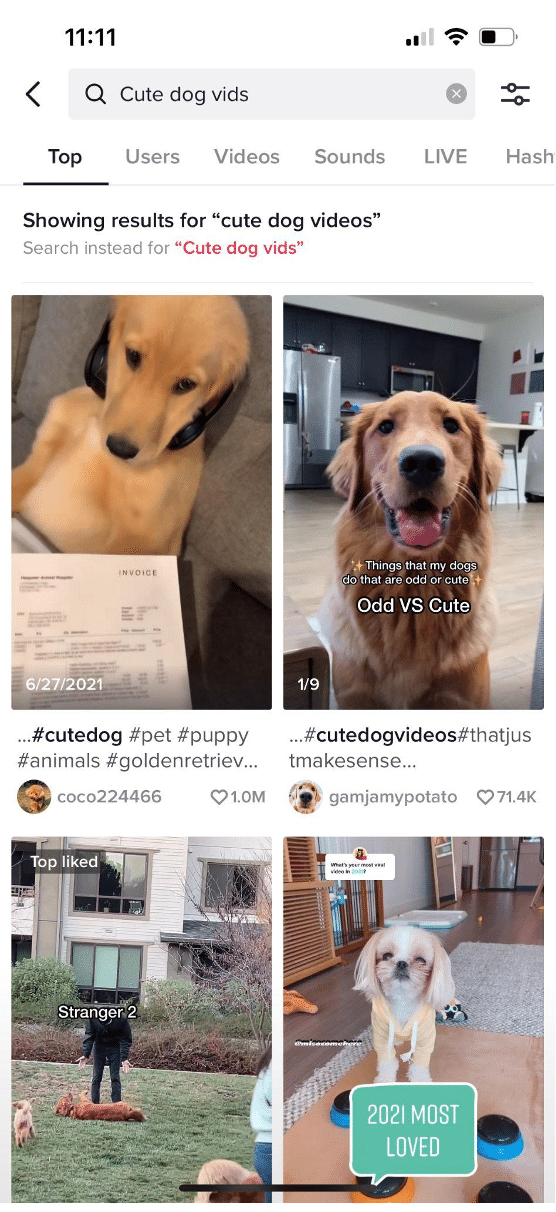 TikTok vs. Musical.ly
A little history lesson: TikTok is the international version of China's Douyin app, which was launched by ByteDance back in 2016 as a short-form video social network.
Also in the market at the time was another Chinese short-form video tool, Musically, which was thriving thanks to a fun library of filters and effects. Between its launch in 2014 and 2017, Musical.ly managed to amass more than 200 million users, with a strong foothold in the U.S.
ByteDance acquired the company later that year to merge with TikTok and create one short-form video superstar app to rule them all.
RIP, Musical.ly; long live TikTok.
What is the most liked video on TikTok?
TikTok is an app where new creators and surprising content can go viral, thanks to an algorithm that promotes discovery and fosters a universe of unique challenges and trends.
At the time of writing, a lip-synch viral video by creator Bella Poarch holds the title of Most Liked Video. Posted back in August 2020, earned 55.8 million likes.
On a platform with millions of videos of fresh-faced people mugging for the camera to music, why did this particular video pop off?
It's impossible to say for sure, but the combination of a pretty face, impressive tongue-twisting lyrics, and hypnotic camera tracking sure caught users' attention.
Bella parlayed this fame into a whole career as a TikTok star, with 88 million followers and a record deal. Not a bad outcome from a 12 second clip of someone bored and goofing around at home.
The second-most popular TikTok video is a montage from artist fedziownik_art, with a jaw-dropping 49.3 million likes. Van Gogh would've given his other ear for that kind of exposure.
The content of other most-liked videos ranges wildly, from dancing to comedy to animals, but what most have in common is that they're fun, memorable, and engaging.
Study up on what it takes to become TikTok famous here.
How does TikTok work?
TikTok serves up a medley of personalized videos to each user via their For You Page: a mix of videos from accounts you follow and other content they think will appeal to you.
It's a grab bag — one that's usually full of Doja Cat. Here's how to get involved.
What can you do on TikTok?
Watch and create videos: Videos are central to the TikTok experience. They can be uploaded or created in-app with stop and start recording, timers, and other tools.
Live streaming is also an option. Users can add visual filters, time effects, split screens, green screens, transitions, stickers, GIFs, emoji, and much more.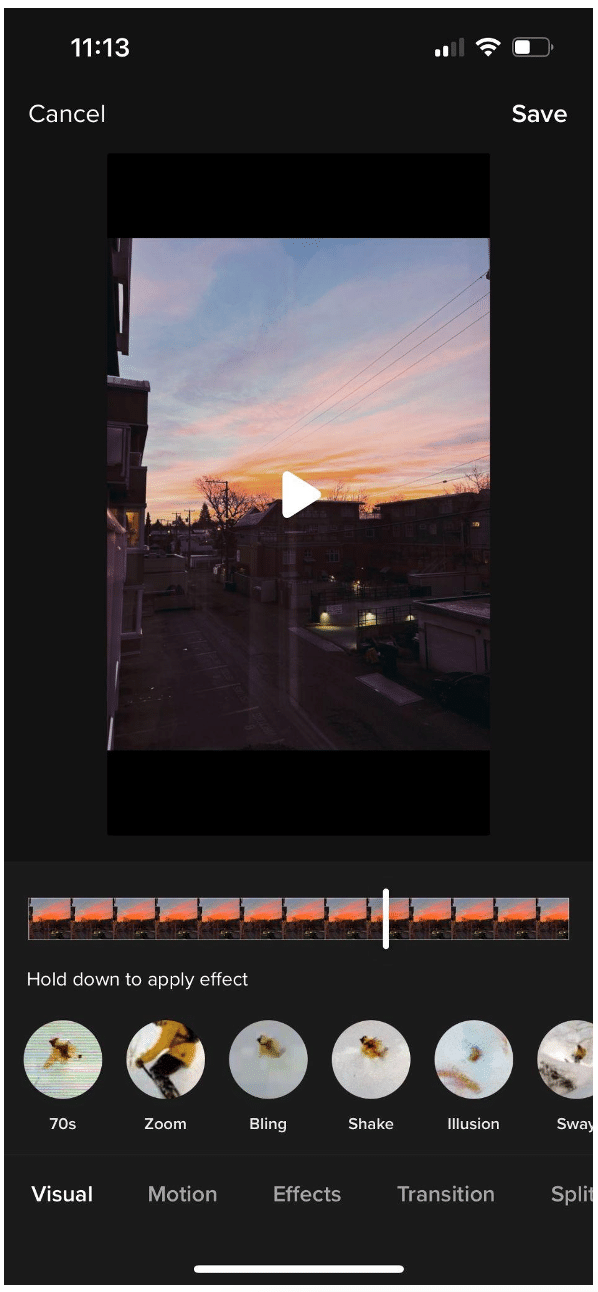 Add Music: TikTok's extensive music library and integration with Apple Music is where the app edges out all other social platforms. Creators can add, remix, save, and discover songs and sounds via playlists, videos, and more.
Interact: TikTok users can follow accounts they like, and give hearts, gifts, comments or shares on videos they enjoy. Videos, hashtags, sounds, and effects can be added to a user's Favorites section.
Discover: The Discover feed is all about trending hashtags, but users can also search for keywords, users, videos, and sound effects. People can add friends by searching their username, or scanning their unique TikCode.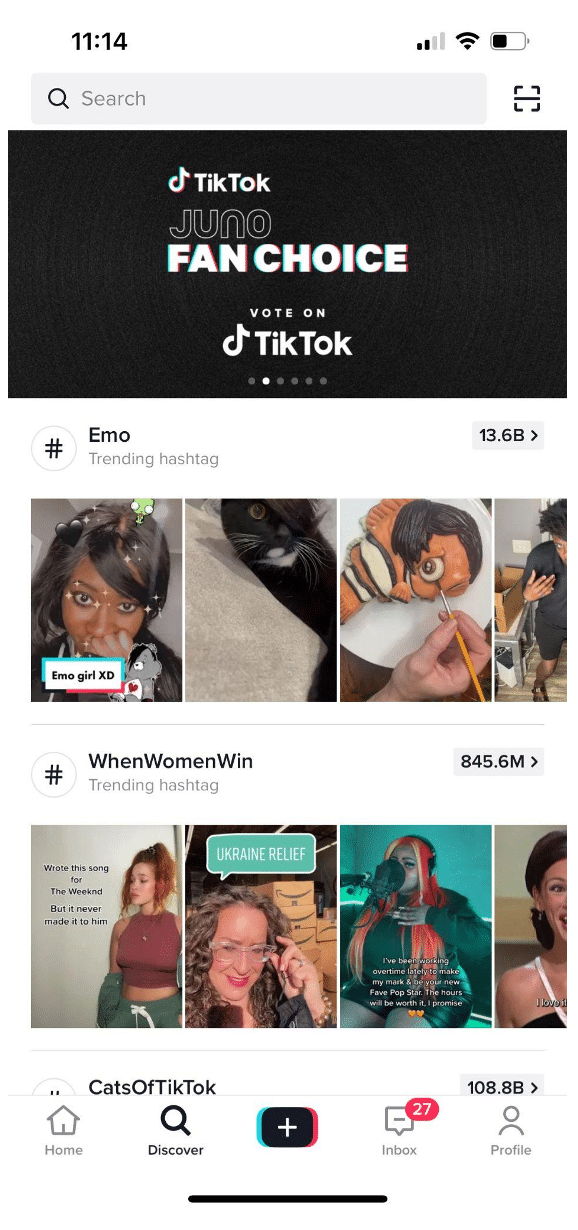 Explore profiles: TikTok profiles show a tally of follows and followers, as well as an overall total of the number of hearts a user has received. As on Twitter and Instagram, official accounts are given blue checkmarks.
Spend virtual coins: Coins can be used to give Virtual Gifts on TikTok. When a user buys them, they can convert them into diamonds or emoji. Diamonds can be exchanged for cash.
How do people typically use TikTok?
Dancing and lip-synching: Since TikTok was born from the DNA of Musical.ly (you did just read the history of TikTok above, right?) it's no surprise that musical activities like lip-synching and dancing are huge on the platform.
@audaamar

I will dance until there is 1M Я буду танцевать, пока не будет 1М
TikTok Trends: Also known as TikTok Challenges, these memes typically involve a popular song or hashtag. Trending songs and tags like #ButHaveYouSeen and #HowToAdult act as prompts for users to attempt dance moves or create their own variation on a theme.
TikTok Duets: Duets are a popular collaborative feature on TikTok that allows users to sample another person's video and add themselves to it. Duets can range from genuine collabs, remixes, spoofs, and more. Artists like Lizzo, Camila Cabello, and Tove Lo have used the format to promo singles and connect with fans.
Green Screen effects: Though TikTok features a huge selection of filters and effects, one of the most-used tool is the green screen. This effect makes it easy to place yourself in an exotic setting or share your hot take in front of a relevant image. Dive into our guide to editing TikTok videos here for details on trying this trick for yourself.
TikTok Stitching: TikTok's Stitch tool allows you to copy and add on to other users' videos (if they have Stitching enabled, of course). This function lends itself to reaction videos or responses — just another way TikTok fosters conversation via content creation.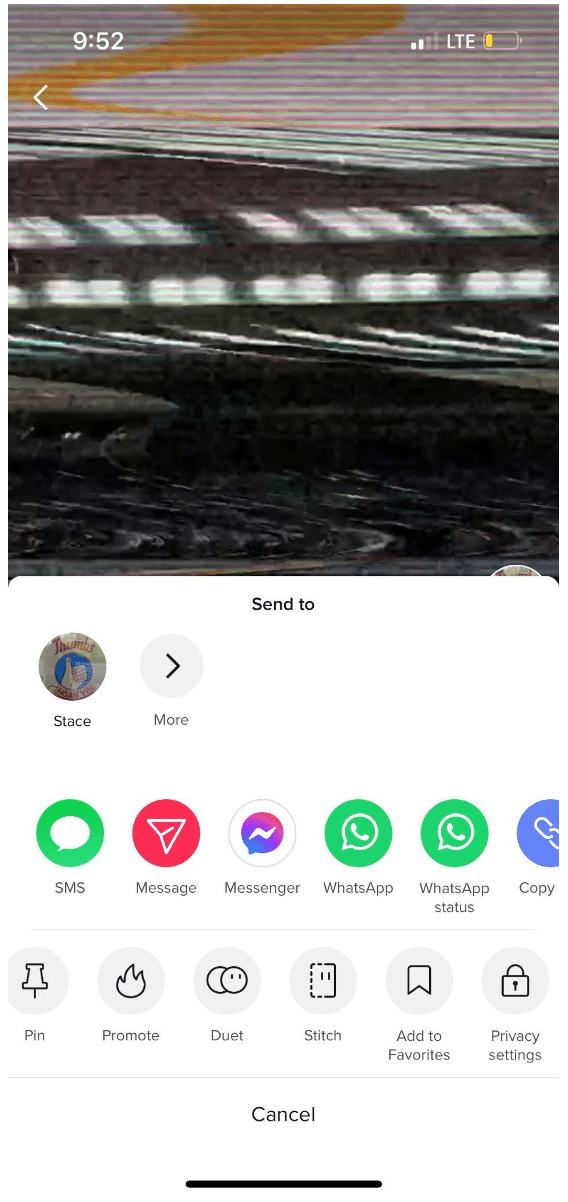 What are some unique ways that people use TikTok?
The quick-and-easy editing features and interactive nature of TikTok create prime conditions for creativity, and as a result, the app has been used in countless ways that the developers themselves could've never imagined (though "Ratatouille the Crowd-Sourced Musical" does sort of feel like it's a fever dream, no?)
Collaborations: The Duet feature allows users to remix and respond to each others' content — which can lead to surprisingly delightful collaborations like sea shanties or the production of a digital Broadway show.
Creative editing: TikTok easily allows you to combine multiple clips, making multi-scene stories (even short-and-sweet ones) a breeze, and offering the opportunity to get creative with transitions, smash cuts, and effects. Take a peek at our list of creative TikTok video ideas here to get the wheels turning.
Getting interactive: Using the TikTok live stream feature to broadcast in real-time is a surefire way to engage with your followers. Give 'em something to talk about as the thrill of anything-could-happen live video fills their feed… like the time cup-maker Mrs. Dutchie accidentally used dark glitter instead of light glitter.
(Talk about breaking the internet!)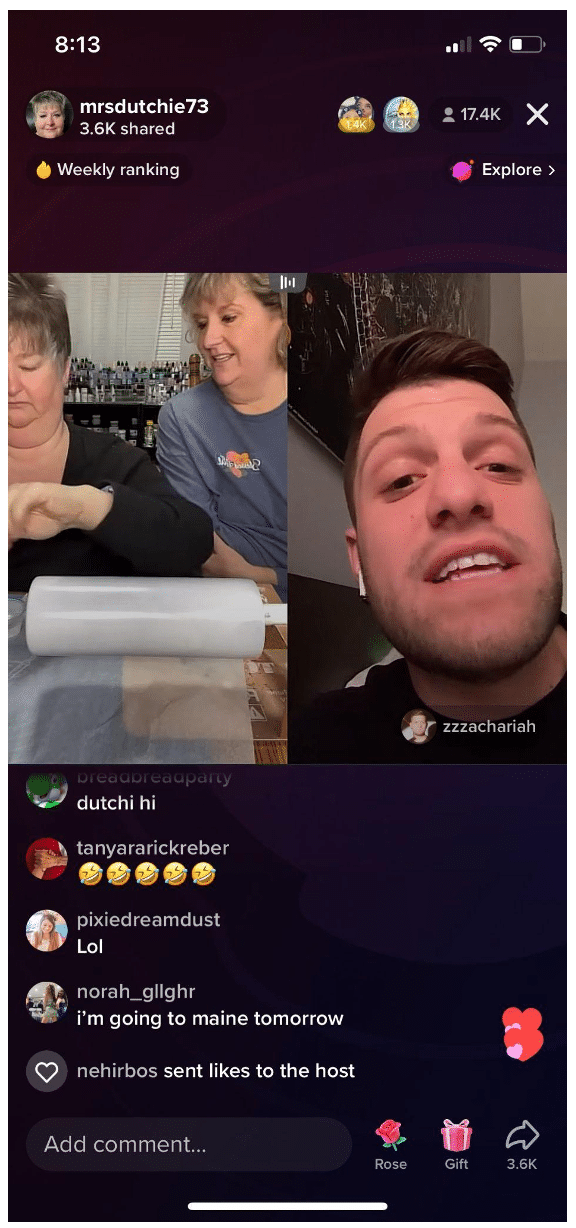 But even in a regular, pre-recorded TikTok post, hosting a Q&A or responding to FAQs is a great way to show your fan club you care.
TikTok demographics: who uses TikTok?
More than 160 million hours of video are watched on TikTok in any given minute of the day… but who is actually making and viewing this content?
Of the more than 884 million people who are active on TikTok, 57% are female, while 43% are male.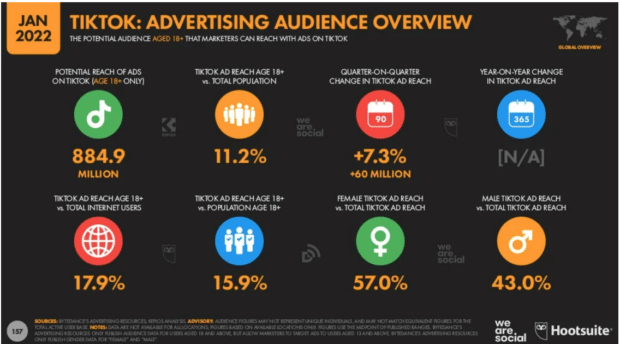 There are 130 million U.S. users over age 18. The second highest adult population of Instagram users is Indonesia (92 million users), with Brazil coming in third (74 million).
The majority of the TikTok audience is Gen Z, with 42% of the audience aged 18 to 24 years old. (The second-biggest generational cohort on the platform? Millennials, accounting for 31% of users.)
Click here for more fascinating TikTok statistics that marketers need to know in 2022.
Bonus: Get a free TikTok Growth Checklist from famous TikTok creator Tiffy Chen that shows you how to gain 1.6 million followers with only 3 studio lights and iMovie.
The post What is TikTok? Best Facts and Tips for 2022 appeared first on Social Media Marketing & Management Dashboard.