A high-quality website is the most important digital asset for any business.
We've made it easy for any business owner to create a professional, optimized website that gets more traffic and increases conversions… Introducing our new website builder!
We're seriously excited to release the new Wishpond Website Builder. After helping thousands of small businesses achieve online success with our Landing Page tool, we decided to take it to the next level and introduce a full-on website builder.
This feature lets anyone create an entire website incredibly easily.
We'll break down how the builder works, and what some of the biggest benefits of using Wishpond's Website Builder are.

The Best Website Builder for Marketing
First of all, Wishpond's new website builder has been designed with marketing at the forefront.
After working with thousands of small businesses, and understanding which marketing tools bring them the most value, we included these tools in the new website builder.
This means you can access advanced marketing tools straight off the bat, to help your website attract more traffic and generate more conversions.
Some of these marketing features include:
A form builder
An appointments feature
A popups tool
Social sharing functionality
And more!
Using a website builder integrated with all the marketing tools you need saves a lot of time and money while helping you produce a website that does more.
These tools will help with lead generation and increasing conversions for any type of business.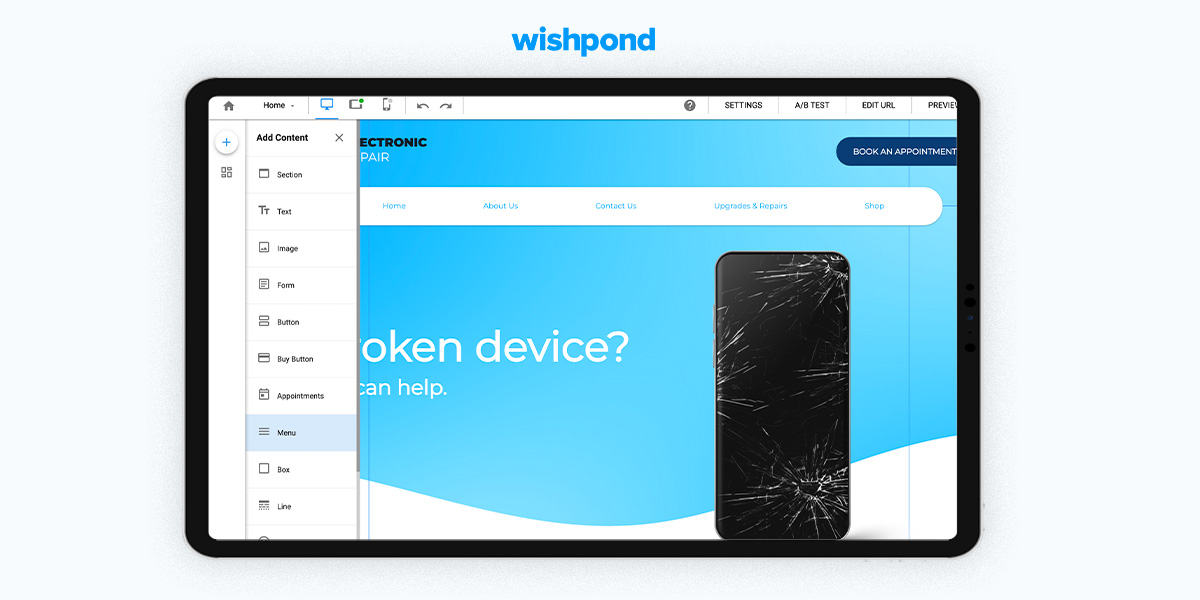 The Easiest Way to Build High-Performance Websites
If building a website seems like something you have no idea how to get started with, then don't worry. Wishpond's new website builder uses professionally designed templates to help you create a site without any stress.
Simply choose the template you like, and easily customize this with the tool's drag and drop editor. No need for any coding or design skills around here.
And not only do these templates look great, but they're also fully optimized for performance. Your website will feature super-fast loading times, and each page can be optimized for different devices in one click.
It's the easiest way to build a high-quality website.
What About SEO?
Search Engine Optimization (SEO) is essential if you want to get more traffic. This is why we've included SEO configurations for every page, allowing you to fine-tune your SEO strategy. Basically, this means you have the chance to optimize your website for more traffic.
You can optimize each individual page on your website, and take control of elements like the meta title, meta description, and more. It's an easy way to ensure your pages are optimized for the right keywords to help you get more traffic.
Why Use Wishpond's Website Builder?
You have a few different options when it comes to creating a website for your business. Hands down, the fastest and easiest way to build a professional-looking website is by using a website builder like Wishpond's.
Here's why:
It's intuitive:Anyone can simply choose a template, update the text and images, and get their page published. It's that easy. Wishpond offers a wide range of professionally designed templates to match any kind of business.

It's optimized: Forget about doing all of the hard work optimizing your website manually. With Wishpond's website builder, your pages will be optimized for mobile, you can set easy SEO configurations, and you know that the site will load quickly.

It's loaded full of features: Instead of subscribing to many different tools beyond your website builder, you get them all built into a single platform. Things like a popups builder or appointments calendar come standard, making it easy for you to capture more leads straight away.

It's integrated: You can also use a wide range of other tools alongside Wishpond's website builder. This includes Wishpond's own marketing tools, like the leads database, email automation software, and payments tools to name a few. The website builder also comes equipped with a wide range of integrations with other tools you're already using.
And if you want any help, Wishpond also offers dedicated marketing experts to create campaigns for you.
You could get an unlimited graphic design subscription to create on-demand branding and visual elements. You could get an SEO expert to help you get more traffic, work with ads experts to run targeted campaigns for you, and more.
This means your website can be unstoppable, without you having to worry about any of the marketing work yourself.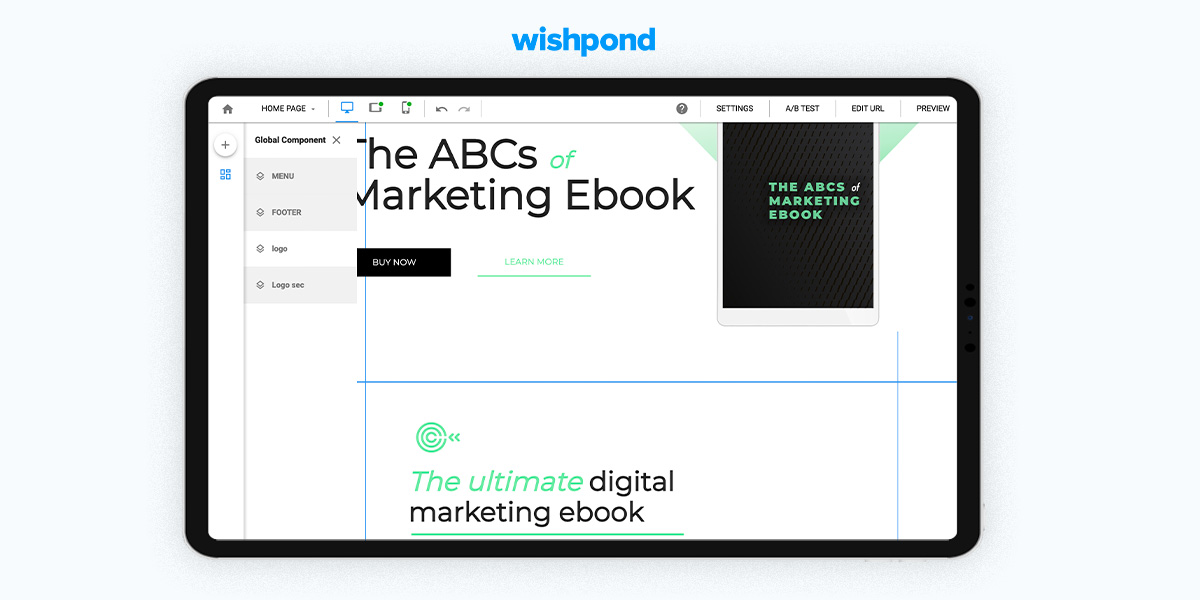 How Does it Work?
Using Wishpond's website builder couldn't be any easier. If you want to build a website with the tool, here's what you do:
Choose a domain: Get your own custom domain with the website builder

Pick a template: Choose from a range of different templates to figure out how you want your website to look and function

Customize your site: Now you just need to fill in your own text, add in images, and your branding and make the website your own. Use the incredibly simple drag-and-drop editor to do this

Take it to the next level: Now you can use Wishpond's tools to help your website achieve more. Set up strategically timed popups, publish forms to capture email addresses, add a calendar so that clients can book appointments with you, and more

Enjoy your new website: That's it, your website is built and ready to go. You can easily add pages and make changes and customizations whenever you need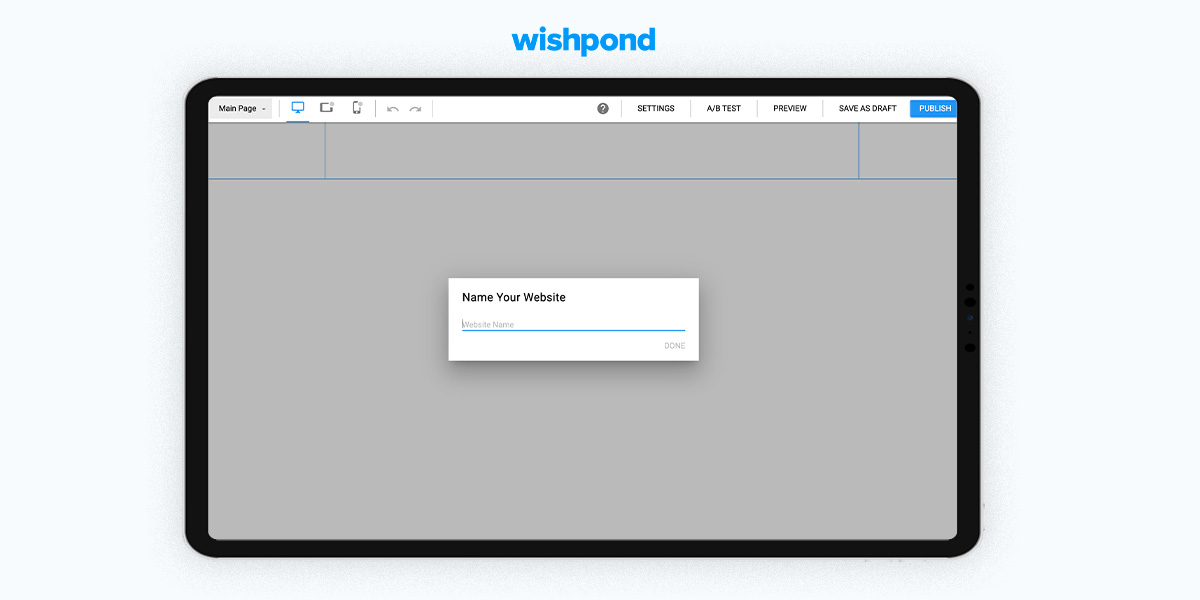 Launch Your Website Today
Whether you want to build a new website from the ground up or breathe new life into your outdated website, then Wishpond's Website Builder is the tool to do it. This intuitive platform can help anyone achieve a high-quality website without needing any specialist knowledge.
The website builder is able to do so much more than other options, thanks to the wide range of marketing tools already integrated into the platform. It's the best website builder to help you create a site that gets more traffic and makes more conversions.
So, if your business needs a killer website, then we think this is the best direction to take.
Find out more information on the website builder here.
Or chat with us if you want to see how the website builder can be used for your business. We can show you what our team of marketing experts can do to create a website that helps your business make more sales.

Related Reading